Trump uses CNN's Jim Acosta to act on longtime fantasy against media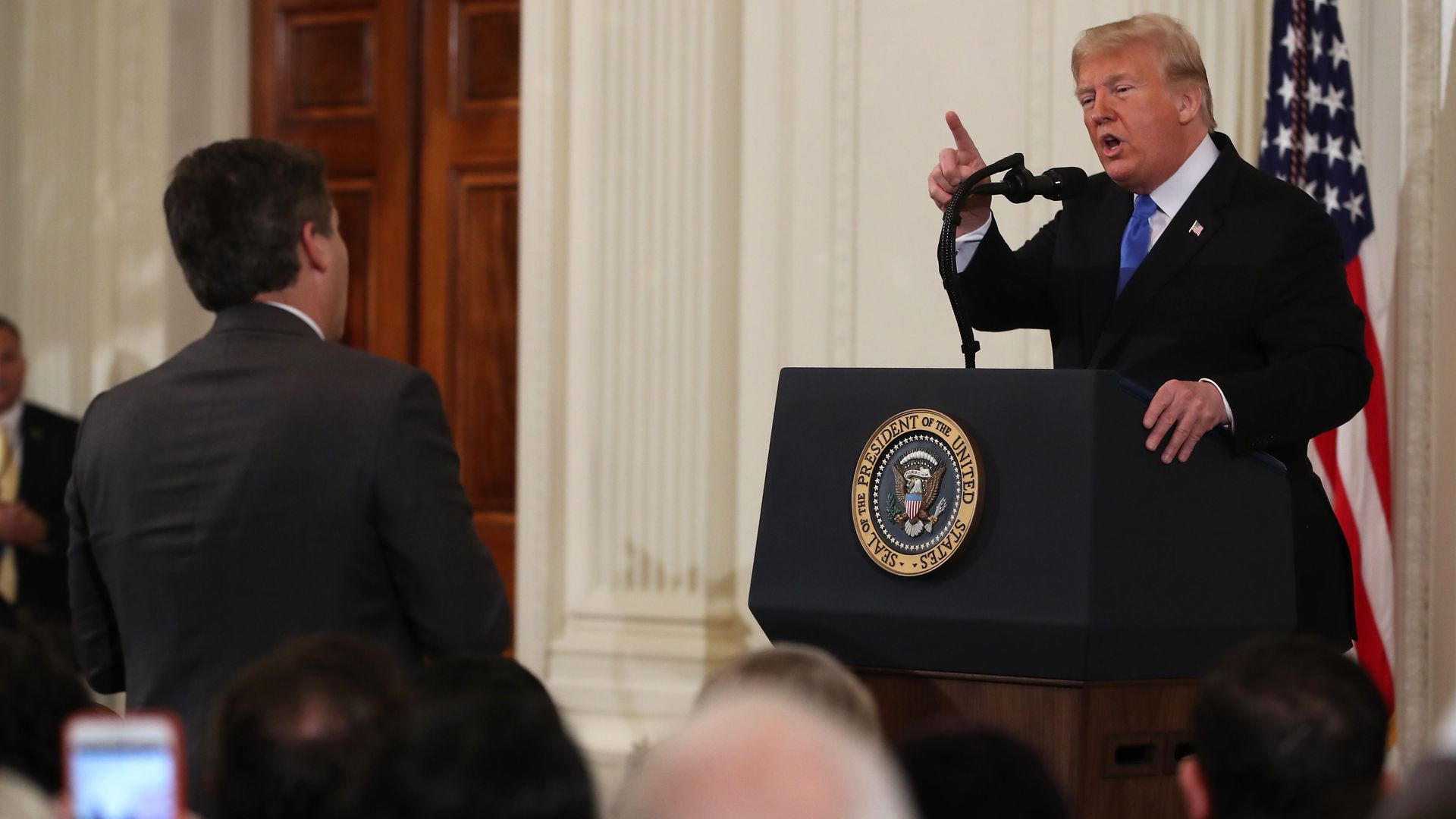 Sources with direct knowledge say that since the earliest days of his presidency, Trump has mused about revoking press credentials for reporters who infuriate him. But press staff have often successfully counseled him against doing so, telling him it would only elevate the reporter involved and would result in damaging stories about him cracking down on press freedom.
Driving the news: Yesterday, Trump went ahead and did it anyway, with Sarah Sanders announcing that the White House had removed the "hard pass" of CNN's Jim Acosta, who had tangled with Trump at his midday press conference.
Be smart: Despite the White House accusing Acosta of "placing his hands on a young woman just trying to do her job as a White House intern" when she was taking a microphone from him at the presser, the video clearly shows Acosta didn't do anything physically threatening to the intern.
The video tweeted by the White House apparently is edited to shift speeds of footage where Acosta and the staffer make contact, possibly making his gesture look more aggressive.
As Trump made clear in his interview with "Axios on HBO," he has no interest in de-escalating his fights with the press, because he thinks it works for him politically and his crowds demand it.
But until now it had all been rhetoric. This is the first time the Trump White House has revoked the credentials of a mainstream reporter.
The reaction from White House reporters made it clear that a new line had been crossed:
The N.Y. Times' Peter Baker called the White House explanation a "[f]alse predicate to punish a reporter. This is what the president wants. If he really thought @acosta was unfair, then why did he call on him? Because he wants the confrontation."
Olivier Knox, president of the White House Correspondents' Association, said the group "strongly objects to the Trump Administration's decision to use US Secret Service security credentials as a tool to punish a reporter with whom it has a difficult relationship."
Go deeper:
Go deeper