Americans are living in a different country from two years ago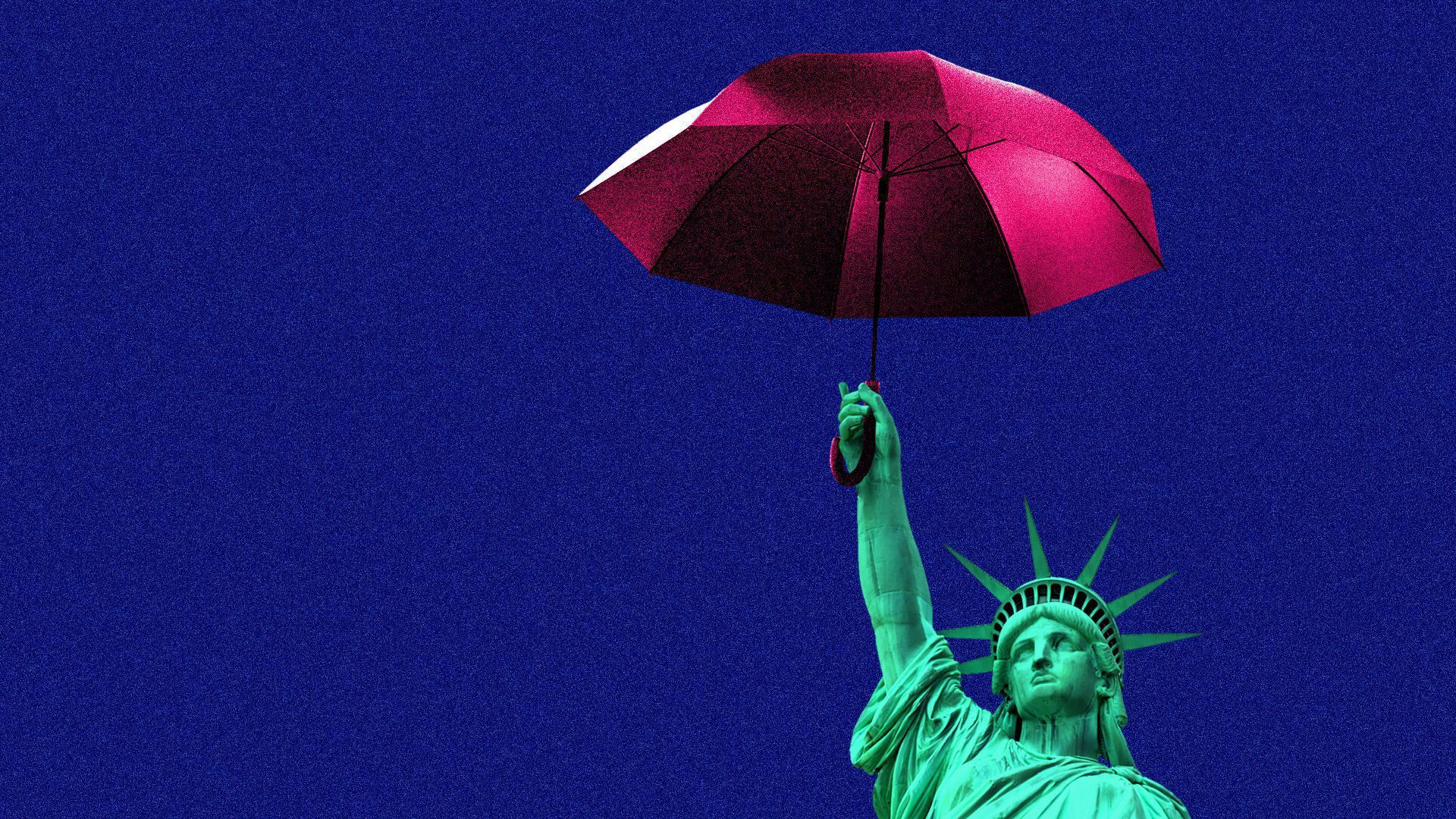 In October, we reported that no one should wait for the U.S. and global anti-establishment wave to soon dissipate — the shakeup to the system is going to be a feature of politics for years and perhaps decades.
The big picture: Now, in the U.S. midterm elections, American voters have validated that conclusion — Americans are living in a different country from two years ago.
Given the chance to inform President Trump that he should change course, voters instead delivered a relatively minimalist House victory to Democrats, while adding to his support in the arguably more consequential Senate.
"Voters had a chance to repudiate Trump and they did not," Republican strategist Ed Rogers writes today in the WP.
"Much of the commentariat has said this year's elections are about who we are as a country and what America is all about. Well, a lot of America seems to be about supporting Trump."
In the 22 months since President Trump took office, key underpinnings of administration policies have received begrudging intellectual support. Leading establishment thinkers condemn his divisive tactics, but validate some of his main gripes.
On China: In a speech today in Shanghai, Hank Paulson, the Bush administration treasury secretary and a longtime champion of close relations with Beijing, came down firmly on the side of Trump's get-tough policy toward China. He blamed China for the bad relations and said the onus for fixing it lies with Beijing. (h/t Greg Ip)
On globalization: Even leading Democrats have said that one of Trump's geniuses was to pick out what almost every other major political leader had missed — the huge bank of voters who were economically excluded from the globalization boom. Now, these same politicians are trying to curry favor with them.
On nationalism: Speaking with Axios in September, Stanford professor Francis Fukuyama advocated the idea of an American identity, separate from specific U.S. immigrants. "We need to figure out how to re-create a sense of American national identity that will fit the diverse society that we've become but will still be meaningful in terms of binding us together," Fukuyama said.
What they're saying: Today I contacted several of the thinkers who have spoken for our previous democracy coverage.
Brookings' Robert Kagan, author of "The Jungle Grows Back":
"It seems pretty clear that nothing in the vote suggests a shift away from the America First Troika of anti-immigration sentiment, protectionism, and a foreign policy more narrowly focused on immediate interests and away from global responsibilities. In the US, there has been a tension between two definitions of nationalism: one that is based on the universal principles of the Declaration — the one the founders intended — and one based on the premise of culture and civilization (and race). ... Today I think the nationalism as 'white nationalism' is enjoying a resurgence, as is the focus on group identity in general."
Timothy Snyder, a Yale professor and author of "The Road to Unfreedom" said Democrats did not achieve a "correction" and a return to pre-2016 politics. "Democrats got high turnout because they were against something. And rightly so."
"Nationalism can cut two ways. It can be a system of us and them, where 'they' are excluded from taking part in 'our' institutions. This is the logic of voter suppression in multiple American states. It is important that voter suppression be called for what it is, and that it not be allowed to prevail. Because when it prevails it is not only unjust. It turns nationalism into a form of systematic exclusion, the logic of which leads away from democracy towards managed democracy and authoritarianism."
Charles Kupchan, a professor at Georgetown:
"The results of the midterms constitute a hung jury. The House swung to the Democrats, but the Senate went the other way. Key races split in a similar way. We are in the midst of a struggle for the heart and soul of liberal democracy — here as well as in Europe. But at least for now, Trump will face a new and potent check on his power, a most welcome development."
Go deeper