Samsung shows prototype of an unfolding smartphone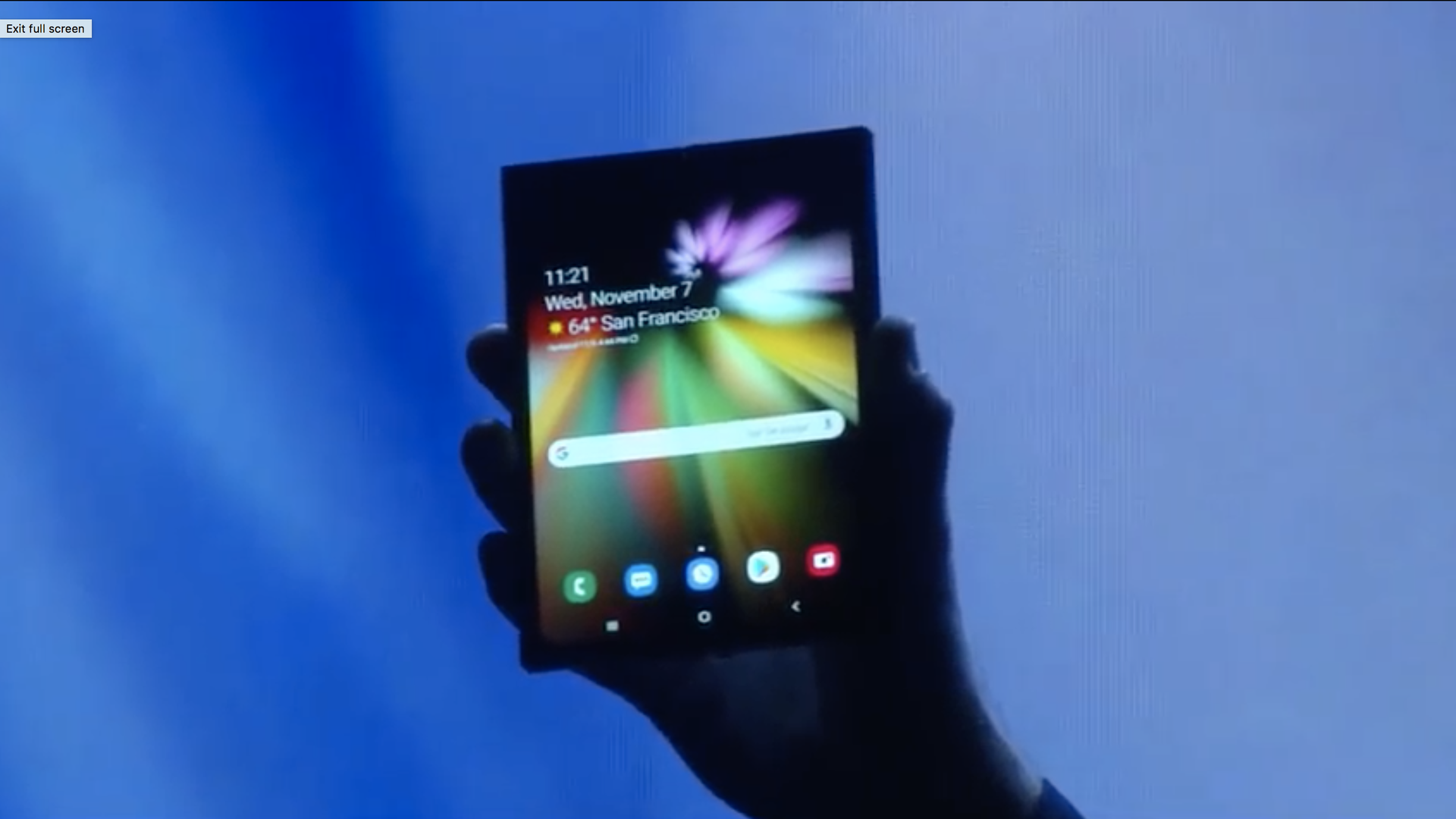 At the Samsung Developer Conference on Wednesday, Samsung showed developers one vision of the future of the smartphone: a device with a narrow "cover display" that unfolds into a tablet-like screen thanks to a flexible display.
Why it matters: Samsung needs developers to prepare their apps to work properly on the new device — so, in an atypical move, it is talking about the device before it is commercially ready.
Google is also on board with Samsung's approach. Earlier on Wednesday it announced it would broadly support the foldable approach in its Android operating system. It also said Samsung's foldable device would ship "early next year."
Samsung isn't the first to play with this idea. China's ZTE has a similar product with its Axon M. However, because it lacks a flexible screen, the Axon M has a border in the middle of its display when unfolded.
Samsung also used its conference to:
Introduce tools to let developers bring their own apps and services to Bixby, Samsung's voice assistant and AI platform.
Unveil a new "One UI" interface designed to make it easier to handle the most commonly performed smartphone tasks. One UI will be made broadly available for Samsung's latest flagship phones next year and come to Galaxy S9 and S9+ users in a beta in November.
Our thought bubbles:
Samsung has a laudable goal with Bixby — to let you say what you want to any Samsung device and have the hardware and cloud do it for you. But the reality isn't there yet. Also, opening Bixby up to developers doesn't guarantee they will want to build on top of another voice AI platform.
With One UI, Samsung is reversing a years-long trend away from hardware makers heavily customizing the Android interface. In the early days of the operating system, Samsung had TouchWiz, HTC had its Sense and so on. To do its own interface and have it work throughout the phone, Samsung will also have to go back to another largely abandoned approach — developing its own app alongside the similar Google-created one. In the past, that meant two camera apps, two browsers, two messaging apps and so forth.
Go deeper