The takeaways from Trump's 87-minute post-midterms press conference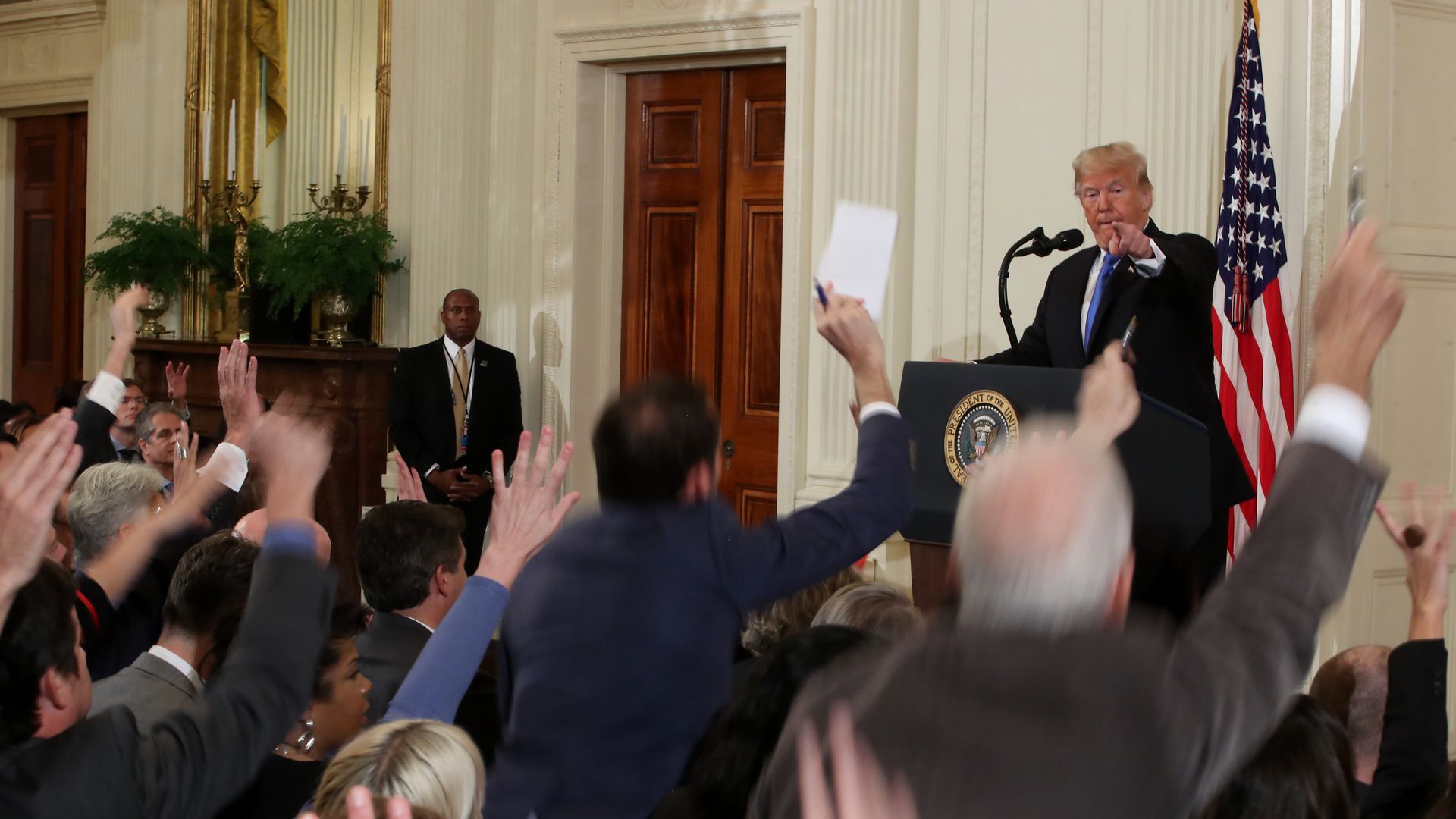 President Trump hosted a 1-hour, 27-minute press conference on Wednesday, answering a range of questions about the midterm election results, the Russia investigation, his relationship with the media and more.
The bottom line: It was a typically combative presser in which Trump claimed a tremendous victory in the midterms — and often refused to concede defeat or apologize for his rhetoric.
Trump began by praising Republicans for expanding their Senate majority and overperforming in the House, though the reality is that Democrats flipped about as many House seats as they were projected in order to take control.
"It was a big day yesterday, incredible day. And last night the Republican Party defied history to expand our Senate majority while significantly beating expectations in the House. ... It was very close to a complete victory."
He credited the Kavanaugh confirmation process for energizing voters, and then he went on to shame Republicans who turned down his help and ended up losing.
"Mia Love gave me no love and she lost. Too bad. Sorry about that, Mia. And Barbara Comstock was another one. I mean I think she could've won that race, but she didn't want to have any embrace. ... She lost, substantially lost. Peter Roskam didn't want the embrace, Erik Paulsen didn't want the embrace. ... Bob Hugin ... John Faso ... "
He called for bipartisanship to keep the "American economic miracle alive," but later warned House Democrats that he will take a "warlike posture" if they try to investigate his administration.
"They can play that game, but we can play it better. Because we have a thing called the United States Senate. And a lot of very questionable things were done."
He had a heated exchange with CNN's chief White House correspondent Jim Acosta, calling him "a rude, terrible person" after Acosta asked about his rhetoric regarding the migrant caravan and the Russia investigation.
"I think you should let me run the country and you run CNN. And if you did it well, your ratings would be much better. ... I'm not concerned with anything with the Russia investigation because it's a hoax. That's enough, put down the mic. CNN should be ashamed of itself having you working for them. You are a rude, terrible person."
He declined to offer clarity on the futures of Attorney General Jeff Sessions and Deputy Attorney General Rod Rosenstein. He also said he would have an idea about the status of Interior Secretary Ryan Zinke in about a week.
"I'd rather answer that at a little bit different time. We're looking at a lot of different things. I'm very happy with most of my Cabinet. We're looking at different people for different positions, you know it's very common after the midterms."
He said a question about whether labeling himself a "nationalist" has helped embolden white nationalists was "racist," while questionably touting his approval ratings with African-Americans.
"I don't know why you'd say that, that's such a racist question. ... Why do I have my highest poll numbers ever with African-Americans?"
He appeared to compliment House Democratic leader Nancy Pelosi and said he had had a "warm conversation" with her after the election.
"I put that statement out today on social media about Nancy Pelosi, and a lot of people thought I was being sarcastic or I was kidding, but I wasn't. I think she deserves it. ... She's fought long and hard, she's a very capable person. ... If she has a problem, I think I would very easily be able to supply her the necessary votes. ... I also believe Nancy Pelosi and I can work together and get a lot done."
Go deeper:
Go deeper