Traditional sports look to new tech to survive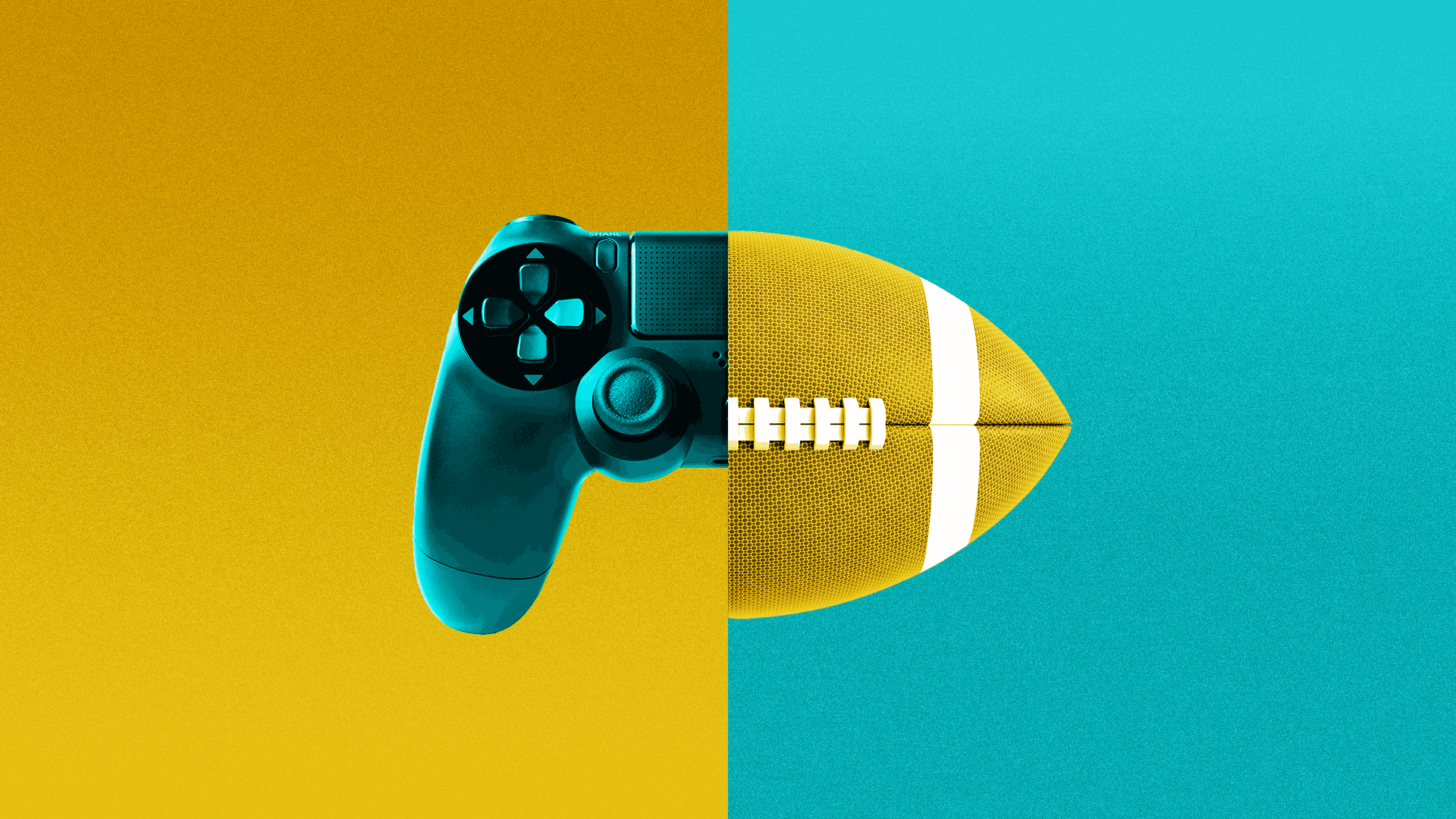 Traditional sports leagues are investing in new technologies to lure younger users, many of whom are watching fewer sports live and are spending more time with new digital sports activities, particularly esports.
Why it matters: If the leagues don't innovate, they risk losing the attention and entertainment budgets of younger audiences who are more interested in digital alternatives.
The average age of the TV audience for nearly every sport has increased over the past 16 years, according to a study from digital agency MAGNA. 
According to a new Whistle Sports study, more than half (56%) of young adults (roughly ages 13-21) feel that non-traditional sports are more relevant to their generation than traditional ones.
The details: Professional sports leagues are experimenting with new technologies that will make games more approachable and compelling for younger audiences.
Major League Baseball began testing a ways to incorporate augmented reality (AR) into its apps last year, including labeling player positions, serving up relevant stats or showing fans how much ground an outfielder could potentially cover on a fly ball.
The National Basketball Association has added a feature to its popular League Pass TV service that transforms games into VR viewing parties. The league has already committed to broadcasting 27 games in full VR and allowing all the games to be viewable from within a headset. 
Tech companies are eager to get in on the act. Intel is pouring millions into new sports technologies, including one that can produce 360-degree highlight videos for linear TV and another that creates immersive VR experiences that can be viewed on a headset. Intel CEO Brian Krzanich told Axios' Ina Fried last year that he sees virtual reality as potentially a multi-billion-dollar business for the chip giant.
Between the lines: The NBA is widely considered to be at the forefront of innovation in technology, and has invested in making sure its games are digitally accessible to super fans.
"Our games are indoors, brightly lit, the guys are large-size, cameras are close, no helmets, you can see the emotion and effort they're putting in. 2 hour 10 min game, works well on an iPhone," Boston Celtics co-owner Wyc Grousbeck told Axios' Dan Primack last month.
The NBA has also taken a pro-social media stance, encouraging GIFs and highlights to be freely distributed, whereas the NFL and MLB, for example, have been more stringent about who can post what and where.
"We analogize our strategy to snacks versus meals. If we provide those snacks to our fans on a free basis, they're still going to want to eat meals — which are our games," NBA Commissioner Adam Silver told Business Insider. Roughly 92% of NBA payers are on Twitter, according to Silver. 
The global push: Domestic sports, like the NBA and NFL, are beginning to expand their global footprints. Streaming efforts could help those leagues gain popularity overseas.
"We have hundreds of millions from streaming our games in China alone," per Grousbeck. "We've grown into a global sport alongside soccer and a lot of that is because of digital technology." The NBA last year launched its all-access service League Pass in China.
The NFL, which has experimented with expansion games in London and Mexico City, has increasingly pushed to expand its game rights to digital platforms, like Twitter and now Amazon. But while rights have so far only been extended to the U.S., it's likely they could expand globally as the League pushes to build its franchise overseas.
The growing popularity of esports is also pushing sports team owners to think seriously about how to modernize sports partnerships to reach younger audiences.
Michael Jordan, an NBA legend and owner of the Charlotte Hornets, became the most recent sports icon to invest in esports last week, per ESPN, pouring $26 million in Series C funding round in aXiomatic, the parent company of Team Liquid, one of the most valuable esports companies in the world.
In total, 15 NBA teams, including the Wizards, Warriors, Houston Rockets, Philadelphia 76ers, New York Knicks and Miami Heat, have mutual ownership or partnership with traditional esports teams, per ESPN.
The bottom line: "For sports leagues, you've got to figure out a way to be relevant where those eyeballs are," says BTIG media analyst Rich Greenfield.
"Less young people are playing sports because they're playing digital sports. And if you grow up playing games, as you get older you want to watch people playing those games. That's got to be the biggest fear the leagues should have. If you're not playing sports, what will you end up watching? I don't have the answer."
— Rich Greenfield
Go deeper: Sports for short attention spans
Go deeper