Political ad spending hits new record for 2018 midterm elections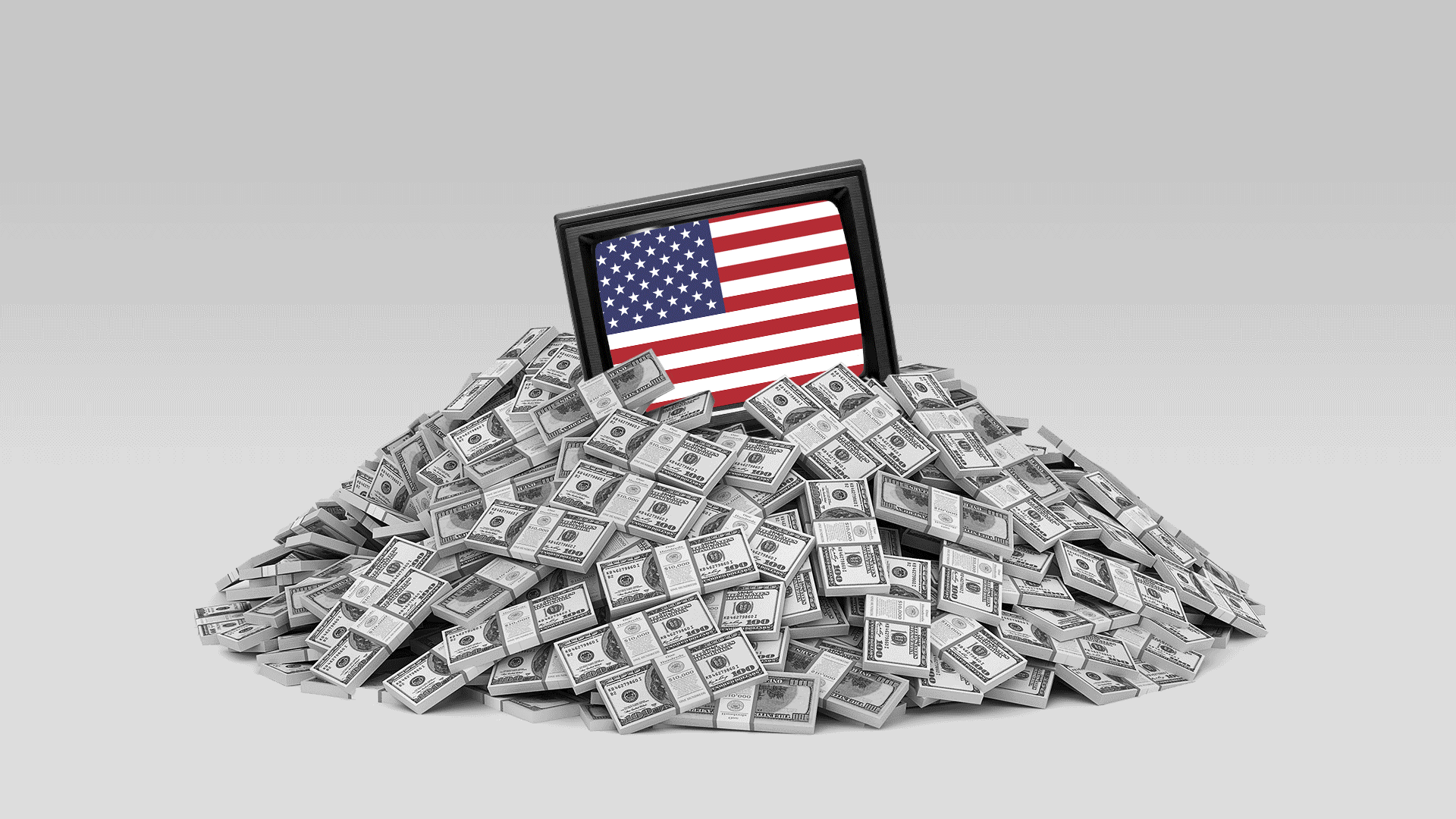 More money will be spent on advertising this election cycle than any previous midterm cycle, according to the Center for Responsive Politics (CRP), which powers the election data website, OpenSecrets. While final tallies are still coming in, "it's safe to say that this is a new midterm record," says Andrew Mayersohn, Committees Researcher at CRP.
Why it matters: More competitive races, a more radicalized political environment and a new midterm election with massive ramifications for the next decade due to gerrymandering have pushed campaigns and donors who support them to empty their wallets.
"Money was no object this cycle."
— Steve Passwaiter, VP of political advertising at Kantar Media/CMAG, an ad measurement firm
The bigger picture: Estimates vary for total ad spend because there no group tracks every single medium, but ad spend for individual ad mediums are way up from years past.
Estimates for TV and radio alone are around $3.27 billion, according to Advertising Analytics. While estimates for digital ad spend come in at roughly $900 million, according to Kantar Media/CMAG.
For comparison, local TV dollars have nearly eclipsed local TV dollars spent in 2016's presidential cycle. And since the 2014 midterm election, local cable TV spend nearly doubled and digital spend nearly tripled.
The big spenders: Not surprisingly, the biggest spenders on both sides were the biggest political action committees (PACs), like Priorities USA and House Majority PAC on the left, Congressional Leadership Fund and Senate Leadership Fund on the right, as well as the Democratic Congressional Campaign Committee and the National Republican Congressional Committee.
The messaging: Republicans and Democrats have each homed in on two major issues in an effort to get voters to the polls.
For Democrats, "There's been a lot of message discipline this time around particularly around health care and the cost of prescription drugs, hikes in premiums, and preexisting conditions," says Passwaiter.
For Republicans, "Trump has moved immigration into almost a parity with healthcare," says Zac Moffatt, Founder and CEO of Targeted Victory, a digital marketing firm that works primarily with conservatives. "From an execution perspective, Republicans are embracing the President in their marketing."
Between the lines: Despite two years of bad press around election meddling and fake news, Google and Facebook, the world's two biggest automated marketing platforms, continue to rake in millions in political ads, due in large part to their ability efficiently target different groups of voters with different messages.
"Brand safety in political advertising has been an issue we've faced since 2012. For us, that question has been asked and answered ... Data safety is the new brand safety. It's important to make sure that data targeting in a platform actually contains the people and voters it claims to reach"
—
Mike Schneider,
Partner at Bully Pulpit Interactive
By the numbers: An October study by New York University that looked at a sample of ads purchased in September found that advertisers representing federal candidates were able to reach voters for pennies — particular on Facebook, which afforded campaigns the opportunity to run hundreds of experiments around which ads worked best.
While this isn't a totally new concept, (the Trump campaign touted this in 2016), the study shows that it was utilized by candidates in more localized elections this cycle.
Average cost per impression: $.007 on Facebook, $.005 on Google and $.015 on Twitter.
Average spending per ad: $153-$600 on Facebook, $1,800 on Google and $265 on Twitter.
Average impression per ad: 1,100-4,800 on Facebook, 6,300 on Google and 86 on Twitter.
"We're a seeing about a 25% increase in programmatic allocations this cycle compared to 2016."
— Grace Briscoe, VP of candidates and causes at Centro, a digital ad placement firm that works with hundreds of campaigns across the country
The bottom line: With more money to spend than some of the biggest corporations on advertising, political campaigns will stop at nothing to get voters to the ballots.
"It's as difficult for a candidate that needs to win an election to pass up the opportunity of advertising on these platforms as it is for companies like Procter & Gamble, Unilever or General Motors to target consumers."
— Steve Passwaiter
Go deeper:
Go deeper