5. How MSNBC's Steve Kornacki preps for Election Day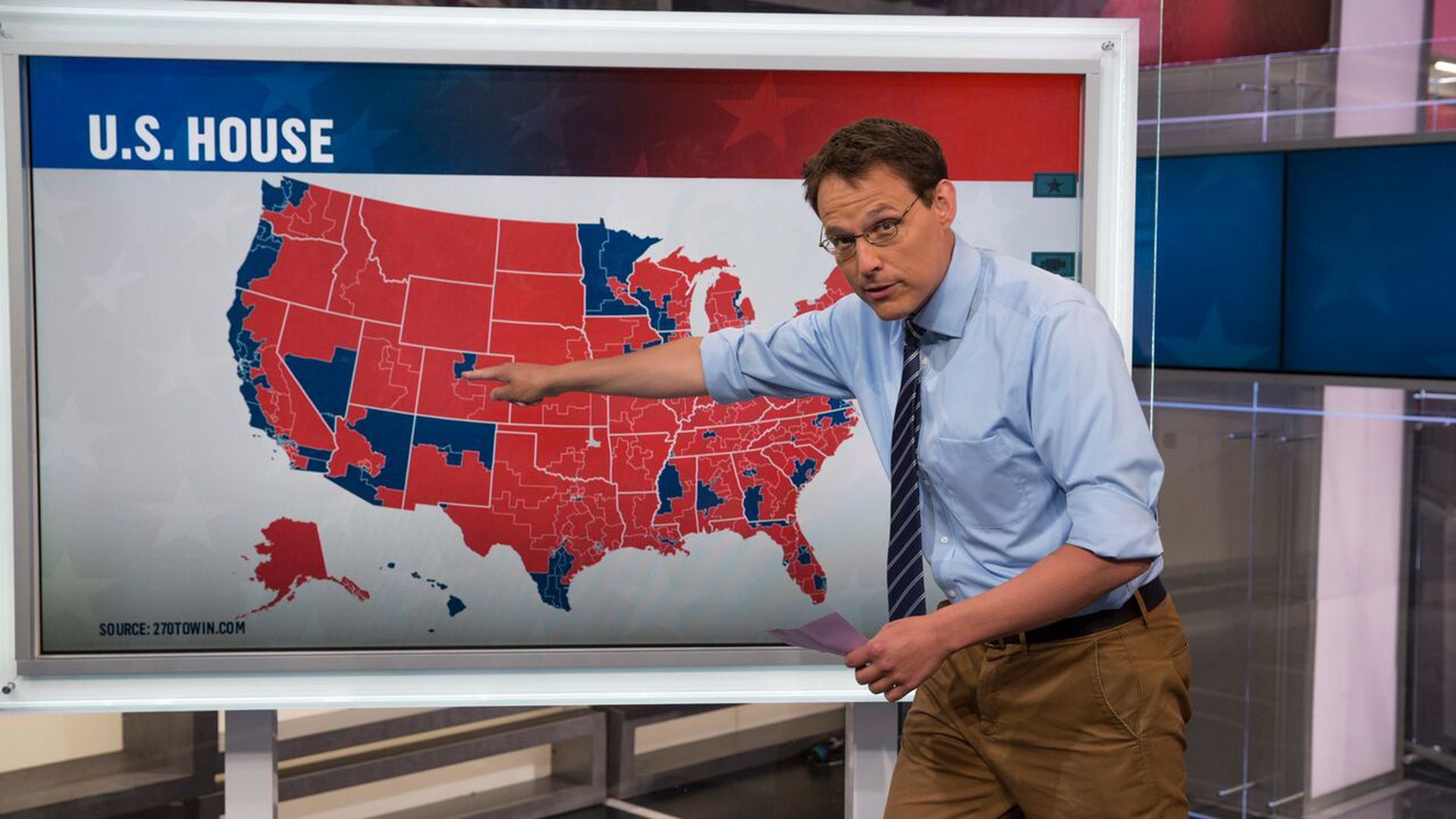 MSNBC's Steve Kornacki, author of "The Red and the Blue: The 1990s and the Birth of Political Tribalism," told Axios about his prep plans ahead of Election Day.
How Steve preps: "I'm in my office right now. I am staring at a notecard that's got the — what am I looking at here? — I've got Illinois: I've got the different potentially competitive districts in Illinois. I've got the component counties. I've got the share of each county that's part of the district.  I've got the share of the district the county accounts for. I've got the 2016 Trump and Clinton numbers, and I've got a very rough turnout estimate for each."
"So my goal is to internalize as much of this as I can ... The more time I spend writing this, looking at it, staring at it, repeating it, the more I'll internalize."
On the physicality of his reports: "People say I come across a little energetic and I can tell you, it's not an act. It's not shtick. I'm not trying to channel Crazy Eddie from those old commercials or something."
"Honestly, It's my natural reaction to what I'm seeing — to all of the different, pieces of information coming in, and the challenge of trying to process them on the fly and make sense of them."
What we'll learn tonight: "I think we're going to find out how much of the polarization or tribalism that was reflected in the 2016 results, how much of it's permanent, at least for the Trump era."Steve's Game Day ritual, between his "Morning Joe" appearance and the 6 p.m. beginning of his reports from 30 Rock: "I used to go just find a sandwich shop, bring a newspaper, and I would go carve out a couple hours and just zone out, read that."
"I think this year I'm going to have to stay closer to the office. But my goal for the afternoon hours is more to step back from trying to do TV stuff and say: 'OK, I've learned what I need to learn for this. Let me just take a few breaths, focus myself.' And then when numbers start coming in, here we go."
Go deeper with other cable news stars' plans for Election Day:
Go deeper