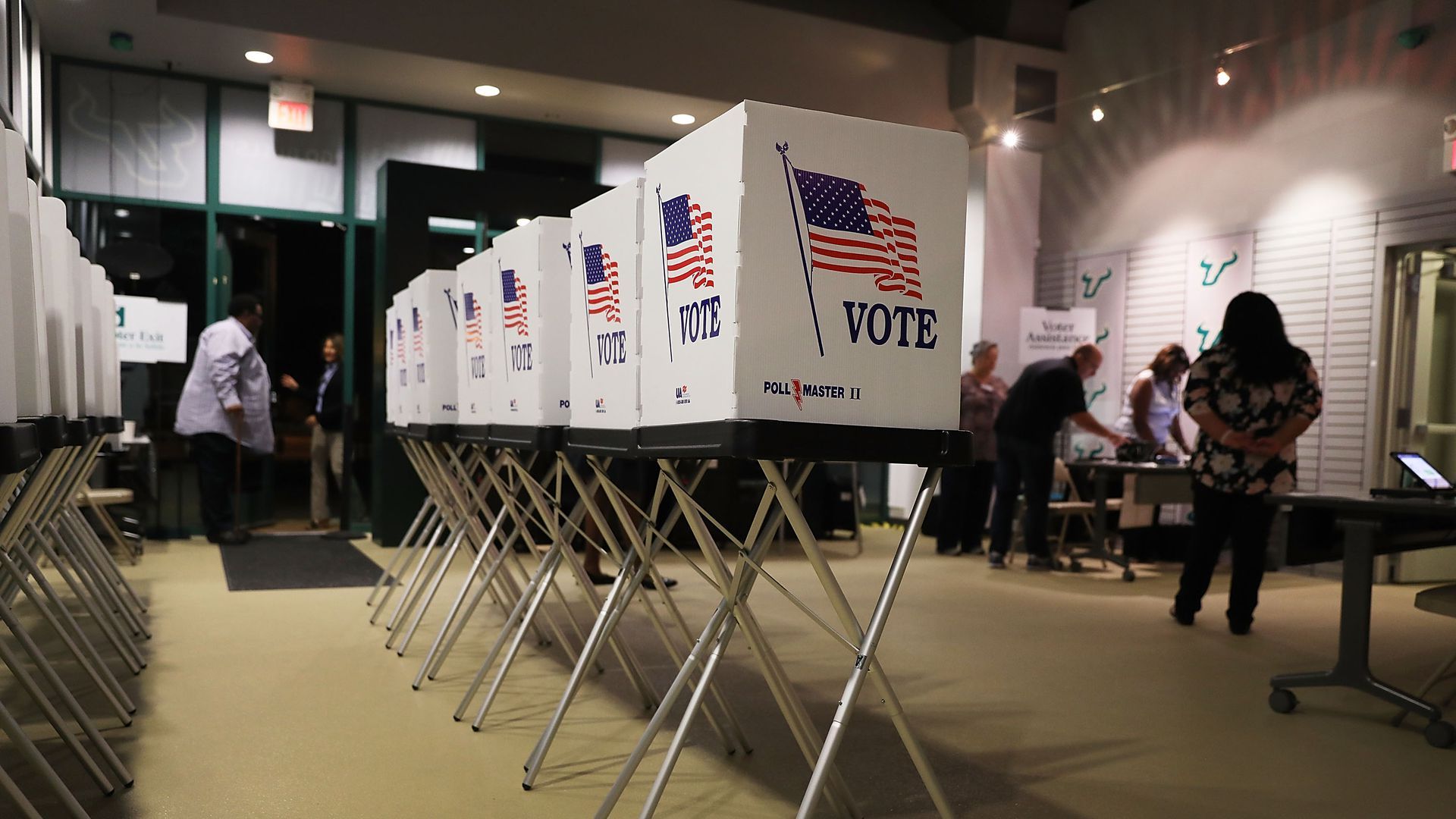 Medicaid, Medicaid, Medicaid. It hasn't been the dominant national theme, even in an election season dominated by health care, but Medicaid has more on the line tonight than any other area of health policy.
By the numbers: 17 states haven't adopted the Affordable Care Act's Medicaid expansion. Three of those states — Idaho, Nebraska and Utah — have initiatives on the ballot today to expand Medicaid. And six more have gubernatorial races rated as toss-ups by the Cook Political Report. If all nine of those states ended up expanding Medicaid, more than 1.6 million people would be newly eligible for coverage, according to the Kaiser Family Foundation's estimates.
That's an upper bound, obviously — it's by no means safe to assume all of these states will end up expanding. But Florida alone could cover more than 700,000 new people; the universe of possible coverage gains here is large, even without a clean sweep.
Two expansion states also face big decisions tonight.
Maine's gubernatorial race could determine whether it actually implements the expansion voters approved last year.
Montana voters will decide whether to retain the Medicaid expansion, relying on a tobacco tax to pay for the state's share of the costs. Tobacco companies have spent millions urging Montanans to not to renew the expansion.
The bottom line: Expanded Medicaid coverage, much of it in red or purple states, is one of the most consequential on-the-ground changes these midterms could produce.
What else we're watching:
1. The balance of power in Congress (duh).
Significant Democratic gains would take ACA repeal even further off the table, and would vindicate Democrats' relentless focus on health care throughout the campaign season.
It would also put more pressure on industry groups to get their small-but-significant lobbying priorities, like pharma's "donut hole fix," done in the lame-duck session.
But nothing major is likely to happen in the next 2 years.
2. California's dialysis initiative: The dialysis industry has raised a record $110 million to defeat a ballot initiative that would cap its profits.
Even in a state as liberal as California, cutting into the health care industry's bottom line is no easy task.
3. Other ballot initiatives:
Ohioans will vote on a constitutional amendment that would classify offenses related to drug possession as misdemeanors — largely in response to the state's opioid epidemic.
A ballot measure in Massachusetts would enforce a new ratio of nurses to patients in some hospital facilities.
The soda industry is spending millions to support ballot initiatives in Oregon and Washington state that would ban local governments from enacting soda taxes, as the New York Times explained. (A similar approach has already worked in California.)
Go deeper:
Go deeper