Bodyslams, bombs and shoves: Anti-media violence in Trump's America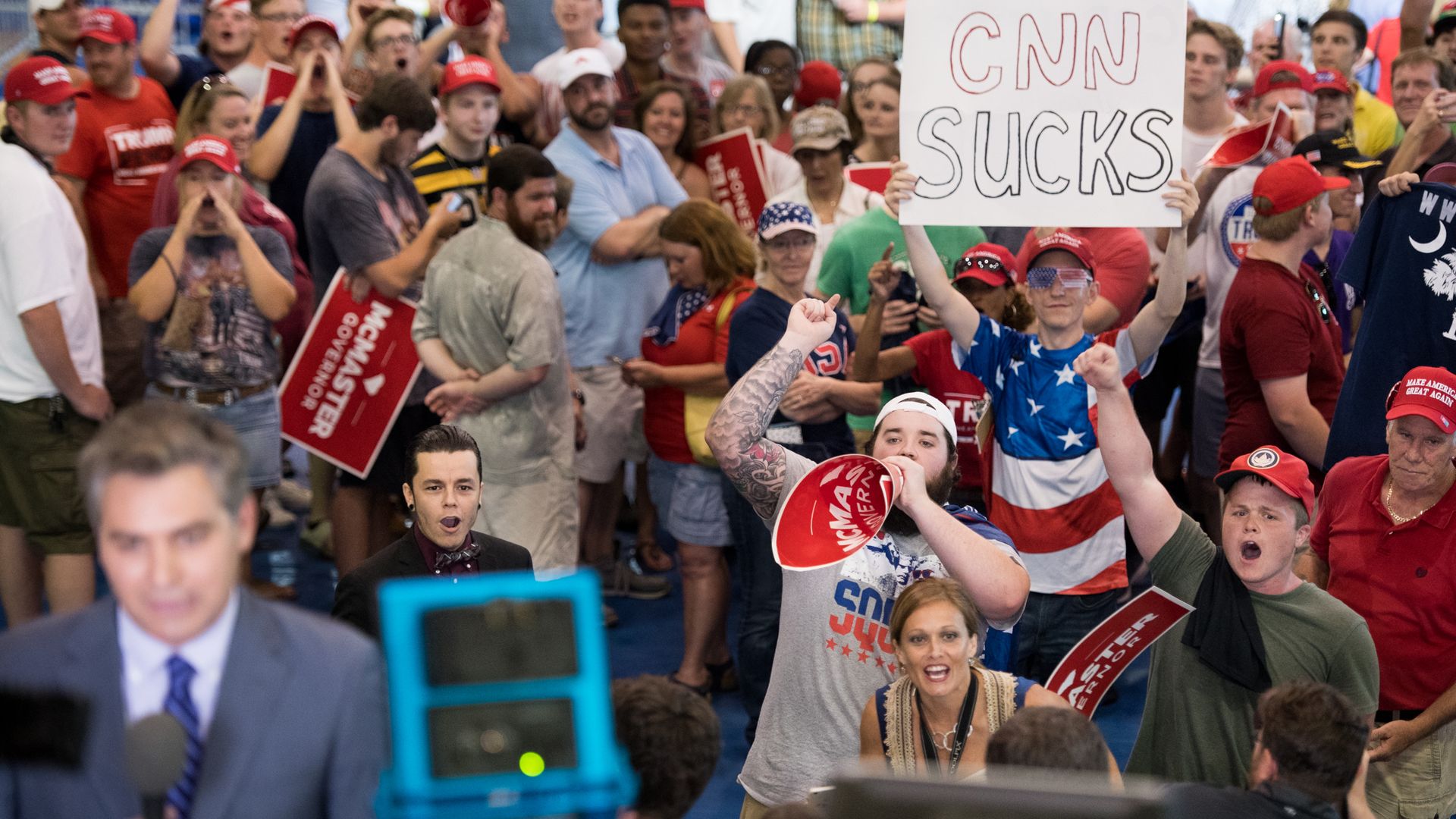 Since President Trump took office, attacks on the media have been his go-to strategy at rallies, on Twitter and elsewhere.
Driving the news: A BBC cameraman was shoved on the media platform by a Trump supporter who then hurled explicit insults at the press during Trump's rally in El Paso, Texas, on Monday. The BBC's Washington correspondent called the incident "an incredibly violent attack," highlighting the fact that Trump's anti-media rhetoric is "a constant feature of these rallies."
The big picture: Past presidents have argued it's their job to tone down the heat in moments of high tension and unease, especially following deadly acts of domestic terrorism. But Trump told "Axios on HBO" last year that his divisive rhetoric is his "only form of fighting back," and that his supporters crave it. Meanwhile, the past two years have seen a shift in the political landscape between the media and the public, something several press freedom organizations describe as being of "grave concern."
Violence against the media since Trump's rise to presidency:
A man was arrested after threatening to shoot Boston Globe employees, saying in a threatening phone call: "You're the enemy of the people and we're going to kill every ... one of you."
CNN's Brian Stelter aired a call from a C-SPAN viewer and Trump supporter who said he wants to shoot Stelter and fellow CNN anchor Don Lemon if he sees them.
A man was arrested after allegedly making 40 threatening calls to CNN, which included death threats to a reporter USA Today identified as Don Lemon.
Trump rally attendees consistently level insults at media covering the event.
The other side: Protestors surrounded the home of Fox News host Tucker Carlson last November, chanting "We know where you sleep at night." His wife was at home; no one was injured but one person cracked the front door after throwing themselves against it, per the Washington Post.
Go deeper: Trump says supporters demand his red-hot rhetoric
Go deeper