The BRICs crash and join the wave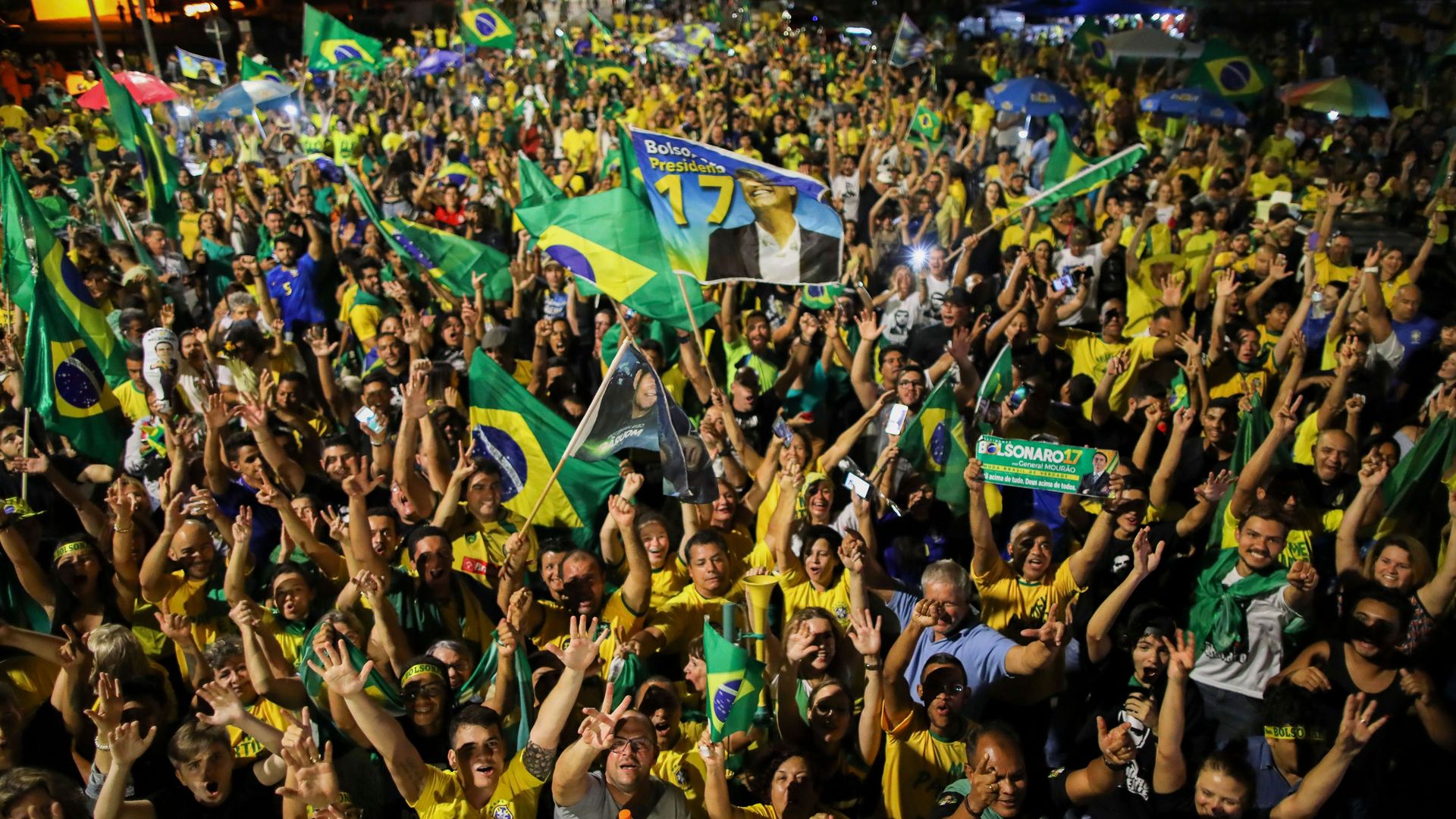 On Nov. 30, 2001, Jim O'Neill, chief economist of Goldman Sachs, released a 16-page white paper declaring a new geo-economic bloc that he said would supplant the current world order. If you were an investor, "BRIC" — Brazil, Russia, India and China — was the way to go.
Why it matters: Almost exactly 17 years later, the BRICs are emblematic of a very different world, but not the one O'Neill foresaw — one that is autocratic, nationalist and turbulent.
When O'Neill made his pronouncement, it caught fire. It was regarded as brilliant, and O'Neill himself as a seer. The world was still seven years away from the financial crash, but somehow it seemed right, as O'Neill proposed, that two of the G7 nations step aside to make way for a future G9 that would include all the four newcomer economic giants.
But that's not what has happened: Only China took on the economic stature that O'Neill described, becoming central to the global economy. India has grown fast as well, but has not become a global engine.
Meanwhile, politically, the states have rejected western-style democracy: Russia's Vladimir Putin has doubled down on autocracy. Indian Prime Minister Narendra Modi is a right-wing Hindu nationalist. China's Xi Jinping is the most power-obsessed leader since Mao.
And yesterday, Brazilians elected their own new nationalist leader: Jair Bolsonaro, a crude-talking hybrid of President Trump and the Philippines' Rodrigo Duterte, insulting minorities, championing torture, and vowing to kill his way to less crime.
It is a dimension of the global autocratic wave, made up of nation after nation exasperated with perceived venality and welcoming a big personality to assert control.
"Brazil is deteriorating badly in the wake of massive corruption, out of control crime, a bloated public sector, and high inequality," Richard Haass, president of the Council on Foreign Relations, tells Axios. 
In the glare of a history, BRICs seems to some like a mere bumper sticker.
"BRIC is an empty concoction, of almost no meaning, a largely Chinese political myth," says Charles Hill, a former senior U.S. diplomat and now a professor at Yale.
What's next: The BRICs, which from the outset saw themselves as a political and economic alternative to the western order, now align with the global trend, said Ivo Daalder, president of the Chicago Council on Global Affairs. That gives more force to the global trend challenging the post-WWII order.
"The BRICs are a source of 'alternative' international institutions to the U.S.-led liberal international order."
— Harold Trinkunas, a professor at Stanford University
The bottom line: Despite their failure to coalesce as O'Neill forecast, what the BRICs do — and what happens to them — is important. The BRICs as they are known could fall apart, since Bolsonaro "is much more anti-China than any of Brazil's recent presidents," said Trinkunas.
The broader issue is the vacuum of global leadership, of which the BRICs' failure is part, says Ian Bremmer, president of the Eurasia Group, "making tail risk outcomes (like war) more likely."
"Since we are talking about 1/3 of the planet's population," Haass said, "the stakes could hardly be higher."
Go deeper