The media battle over radicalization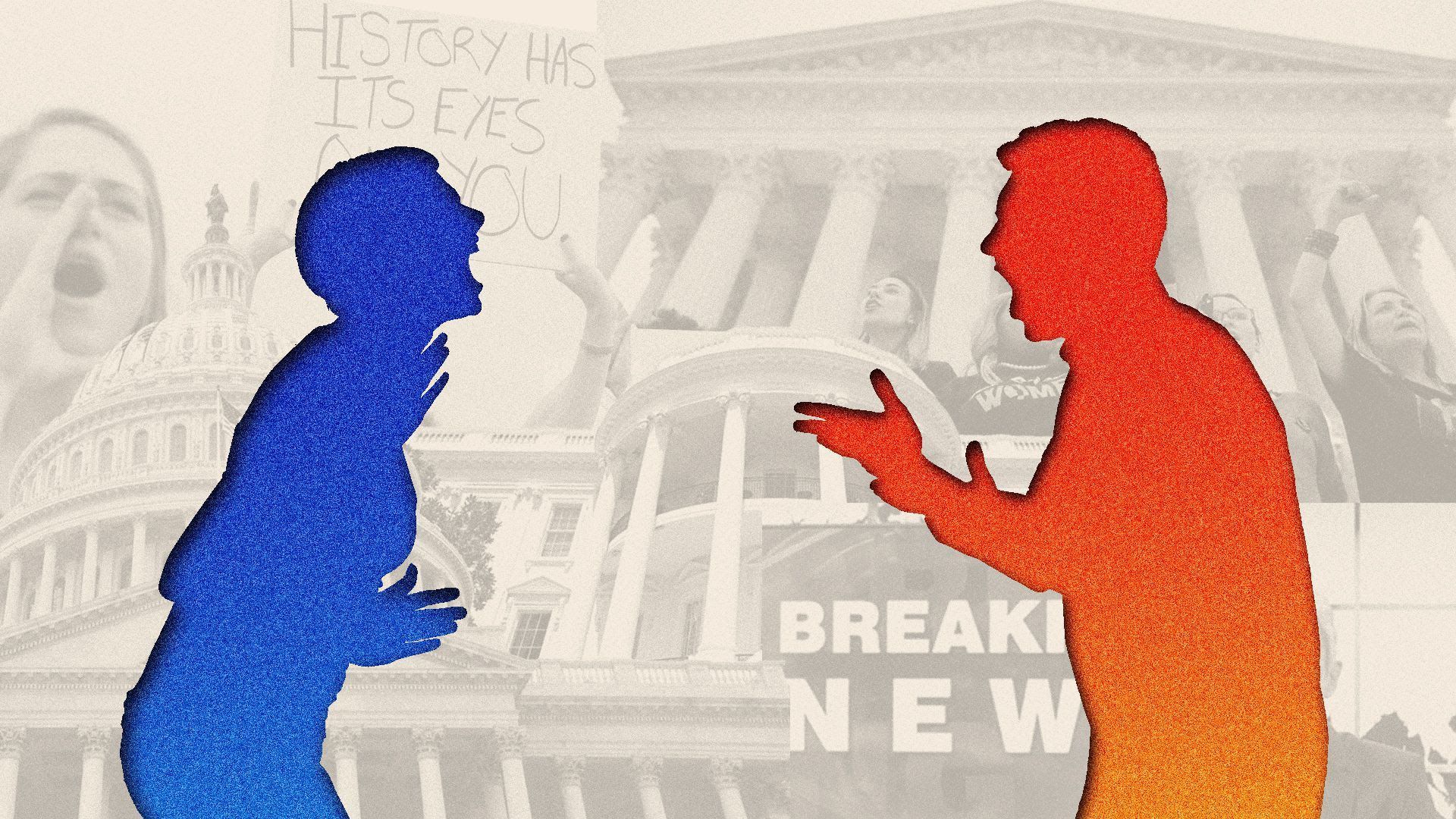 Tragic events ahead of the midterms are causing a contentious media blame game over who is responsible for the increasing radicalization of American citizens.
Why it matters: The media infighting is itself the byproduct of a nation that's become radicalized by a collision of geopolitical events over years, and it's being compounded by an economic crisis around news, where the most profitable information online and on TV is often the most inflammatory.
Mainstream media hosts and columnists are pointing the finger at certain Fox News and Fox Business personalities for peddling bogus pro-Trump talking points leading up to the midterms.
Conservative media and the Trump administration are arguing that the mainstream media is obsessed with anti-Trump coverage, pointing to certain headlines and chyrons as examples of editorialized coverage.
Others are slamming social media companies for creating a breeding ground for people to spread conspiracy theories and hate.
Between the lines: The blame game is coming to a head at Fox News, where news and opinion programming differs, but viewers often struggle to discern the difference between the two. In the last week:
Fox News anchor Shep Smith rebuked comments coming from the president and some at his own network Monday about the risk posed by a caravan of migrants, arguing the rhetoric is a ploy to rally people ahead of the midterms.
Fox News political analyst Brit Hume, speaking at a Washington free press event on Thursday, called out the popularity of Fox's opinion coverage, but noted that there's also a separate, independent news team. "Chris (Wallace) is a part of that, I'm a part of that and Bret Baier is a part of that and many of our colleagues here in this room are a part of that as well. And we take a real pride in what we do and we believe we're a first-rate news organization."
Even Matt Drudge, founder and editor of the right-leaning Drudge Report, issued a rare rebuke on Monday of Fox News after host Lisa Kennedy Montgomery laughed during a segment about Saturday's mass shooting at a Pittsburgh synagogue.
A Fox News spokesperson said that "Kennedy made an unrelated quip at the end of the segment which was focused on unity — there was absolutely no joking or laughing about the events of this weekend and a screen grab of her smiling is hardly indicative of the entire segment. The lower third should not have been up for the duration of this segment as it was not fully reflective of what the panelists were discussing."
The bigger picture: Axios Future Editor Steve Levine notes in a feature on democracy that similar geopolitical and technological forces are causing radicalized information environments and populations around the world.
"Across the democratic West — in the U.S., Britain, Hungary, Italy, Sweden and more — the two-year eruption of public wrath has been exceptionally volatile and, for those attempting to grasp and address it, vexing."
Yes, but: In some cases, the infighting is putting pressure on players in the media ecosystem to make changes that might improve the quality of coverage and conversation moving forward. For example, Twitter says it's considering banning "likes" in an effort to incentivize healthier conversations on the platform.
What's next: Experts predict that the radicalization of Western populations will only get worse, and in places like the U.S., it will continue to force people to take on tribal mentalities, which will continue to be reflected in the media.
Go deeper:
Go deeper