Experts weigh in on Trump's ability to end birthright citizenship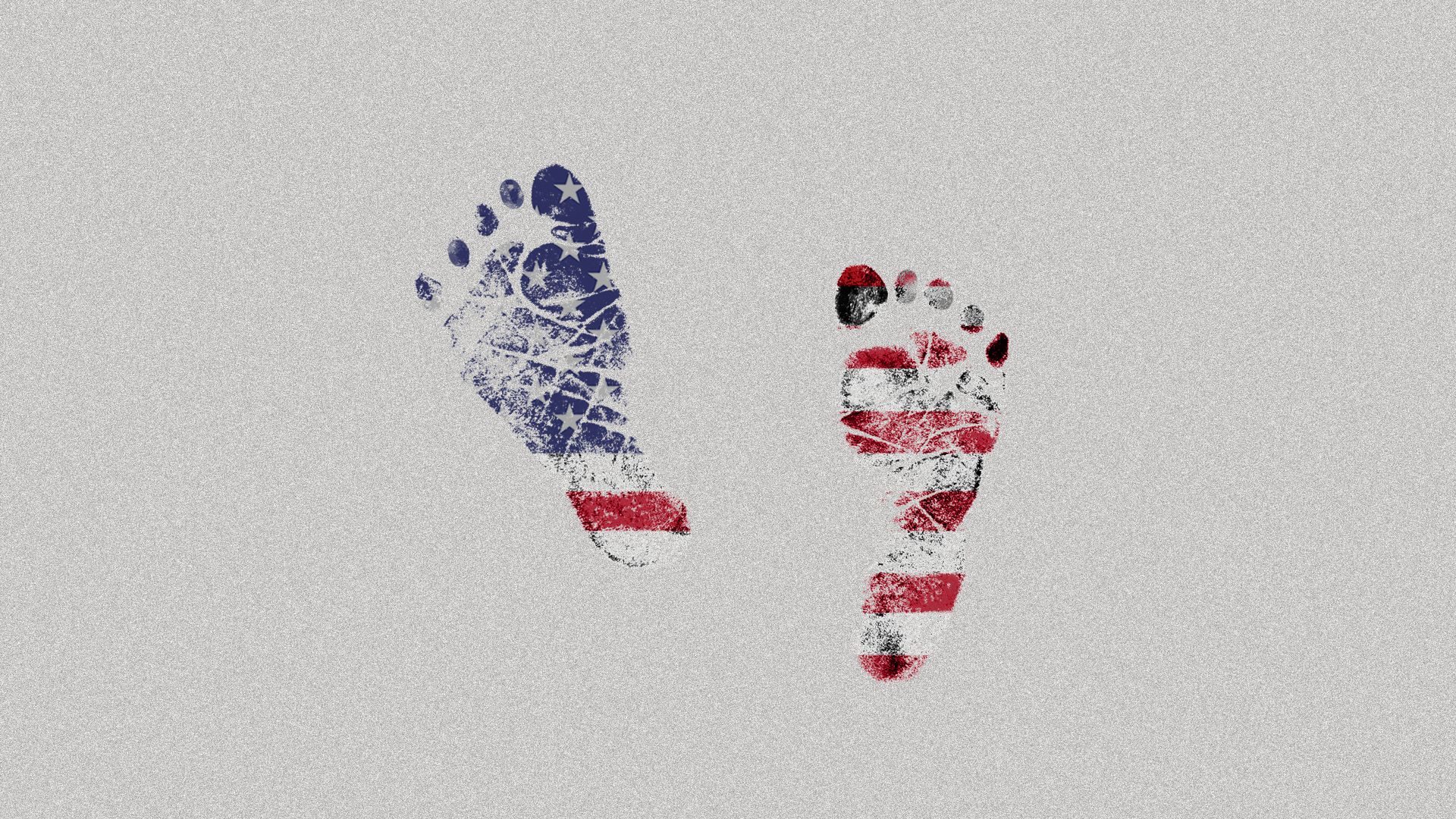 In an exclusive interview for "Axios on HBO," President Trump said he plans to sign an executive order that would remove the right to citizenship for babies of non-citizens and unauthorized immigrants born on U.S. soil — prompting immediate questions about whether he actually has the authority to do so.
The big picture: Few immigration and constitutional scholars believe it is within the president's power to change birthright citizenship, former U.S. Citizenship and Immigration Services chief counsel Lynden Melmed told Axios. But some conservatives have argued that the 14th Amendment was only intended to provide citizenship to children born in the U.S. to lawful permanent residents — not to unauthorized immigrants or those on temporary visas.
What they're saying:
John Eastman, a constitutional scholar and director of Chapman University's Center for Constitutional Jurisprudence, told Axios that the Constitution has been misapplied over the past 40 or so years. He says the line "subject to the jurisdiction thereof" originally referred to people with full, political allegiance to the U.S. — green card holders and citizens.
Michael Anton, a former national security official in the Trump administration, recently took up this argument in the Washington Post. He said that Trump could, via executive order, "specify to federal agencies that the children of noncitizens are not citizens" simply because they were born on U.S. soil. (It's not yet clear whether Trump will take this maximalist argument, though his previous rhetoric suggests there's a good chance.)
Judge James C. Ho, who was appointed by Trump to Fifth Circuit Court of Appeals, in New Orleans, says the line in the amendment refers to the legal obligation to follow U.S. laws, which applies to all foreign visitors (except diplomats) and immigrants. He has written that changing how the 14th Amendment is applied would be "unconstitutional."
Dr. Martha S. Jones, author of "Birthright Citizens," writes that "this issue is not one that has been directly tested or addressed by our courts. And the final interpretation here rests with the Supreme Court...A narrowly tailored EO that rested on the view that the children of unauthorized immigrants are not subject to the jurisdiction of the US (in citizenship terms) and thus not citizens by virtue of Birthright is an argument that can be made...My view is that this sort of wholesale or categorical exclusion is contrary to the spirit of the 14th Amendment which aimed to expand and open a way for citizenship, especially for those who might otherwise be denied because of racism. The case being former slaves."
Neal Katyal, a Supreme Court lawyer, writes, "This is some of the worst lawyering around. Cynical, stupid, unconstitutional, and is just another way for Trump to divide Americans—this time by starting to go for The Full Antebellum. If he does it, we will challenge it. And win."
Steve Kantrowitz, a top 19th century U.S. historian, writes, "On birthright citizenship, read the debate in the U.S. Senate, Jan. 30, 1866. The framers of the Civil Rights Act — the immediate precursor to the 14th Amendment, and the first place national citizenship was codified — knew exactly what they were doing. They were clarifying the well-understood principle that children born in the U.S. were citizens regardless of the immigration status of their parents. They even understood this to be true for children whose parents would then have been racially ineligible for citizenship, such as the Chinese. The only people excluded from citizenship on this basis were 1) Indians under tribal government and 2) children born to the families of foreign diplomats."
Watch part of the exclusive interview:
The full interview will air on "Axios on HBO" this Sunday, Nov. 4, at 6:30 p.m. ET/PT.
Go deeper