Stock market hails Bolsonaro, but his economic vision remains unclear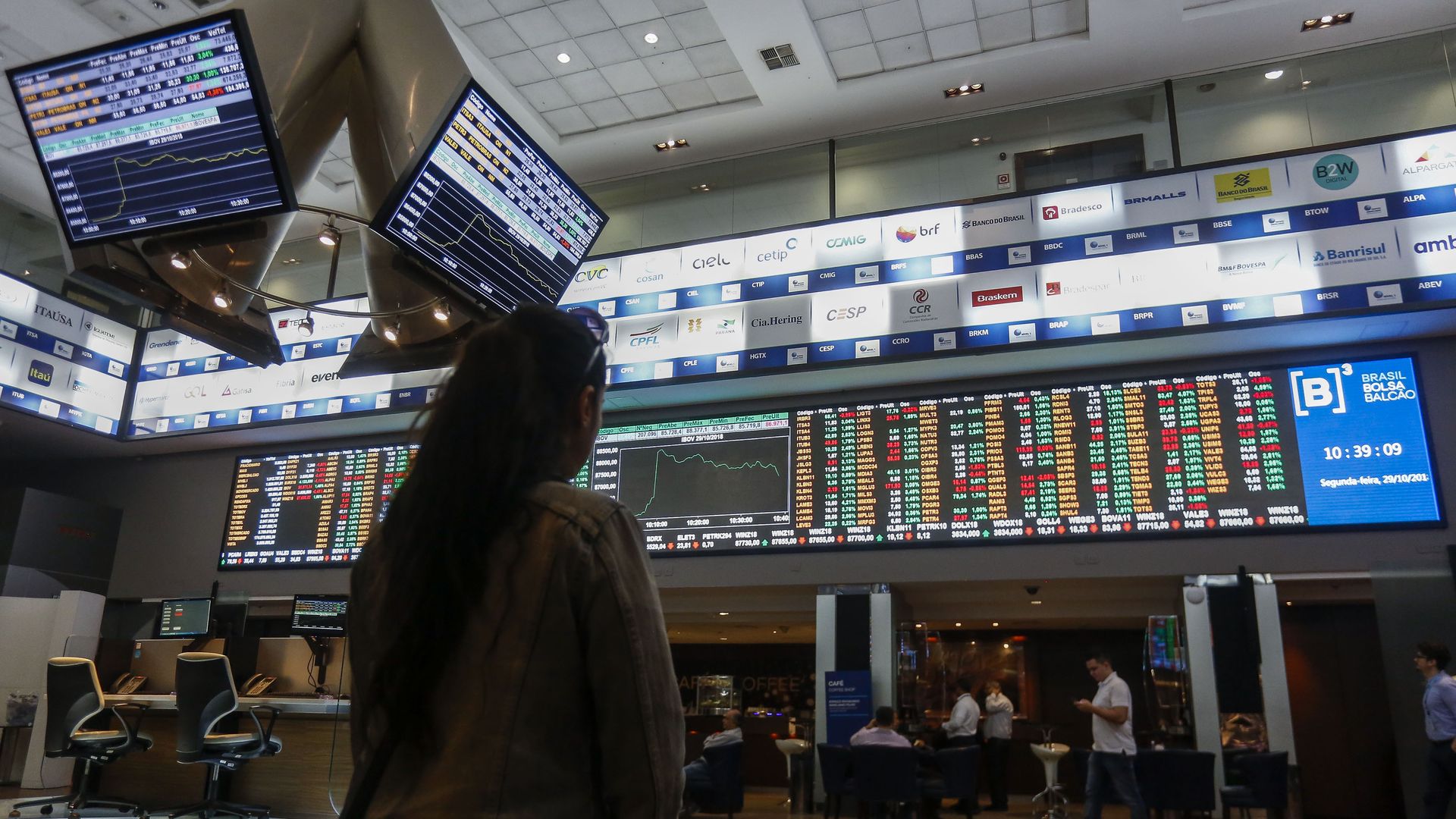 The presidential victory of right-wing nationalist Jair Bolsonaro has upended Brazil's political establishment, but the country's beleaguered business community has greeted it with surging support. Brazil's benchmark stock index hit a record high following his 55%–45% win against former Sao Paulo mayor Fernando Haddad of the Worker's Party.
The big picture: While his controversial views on social policy and criminal justice are well known, Bolsonaro's congressional and campaign record have provided conflicting evidence about his likelihood of pushing pro-market policies in office. The new leader of the world's eighth-largest economy has a huge fix-it job ahead of him, and few steady principles with which to tackle it.
The background: Brazil has had a tumultuous past few years, including the impeachment of former President Dilma Rousseff in 2016 and a succession of corruption scandals that led to the controversial imprisonment of former President Luiz Inácio Lula da Silva. Political upheaval aside, Brazil has long posed challenges for foreign investors. Following a steep recession in 2015–2016, during which the economy shrank by 3.5% annually, Brazil is expected to grow 1.4% in 2018. This falls far short of the expansion required to lower the 12% unemployment rate, representing nearly 13 million Brazilians out of work.
Moreover, Brazil's cumbersome bureaucracy has long hampered the country's global competitiveness. In 2018, the World Bank ranked Brazil 125th of 190 economies for ease of doing business, citing complex tax and permitting regulations.
Between the lines: Much of the bullishness accompanying Bolsonaro's victory stems from his appointment of Paulo Guedes, a University of Chicago–trained economist with free-market views, as his chief economic advisor. Guedes has advocated for reducing the deficit, cutting public debt and privatizing some public entities, such as the oil company Petrobras and the electricity utility Eletrobras. However, these proposals conflict with Bolsonaro's 27-year congressional service, during which he was skeptical of privatization, opposed pension reform and supported increased wages for government employees.
The bottom line: Bolsonaro's promise to break with the statist policies and political corruption of past governments proved a winning formula with voters. However, his prospects for reviving Brazil's struggling economy are much more uncertain than suggested by the stock market surge accompanying his electoral victory.
Daniel P. Erikson is managing director at Blue Star Strategies and a senior fellow at the Penn Biden Center for Diplomacy and Global Engagement.
Go deeper