Bolsonaro's politics of nationalist redemption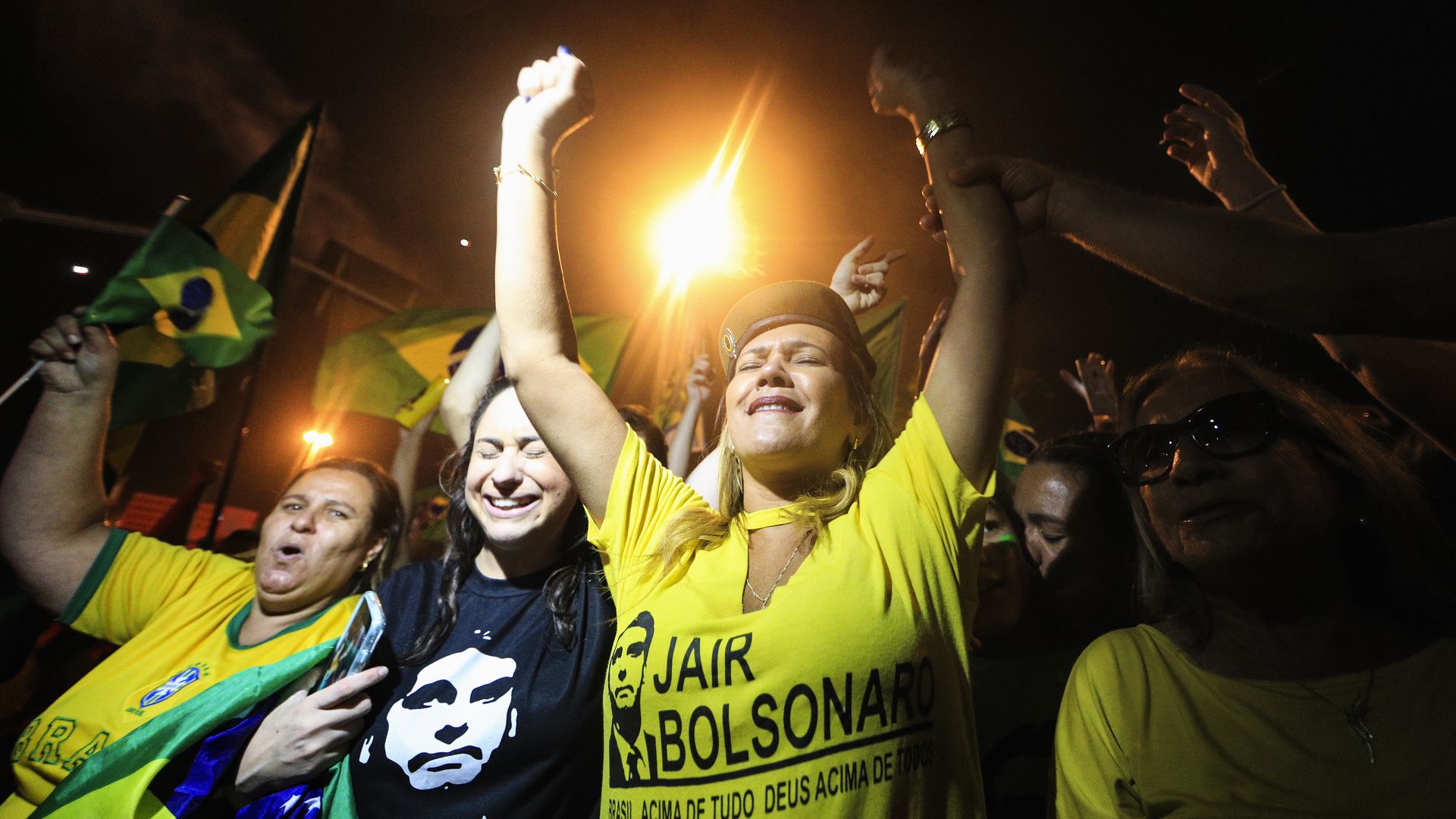 Capping off an electoral campaign marked by passionate anti-establishment sentiment, the jailing of a former president and rising political violence, Brazil took a collective leap of faith and elected right-wing nationalist strongman Jair Bolsonaro to a 4-year term. Promising to return Brazil to its former glory, Bolsonaro defeated by 10 points Workers' Party candidate Fernando Haddad.
The big picture: Throwing out the conciliatory political playbook that winning presidential candidates have used since the country's 1985 transition from military rule, Bolsonaro won for a simple reason: He credibly promised to turn Brazilian politics upside down.
Under a banner of radical right-wing reform that raised investors' expectations, Bolsonaro's insurgent candidacy became a social phenomenon. The 63-year-old former army captain and longtime congressman exploited popular social media platforms with fake news, thrived on misogynistic and homophobic rhetoric, promised a purge of the left and embodied a no-holds-barred approach to the country's spiraling criminal violence.
What's next: Effective governance will require transitioning from the politics of redemption to the politics of pragmatism. Though his Social Liberal Party performed better than expected, winning 52 seats in the 513-member lower house of Congress, Bolsonaro will need a larger coalition to pass legislation.
While Bolsonaro himself has equivocated about his position on old government pension programs, his market-friendly economics adviser has promised comprehensive pension reform. It remains to be seen where exactly the requisite votes will come from. Meanwhile, a proposal to privatize state electricity and energy companies has reportedly been shelved.
Public security is the campaign issue on which Bolsonaro may feel he most needs to deliver immediate action. With Brazil's homicide rate climbing to a record high in 2017, a substantial portion of the public has grown weary and fearful. Bolsonaro's campaign has made dangerous albeit vague promises to adopt a shoot-first approach to gang violence.
Why it matters: Brazil's hard turn to the right opens the door to the military's return to power as Bolsonaro sets the country on a new course for trade and foreign policy. A kinship with President Trump may emerge if the two can find common cause against Venezuela's Nicolás Maduro while feeding off each other's hard-line rhetoric.
Michael McCarthy is a research fellow at American University's CLALS, an adjunct professor at George Washington University's Elliott School for International Affairs, and the founder and CEO of Caracas Wire.
Go deeper