Inside Trump's last-minute road trip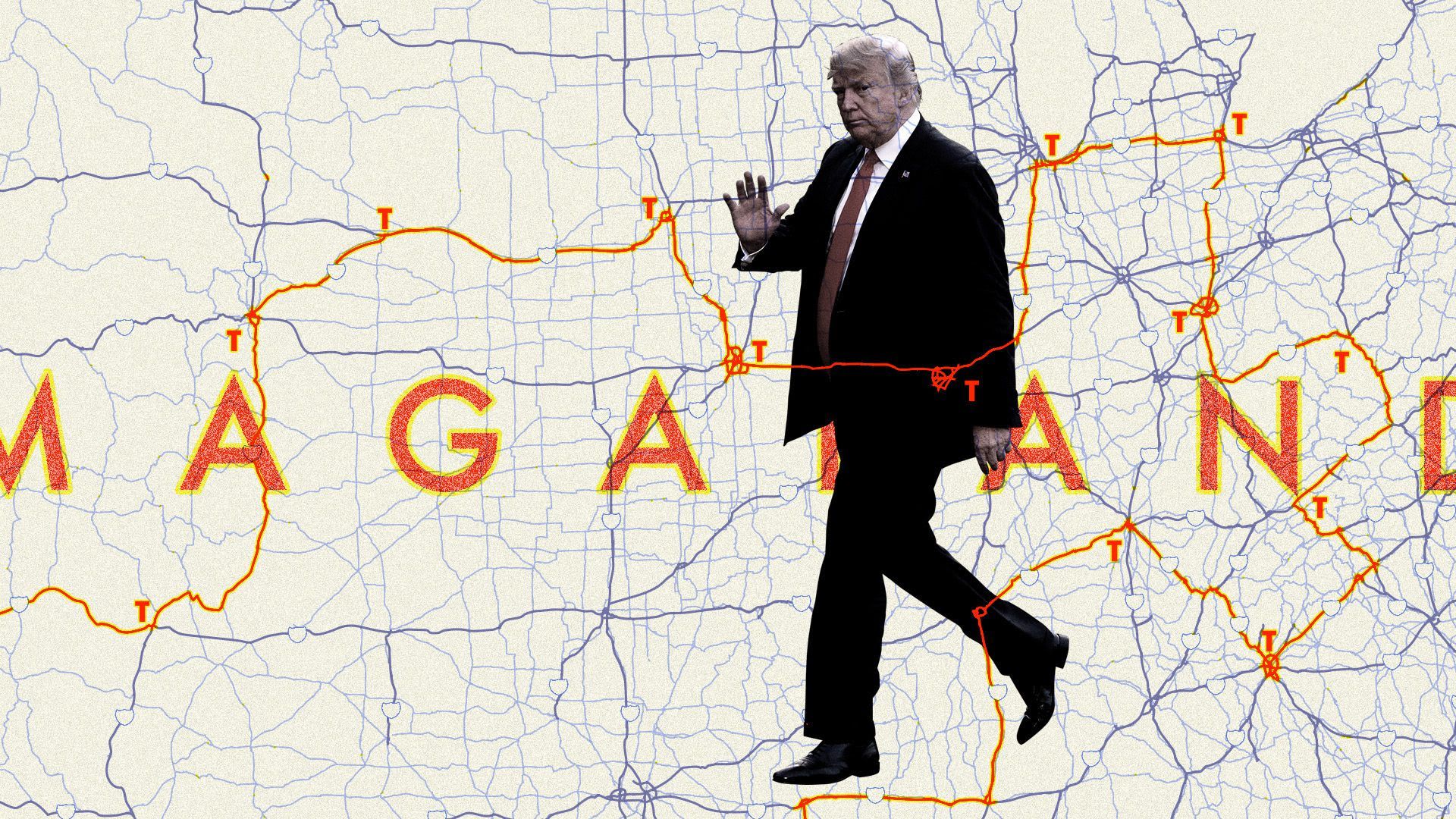 President Trump is adding an 11th rally to his final six-day blitz leading into the Nov. 6 midterm elections. Trump will be ending his campaign swing, on election eve, in the pivotal Senate state of Missouri, according to a source with direct knowledge of Trump's plans.
Why this matters: Trump is going to Trump country within Trump states. Only two competitive House seats lie within these locations.
The locations and dates we cite here, the big picture details of which were first reported by Bloomberg, are based on internal White House planning and could change:
Oct. 31: Fort Myers, Florida
Nov. 1: Columbia, Missouri
Nov. 2: Huntington, West Virginia and Indianapolis, Indiana
Nov. 3: Bozeman, Montana and Pensacola, Florida
Nov. 4: Macon, Georgia and Chattanooga, Tennessee
Nov. 5: Cleveland, Ohio; Fort Wayne, Indiana; and Cape Girardeau, Missouri
Between the lines: The Cook Political Report's elections analyst Amy Walter told me the schedule, developed by White House Political Director Bill Stepien, is a "very strategically smart tour" and also appears to her to basically "concede the House."
"It's all about the Senate... really expanding the Senate," Walter said when I shared the presidential travel schedule with her.
Trump is "going to the places where he remains popular, more rural or exurban, and he's staying away from big cities that have suburbs where he's toxic," Walter said.
"It's notable, by the way, that he's not spending the last week in places that won him the White House in 2016," Walter added. For example, Trump is not rallying in Pennsylvania, Wisconsin or Michigan.
Asked to respond to this analysis, the White House declined to comment. A person familiar with the situation pointed out that Trump "made six House-only trips during October, all in districts considered to be competitive, outnumbering the Senate trips in the month."
And "during the final week, when high demand for the president results in the need for him to make multiple campaign stops per day, logistics come into play and where he is going in the final stretch will cover as much ground as possible to drive turnout for Republicans."
Go deeper: The 2016 vote numbers for the counties and congressional districts surrounding each of these locations show that we have a specific location: It's Trump country in a Trump state.
Trump won many of the counties by at least 20 points. He won all of the congressional districts by at least 20, and in one case (Cape Girardeau, MO) he won by more than 50.
The most striking exception is Macon, Georgia, which sits within Bibb County, which Hillary Clinton won by 20 points. But Trump won Macon's congressional district by almost 30 points.
The wildcard: We were surprised to see Trump do a rally in Ohio, given the Senate race there is not competitive. Our guess is this decision has nothing to do with the Senate race. There's a strategically important governor's race in Ohio that Republicans badly want to win. The Ohio governor plays a huge role in overseeing elections in the state — more so than any other presidential battleground.
The bottom line: The difference between having a Republican governor's political team in Ohio for 2020 versus a Democratic governor in that state cannot be overstated.
Correction: This story previously said there were no competitive House races in the states where Trump will visit.
Go deeper