Trump's short-lived "peace, love and harmony"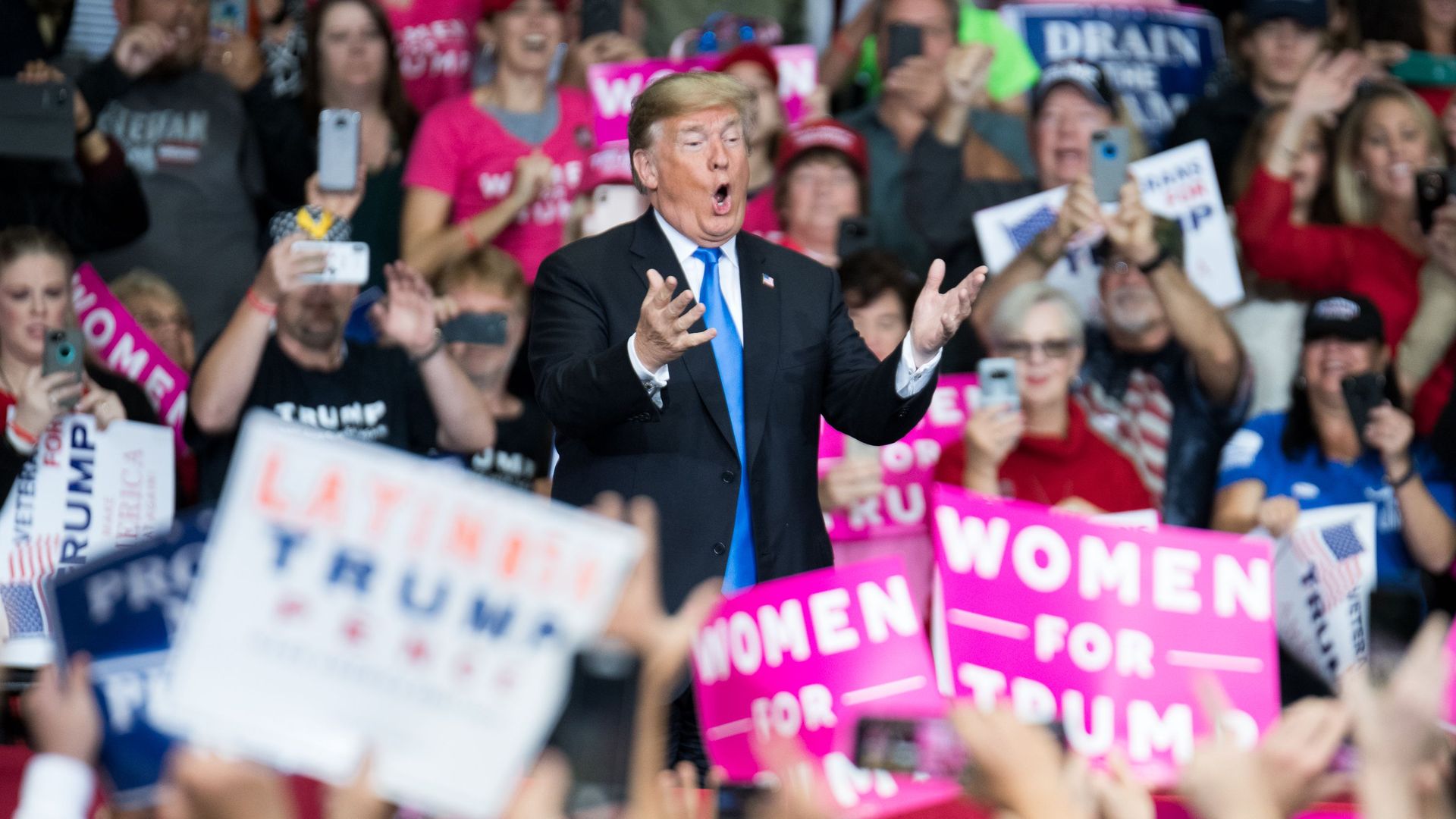 Imagine the agony and contortions another politician might have gone through if a signature chant from his rallies ("CNN SUCKS") was found emblazoned on the van of a rabid supporter charged with mailing bombs to political opponents?
Not Trump. At a rally last night at Bojangles' Coliseum in Charlotte, N.C., the president started with a line that could have come from any president: "These terrorist actions must be prosecuted and punished to the fullest extent of the law."
"​Political violence must never, ever be allowed in America, and I will do everything in my power to stop it," Trump continued, to crowd cheers.
"In recent days, we've had a broader conversation about the tone and civility of our national dialogue. Everyone will benefit if we can end the politics of personal destruction. [Crowd cheers.] We must unify as a nation in peace, love, and in harmony."
Whoa! A new Trump?
The crowd of 9,000 was in no mood for that, and Trump took the cue.
So he played the hits, from "Crooked Hillary Clinton" (with "Lock her up!" chants from the crowd) to Rep. Maxine Waters, one of the intended bomb recipients. Trump didn't add his usual derogatory descriptions of Waters: "I'm trying to be nice."
Trump lectured the media, prompting chants of "CNN sucks!" when he said:
"The media has a major role to play ... as far as tone. [Crowd cheers.] ... [T]he media's constant, unfair coverage, deep hostility [Boo!] and negative attacks ... only serve to drive people apart and to undermine healthy debate."
"For example, we have seen an effort by the media in recent hours to use the sinister actions of one individual to score political points against me and the Republican Party." [Crowd boos.]
On the South Lawn before he took off for Charlotte, Trump was asked if he was at all to blame.
"No, not at all," Trump replied. "There's no blame."
"The Republicans had tremendous momentum, and then, of course, this happened, where all that you people talked about was that. And rightfully so. It was a big thing. ... But now we have to start the momentum again."
"I think I've been toned down, if you want to know the truth. I could really tone it up."
Go deeper