The future of media in driverless cars depends on who owns the data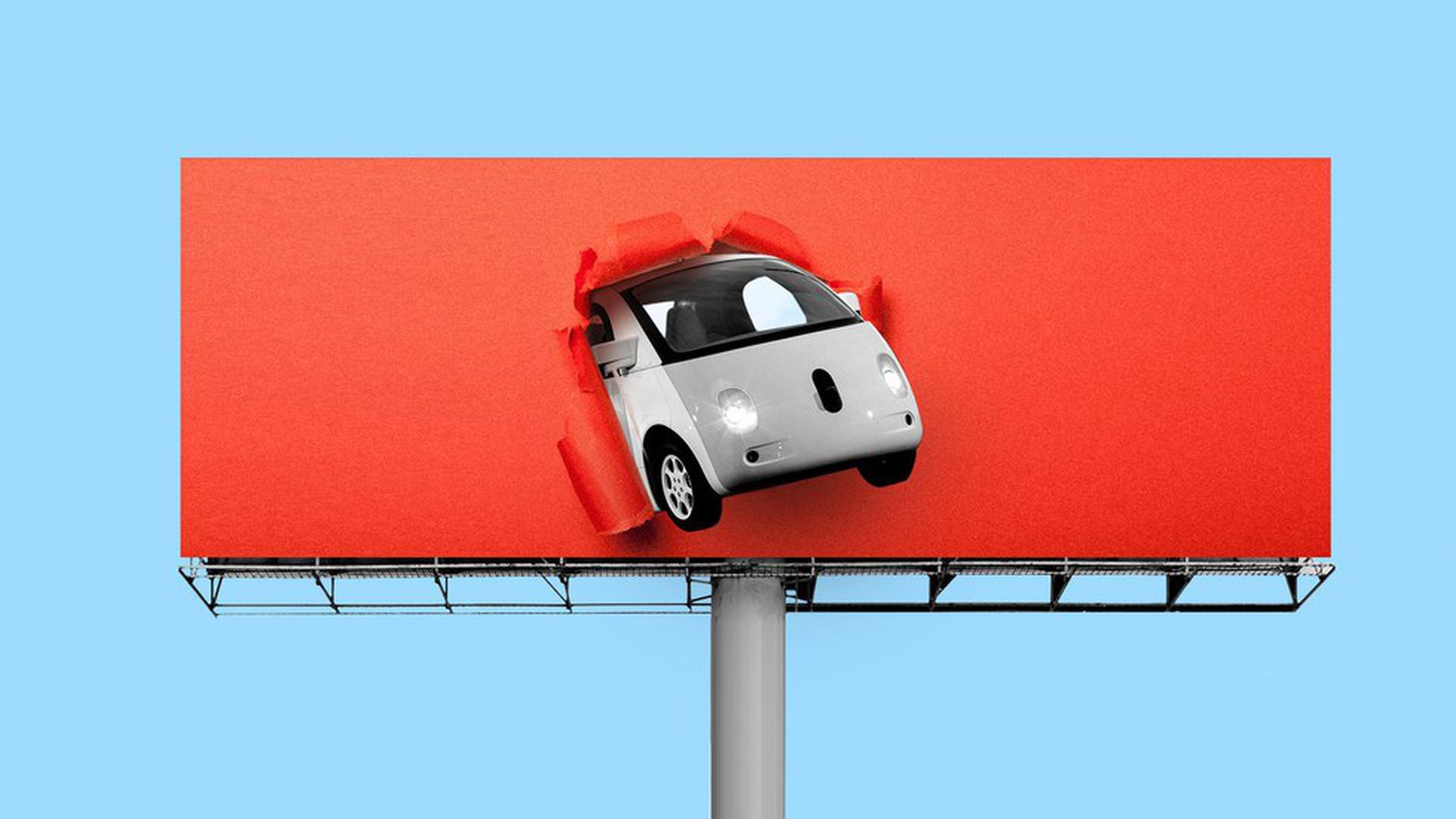 The media and advertising industries are anxiously awaiting driverless cars because they'll create more opportunities for people to view media content and advertising.
The bigger picture: With a finite amount of time in a day, the media industry is doing whatever it can to capture and monetize more of your attention. Driverless cars are supposed to free up hours for people who were previously spending their time behind the wheel.
Yes, but: It's not clear whether people will be able to fully take their eyes off the road to consume more content.
Right now, driverless cars require drivers to pay attention. As they become more autonomous, the level of attention needed would likely change. The media industry is planning for all scenarios.
Most models have digital screens, but some are designed to help drivers pay more attention to the road by providing better directions, places to stop, etc.
"Others are built for passengers that don't need to pay attention to driving whatsoever," said Daniel Castro, vice president at the Information Technology and Innovation Foundation.
Driverless cars will dramatically change the way some industries think about marketing and serving content.
Billboards and terrestrial radio, for example, will need to focus their technologies on targeting less-distracted passengers and connecting drivers and passengers to the world around them with more dynamic ads that are targeted by location.
Andy Sriubas, CCO of Outfront, one of the largest billboard companies in the U.S., says these changes, and other changes in tech, have forced the billboard industry to adapt. "I don't think of us as truly a billboard or transit company. We're a location-based media company," he said.
The video industry will reshape the way people consume TV and movies in cars. With 5G connectivity, streaming video will become a seamless experience.
"The question will be what the car company will control in terms of the viewing experiences versus what you can just access on the internet."
— Gary Shapiro, president and CEO, Consumer Technology Association
For the $190 billion U.S. advertising industry, the opportunities are endless, but privacy around data-targeted ads remains a big concern.
"[P]eople should not ignore how the public will accept the privacy implications of these emerging data-driven technologies and ads."
— Dan Jaffe, Group EVP government relations, Association of National Advertisers
Between the lines: The U.S. has fewer consumer data rules, so car companies, media companies and advertisers have a lot of room to experiment. Europe has strict data laws, making innovation in autonomous vehicles and the entertainment experience more difficult.
What's next: Right now, drivers own their own data. But because cars will have different levels of driver participation, there's no consensus around the future of data ownership.
In the future, the car company could own the data (think GM or Ford, who already ask consumers to opt-in so they can share their data with retailers). In the shared economy (think Uber or Lyft), the ride-sharing service could own it. If stricter privacy laws are enacted, the consumer could own it.
And tech companies that own autonomous vehicle firms are well-positioned to get into the advertising game because of their map data, says SafeSelfDrive founder Jim McPherson.
The bottom line: Whoever owns the data will ultimately decide who controls the content and ads — or at least who gets the revenue.
Go deeper