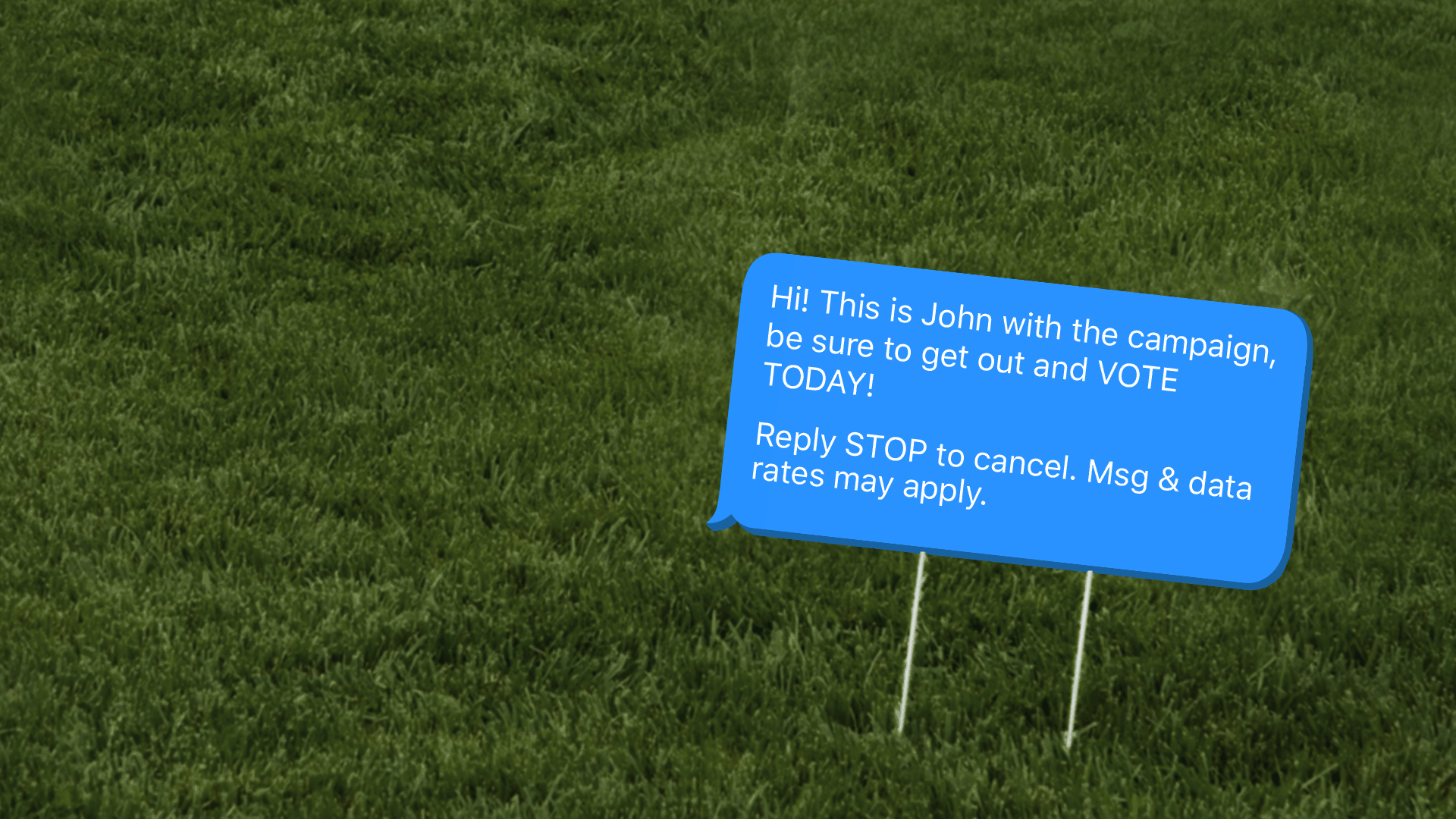 The most popular way for political campaigns to reach voters ahead of this year's midterm elections isn't placing ads on social media or TV — it's flooding cellphones with personalized political text messages.
Why it matters: The texts may be annoying, but they don't violate the rules. Instead of using automated bulk text messages, many campaigns are manually sending text messages to individual voters, one at a time. That means the so-called "peer-to-peer" texts aren't subject to federal limits on autodialers (like robocalls) to mobile phones.
The big picture: TV and email ads are still used, but are less effective in an era of new media consumption habits. Text messages, though, are sent directly to cellphones. They're hard for voters to avoid, and have high "open" rates: 90% of text messages are read within 5 minutes, according to Opn Sesame, a messaging provider.
That intimate delivery, and the ability to target and personalize messages, is what makes them so effective for campaigns — but also annoying for many voters who didn't sign up for them.
What's happening: Political campaigns across the country are using peer-to-peer (P2P) text messaging to drive supporters to rallies, tout ballot initiatives, fundraise and encourage early voting. They were used by Barack Obama's campaign in 2008, then by Bernie Sanders' campaign in 2016. Now they've gone mainstream and are being used for local races, too.
Since messages are sent by individuals rather than auto-dialing software, the P2P messages allow campaign staff to have a running conversation with the voter, who can ask questions or give feedback.
Campaigns usually get phone numbers from voter records or firms that buy and sell voter data.
Companies must get consent before sending auto-dialed, bulk calls and text messages to customers' mobile phones, as required by Federal Communications Commission rules for telephone solicitations.
Manually dialed calls and texts sent for political purposes, however, are not subject to those rules, so campaigns can text voters without prior consent.
Political parties and candidates are also exempt from Do Not Call list restrictions.
But many voters are angry that they're being inundated with messages they didn't sign up for.
"An individual employee could easily send 30,000 messages per hour (conservatively at 10 messages/second), far outpacing the capability of users to report and block or opt-out of these unwanted messages," Matt Tucker of Orlando, Fla., wrote in a comment to the FCC.
Complaints were filed with the FCC and Florida Elections Commission after political text messages woke up voters in the middle of the night to tell them that a Plantation, Fla., mayoral candidate had the support of the local police force, the Ft. Lauderdale Sun-Sentinel reported.
In Texas, a class action lawsuit was filed against Beto O'Rourke's campaign for sending text messages to voters without prior consent, according to the Ft. Worth Star-Telegram.
What to watch: Groups that use the service have filed a petition asking the FCC to clarify that P2P messages aren't subject to restrictions on calls to mobile numbers. The FCC hasn't yet ruled on the petition, and declined to say when it might do so.
Want to know how to stop them? Because peer-to-peer texts come from an individual, and show up as coming from a 10-digit number, you should be able to halt unwanted text messages by responding with "STOP."
Go deeper:
Go deeper