Israel expects Macron peace plan if Trump doesn't release his soon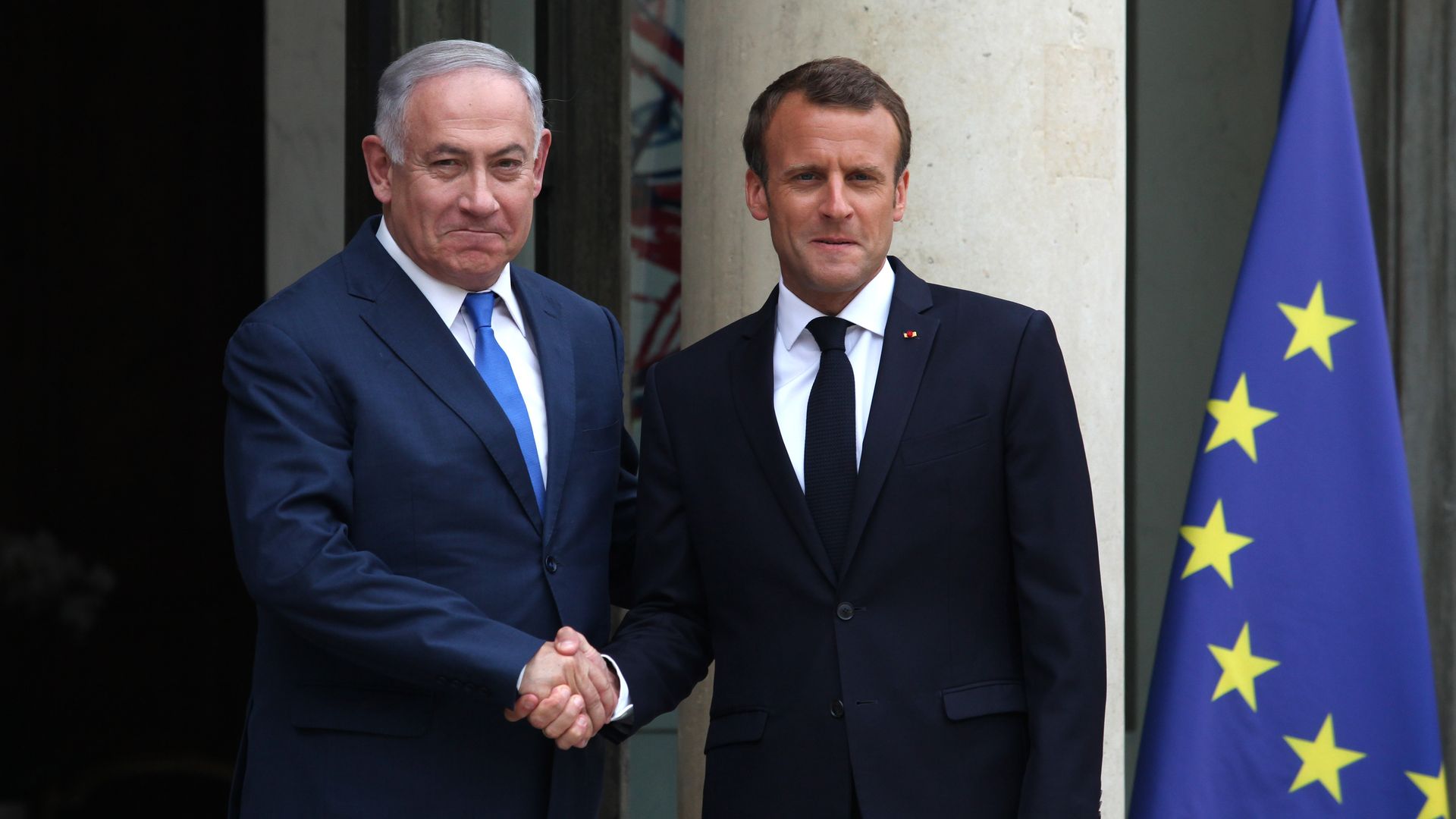 Israeli government officials believe French President Emmanuel Macron will propose his own Middle East peace initiative if President Trump doesn't release his plan in the first few weeks after the November midterm election.
Why it matters: Israeli Foreign Ministry Political Director Alon Ushpiz made that prediction during a closed-door, classified hearing of the Knesset Foreign Affairs and Defense Committee, 2 Knesset members who attended the hearing told me. Trump said a few weeks ago he would release the plan in 2–4 months — meaning between the end of the midterms and the end of 2018.
The backstory: In the last year, the White House had several tentative dates for releasing the plan, but until now Trump's peace team — led by Jared Kushner — had decided the timing was still not right.
Israeli officials and French diplomats told me that in late August, Macron instructed the Foreign Ministry in Paris to start thinking about ideas for a new diplomatic initiative on the Israeli-Palestinian issue. Macron told his aides he doesn't want to let the issue disappear from the international agenda.
Ushpiz also warned that there could be big changes ahead for Israel in the U.S. midterm elections if the Democrats win the House.
According to the Knesset members who attended the hearing, Ushpiz hinted that a Democratic victory is possible, which would change the political realities in Washington for Israel: "Things are not going to be like they used to. There will be consequences for Israel. The reality we knew since Trump assumed office is not going to continue after the midterms, and we need to prepare for that."
Ushpiz also said Israel is losing support in more and more Jewish communities in the U.S. and among progressives and the LGBTQ community. He added: "We have the evangelicals, but with all the rest we are not in good shape."
Israeli Foreign Ministry spokesman Emmanuel Nahshon told me: "Some of the details in this story are not accurate, but we can't elaborate on classified briefings."
Go deeper