Scoop: Trump told Macron he's ready to pressure Netanyahu to back peace plan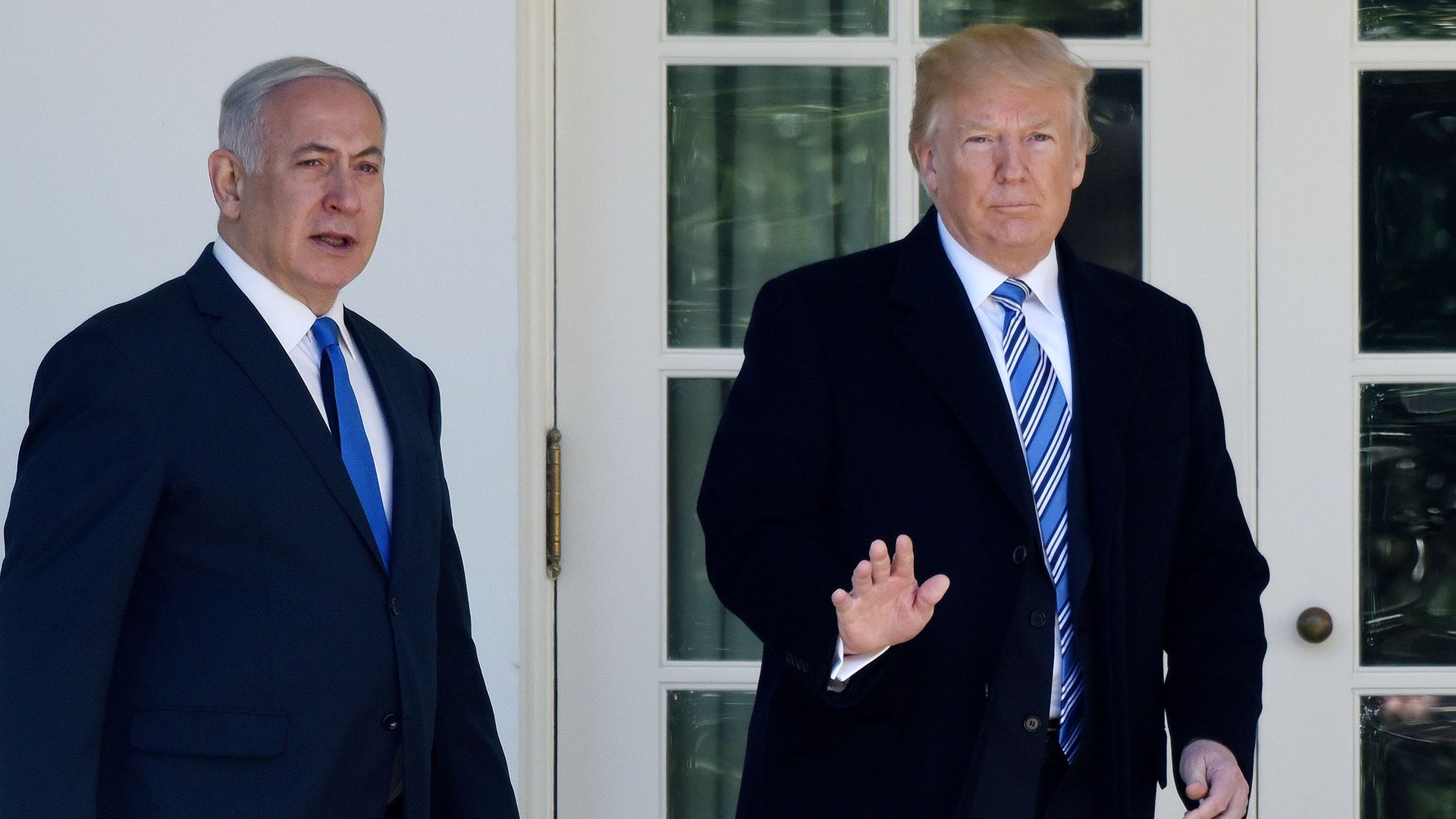 President Trump told French President Emmanuel Macron last month that he's ready to put pressure on Israeli Prime Minister Benjamin Netanyahu to accept his upcoming Middle East peace plan, four Western diplomats briefed on the meeting tell me. Trump specifically mentioned the fact the U.S. gives Israel billions of dollars in aid every year.
Why it matters: We haven't previously heard Trump say anything about his willingness to put pressure on Netanyahu, perhaps his staunchest ally around the world. Three days after the meeting with Macron, which happened on the sidelines of the UN General Assembly, Trump met with Netanyahu in New York and announced for the first time his support for the two state solution. In the same meeting, Trump said he was planning to present his peace plan in two to four months.
According to the four Western diplomats, Macron told Trump he has the impression Netanyahu doesn't really want to move on the peace process "because he loves the status quo." Trump said he was very close to reaching the same conclusion.
Then Macron asked Trump why he only puts pressure on Palestinian President Mahmoud Abbas.
According to the Western officials, Trump said he has been tough with the Palestinians because they don't want to talk to the U.S. "peace team," and this is unacceptable. Then Trump explained he will be willing to pressure Netanyahu, if needed, when the moment comes.
Trump added that he has given Netanyahu a lot — like moving moving the U.S. embassy to Jerusalem. Trump even mentioned that every year the U.S. gives Israel $5 billion in military aid (the correct figure is $3.8 billion).
"I can be as tough with Bibi as I have been with the Palestinians."
— Trump to Macron, according to four Western diplomats.
The White House did not deny this account. A White House official told me: "The President believes that Prime Minister Netanyahu is committed to pursuing a comprehensive and lasting peace between Israel and the Palestinians."
Go deeper