Hurricane Willa menaces Mexico as a dangerous Category 4 storm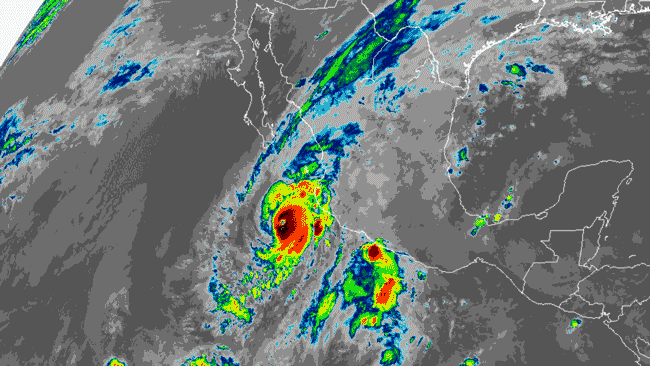 Hurricane Willa put on an astonishing display of rapid intensification over the weekend into Monday morning, going from a tropical depression to a Category 4 hurricane in just 48 hours and intensifying further into a Category 5 storm. By Monday afternoon, the storm had weakened slightly, back to a Category 4, but it is expected to hit Mexico's Pacific coast as a major hurricane of Category 3 or stronger by Wednesday.
Why it matters: While Hurricane Willa is likely to weaken slightly prior to making landfall, it will still be an extremely dangerous hurricane when it comes ashore, bringing an array of hazards including life-threatening storm surge at the coast, damaging winds, heavy rains that could be measured in feet and the potential for inland flooding as the storm crosses Mexico from west to east.
Details: Hurricane Willa is forecast to come ashore between Mazatlán and Puerto Vallarta, sometime on Tuesday afternoon or evening. Computer models largely agree on the storm's track, but differ on its forward speed, the National Hurricane Center noted Monday.
Between the lines: Hurricane Willa is yet another tropical cyclone this year to undergo an extended period of rapid intensification, as the destructive Hurricanes Florence and Michael did in the Atlantic basin. Such storms may be becoming more common as the oceans and atmosphere warms in response to increasing concentrations of greenhouse gases.
Willa's maximum sustained winds increased by 55 mph in 24 hours between Saturday and Sunday, according to weather.com, and kept increasing from Sunday evening through Monday morning.
The Eastern Pacific hurricane season is already setting records by at least one metric, known as the Accumulated Cyclone Energy, or ACE, which measures storms' power and longevity.
According to data from Colorado State University hurricane researcher Phil Klotzbach, the 2018 season became the most active Eastern Pacific hurricane season on record, dating back to 1971, based on the ACE index. The previous record was set in 1992.
The cumulative ACE metric factors in the number, intensity and duration of each storm in a season. Long-lived, intense hurricanes have a high ACE index while short-lived, weak tropical storms have a low value.
The ACE of a season is the sum of the ACE for each storm, taking into account the number, strength and duration of all the tropical storms and hurricanes in the season.
My thought bubble: The active Eastern Pacific season may be related to a brewing El Niño, which features above-average ocean temperatures in the tropical Pacific Ocean.
Go deeper