House Republicans' day after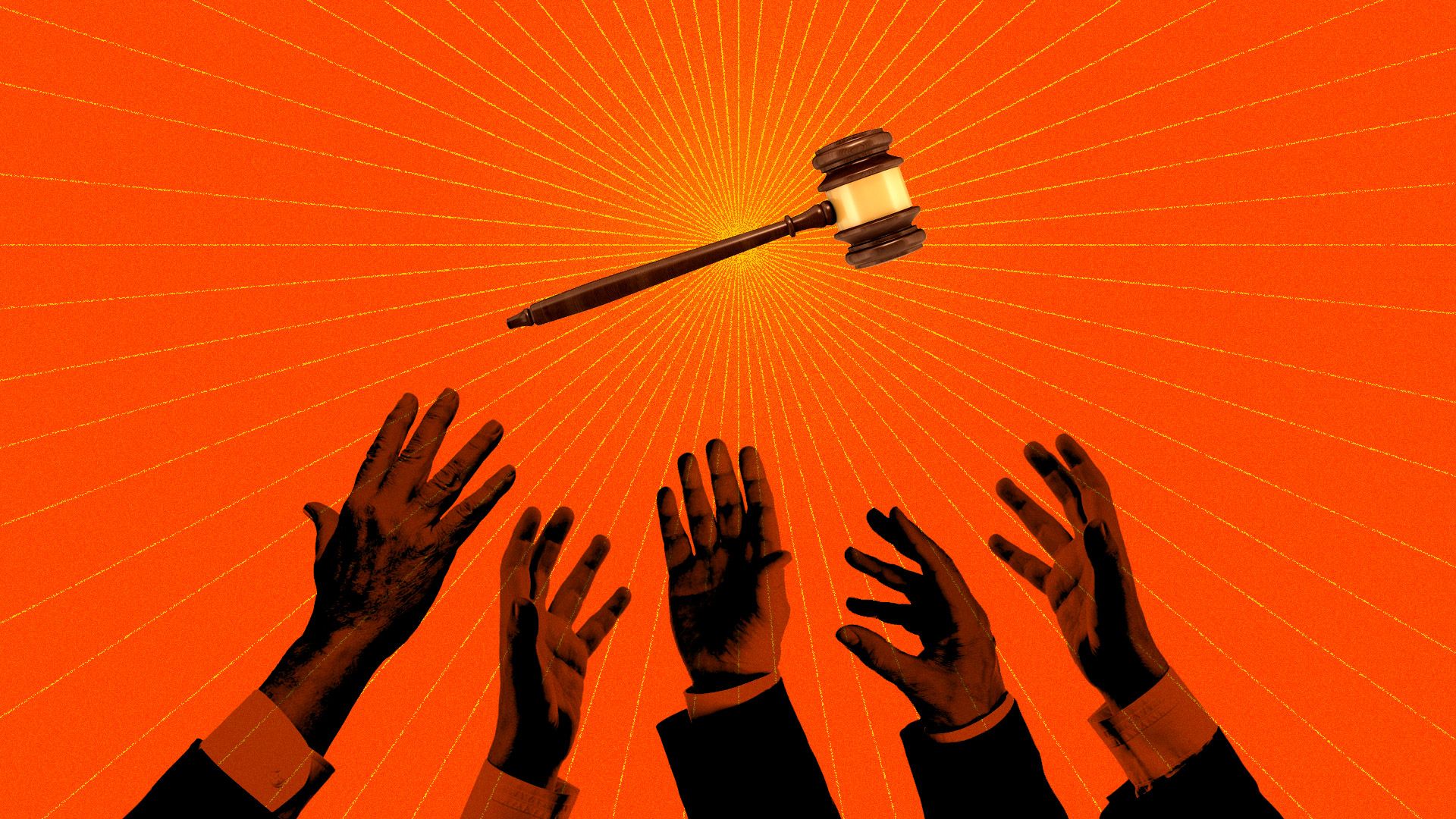 With Speaker Paul Ryan retiring, House Republicans will return from what could be a brutal election — and have no guarantee about their next leader.
The big picture: Majority Leader Kevin McCarthy of California, a favorite of President Trump who's the current #2, is very likely to be either Speaker or minority leader, depending on the whether the House flips. But there could be drama getting there. Any threat would be from the right — centered in the conservative Freedom Caucus, which would likely bargain for committee chairs and other spoils if Republicans hang on.
If Republicans hold the House, it'd be by a tiny margin. And there are plenty of Republican members who are "hell no" on McCarthy, a source close to House leadership tells Axios:
Trump would probably help McCarthy whip the few "hell no" votes he'd need to get over the line.
"He's going to have to get involved," said a source close to the House GOP. "The margin is too thin, and every single would-be candidate for Speaker has probably 10 'hell nos.'"
Here's how the two scenarios could play out:
If Republicans hang on, the conference would likely be giddy after escaping death, and McCarthy will get credit. He's known as an operator who can get things done — exactly what the new, certainly slimmer majority will need.
If Democrats get the gavel, all McCarthy has to do for minority leader is win more than half the conference in a secret ballot that doesn't need to be ratified on the House floor. There's a school of thought that he could be challenged by someone who promises to be a political disrupter — a polemicist who can function largely as a cable-TV conservative. McCarthy would have to lay out why members should stick with him after a crushing loss. But members are unlikely to blame him, insiders say. And I'm told members would see McCarthy as "a path back" to the majority, on policy and politics.
Here's a field guide to the other players:
The likely swing vote if McCarthy were challenged would be House Freedom Caucus Chair Mark Meadows of North Carolina, who could bring along many of the most conservative members.
The current #3 behind McCarthy is House Republican Whip Steve Scalise of Louisiana, who'll be out the week after the election with "Back in the Game," a book about his inspirational recovery from grave wounds suffered in the shooting at a congressional baseball practice last year.
Another rising leader who'd likely move up in the absence of McCarthy or Scalise would be Rep. Patrick McHenry of North Carolina, Scalise's chief deputy whip. McHenry is popular with conservatives, and did well filling in for Scalise.
AP's Lisa Mascaro (whose article, "Battle for power looms in GOP," prompted me to look into this issue), said conservative Rep. Jim Jordan of Ohio "is waging a longshot bid to take the gavel. Trump appeared with Jordan at an Ohio rally in the summer and beamed when the crowd started chanting, 'Speaker of the House!'" The source close to House leadership told me Jordan "is strong with the base, and strong with the Fox News set." But in a secret ballot election, he may not even get the votes of the entire Freedom Caucus.
The backstory ... McCarthy planned ahead to insulate himself from a challenge, combining "the old, established politicking with the new," a Republican aide says:
McCarthy has been warning the White House and his conference all year about how treacherous these midterms are.
The Californian has been communicating with members as they campaigned across the country for months, and helped steer an "agenda of results" for them to run on.
He has raised $60 million this cycle, and hit dozens of districts. This week, he's in Florida and Georgia.
And with his eye on the right, McCarthy has been taking the lead on issues like full funding for Trump's wall, and pressuring social media companies for fair treatment of conservatives.
Go deeper:
Go deeper