The Trump immigration message is about turnout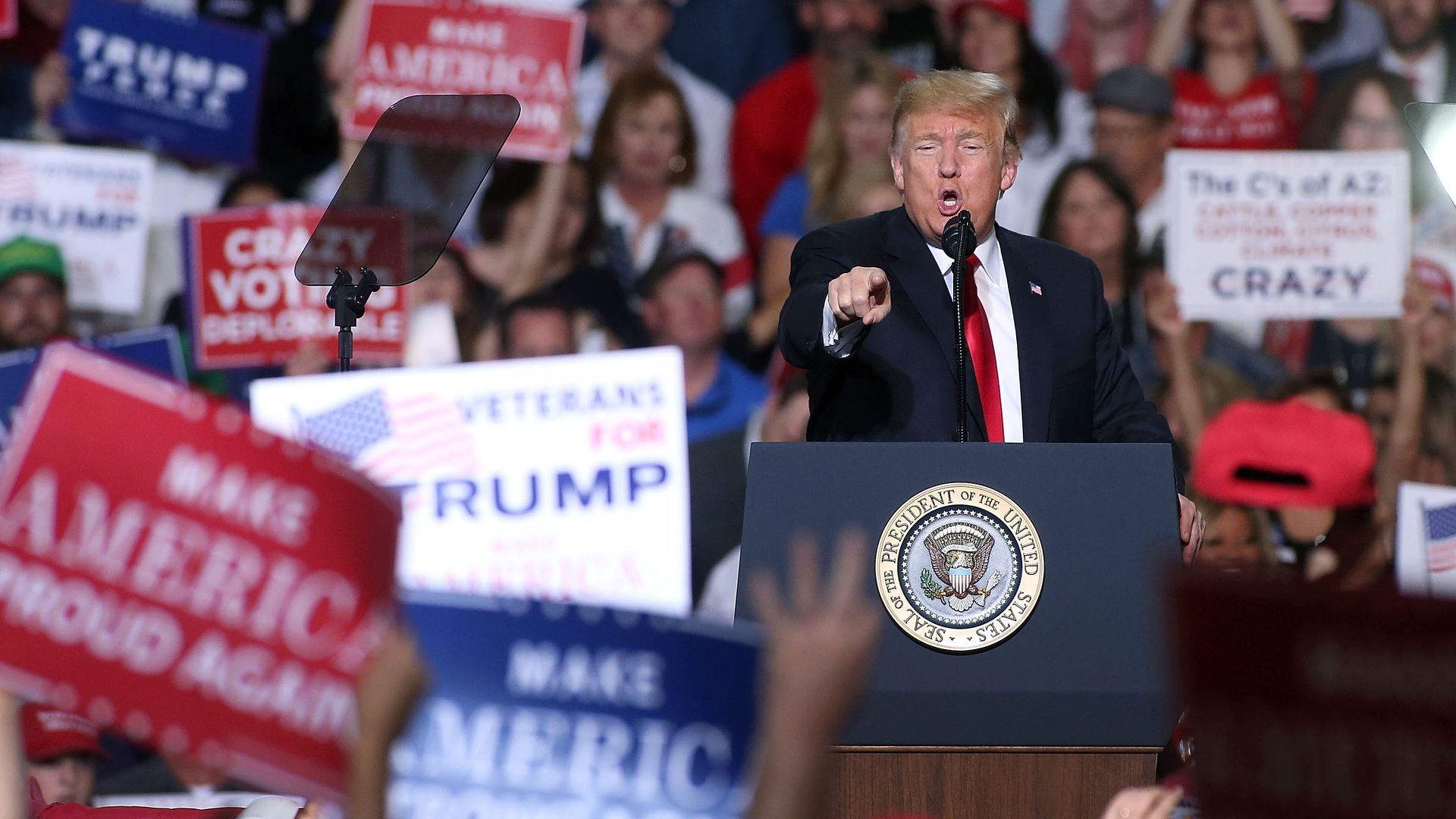 With just 17 days left until the election, President Trump is going all in on immigration as a way to help Republicans keep the House. "Democrats want to throw your borders wide open to deadly drugs and endless gangs," he said at an Arizona rally last night.
Why it matters: Republicans have a 16% chance of keeping the House, according to FiveThirtyEight. That certainly worries Trump — who's already said it won't be his fault if that happens — so he's making the 2018 midterms all about the base.
Be smart: Immigration in 2018 isn't about policy; it's about both sides making a cultural argument to turn out their base voters. Democrats call to abolish ICE while Republicans claim Democrats want open borders and support MS-13 gangs.
Democrats worry immigration is an emotional and powerful issue that drives Republican voters to the polls, especially with stories like the undocumented immigrant accused of killing University of Iowa student Mollie Tibbetts.
The big picture: The GOP hasn't been able to effectively talk about health care (after failing to repeal the Affordable Care Act) and their tax law isn't polling well around the country. But immigration and stoking fear about Mexican immigrants propelled Trump to the White House in 2016, so he's forcing the GOP back into that conversation.
Think back to October 2016. That's when Trump introduced the phrase "bad hombres," vowing to deport all of them from the U.S.
He repeated the conspiracy theory that border patrol agents were speeding up immigrants' applications — even those with a criminal record — "so they can go and vote" in our 2016 presidential election.  
Exit polls from that election showed Trump crushed Hillary Clinton among voters who ranked immigration as the most important issue, winning them by 31 percentage points. And 73% of Trump voters ranked immigration as "very high importance" to them and their 2016 vote.
The bottom line: As a Republican national strategist told me this week, "The GOP closing argument will be all about immigration and stopping Democrats from controlling Congress."
Go deeper: Caravan of Honduran immigrants advances into Mexico
Go deeper