The big picture: Caravan of Honduran immigrants advances into Mexico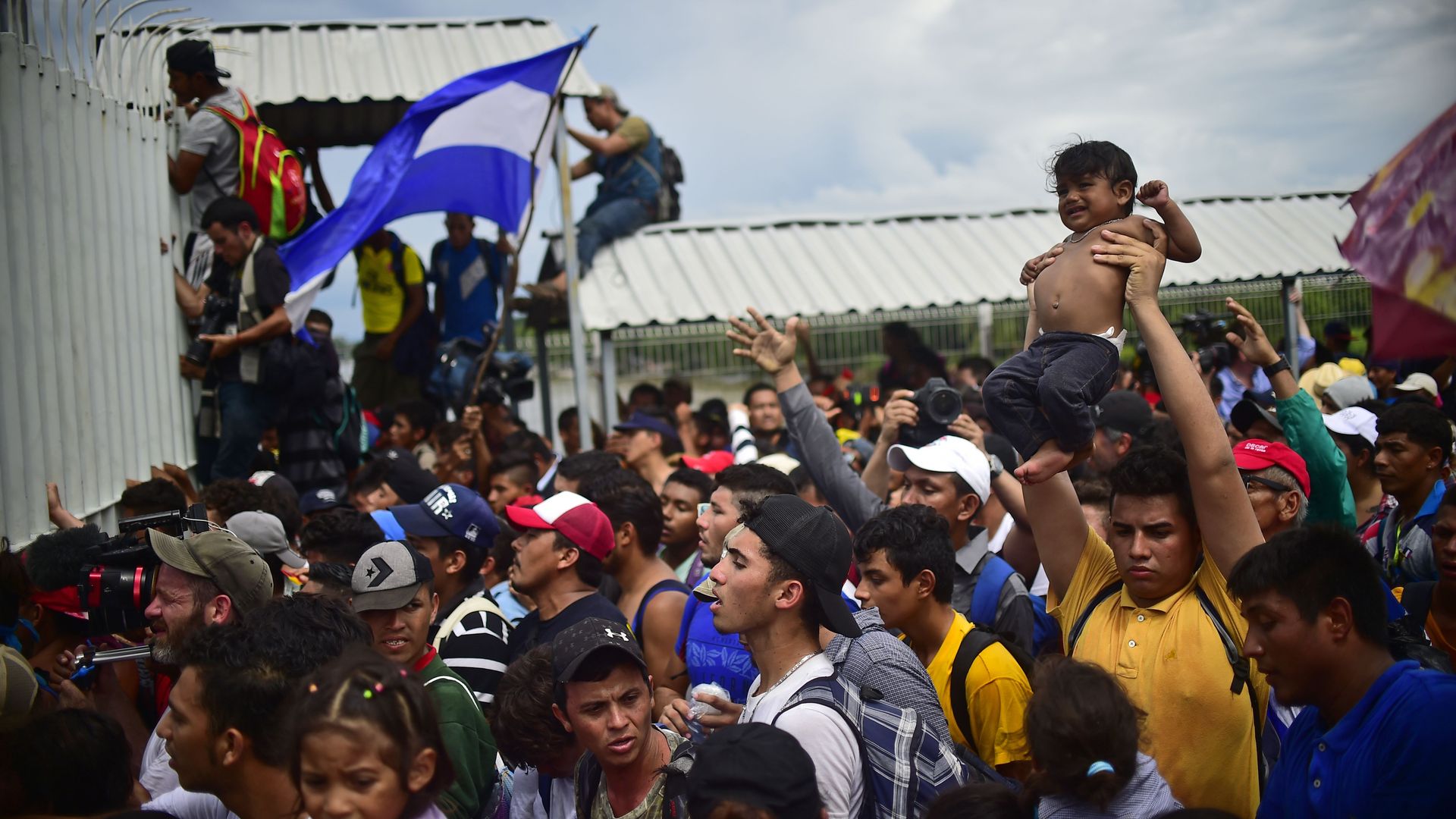 Honduran immigrants in the caravan of about 4,000 people heading toward the U.S. tore down a border gate between Guatemala and Mexico on Friday afternoon, the AP reports. A small group crossed into Mexico Thursday night.
The big picture: President Trump has threatened to cut off federal aid for countries such as Guatemala, Honduras and El Salvador, reevaluate his proposed trade deal with Mexico and even "close our southern border" in response to the caravan. Mexico has sent additional police to the border and requested that the UN set up a migrant processing center on the border, according to the Washington Post.
Situational awareness: Mexico is granting humanitarian visas to members of the caravan, but only 100 per day, the Wall Street Journal reports. This will allow them to be legally present in Mexico while their cases are being reviewed, but also does not stop them from heading to the U.S. border.
Meanwhile, Secretary of State Mike Pompeo is meeting with top Mexican officials on Friday.
This all comes weeks before the midterm elections, which means immigration will be back in the limelight — something both Republicans and Democrats will spin to their advantage.
September saw a record-breaking number of arrests of immigrant family members at the Southern Border — signaling the administration's border crackdown and family separation policy have been ineffective at deterring illegal immigration. The new numbers reportedly sparked outrage from Trump and fierce arguments between top White House officials.
What to watch: Trump and Republicans continue to blame Democrats for obstructing their efforts to implement stricter immigration laws which they claim would have prevented the surge in border crossers and the caravan. Meanwhile, expect Democrats to remind voters about Trump's hostile rhetoric toward immigrants and the family separation policy, which earlier this year launched nation-wide protests, an executive order and a chaotic family reunification process.
Between the lines: Many of the migrants in the caravan are fleeing violence in their home countries in the hopes of finding asylum in the U.S. But the caravan also serves as a political protest in the face of the Trump administration's immigration policies.
Go deeper