Why Trump can't quit the Saudis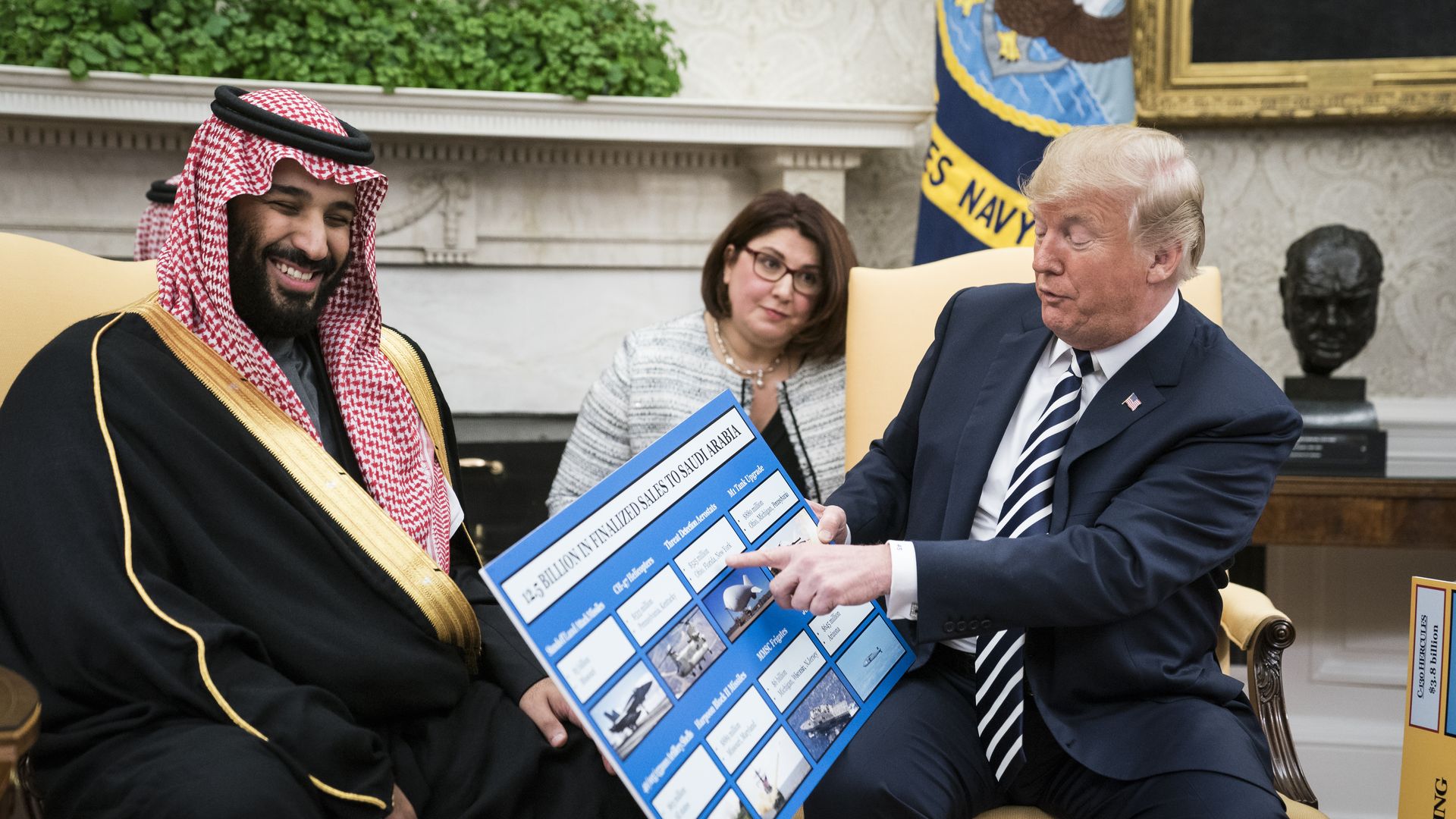 A big reason for President Trump's accommodating stance toward Saudi rulers in the apparent killing of Jamal Khashoggi is rooted in a simple dynamic: Trump needs them.
The big picture: Rice University energy scholar Jim Krane has a helpful Forbes commentary on the "crude realpolitik" behind Trump's openness to the kingdom's denials of responsibility. It stems from the president's need for more Saudi barrels on the market to offset the effects of his Iran sanctions.
"[T]he decision to soft-pedal the Saudis plays well with the Trump administration's worldview, where international norms mean little; even less when cheap Election Day gasoline is on the line," writes Krane.
Threat level: In a note this morning, a Verisk Maplecroft analyst looks more broadly at the Saudi posture, including their implicit threat a few days ago to wield oil as a weapon in response to potential punishment over Khashoggi.
"[T]he thinly veiled threat to drive up oil prices if the U.S., UK or France impose sanctions has raised the threshold for anyone considering punitive measures against Saudi Arabia," writes Torbjorn Soltvedt.
While oil production cuts are unlikely and would be "far up the escalation ladder," Soltvedt notes that in the event of a diplomatic crisis, the Saudis could take less dramatic steps like canceling arms deals or reducing intelligence sharing.
The bottom line: The Saudis' defiant responses have raised the stakes of punitive action over Khashoggi, and Trump's posture thus far suggests it's working. "By affirming King Salman's denial of any knowledge of the matter an immediate escalation has been avoided," Soltvedt writes.
P.S.: One frame for looking at who's bailing on the Saudi's upcoming Future Investment Initiative (FII) conference — dubbed "Davos in the desert" — is to see how much risk is involved in the decision.
Your Generate host wonders whether as many big banks would have bailed if Saudi Aramco's plans for a massive IPO weren't shelved for a couple years at least.
One company that's not saying anything is Lucid Motors, the electric vehicles startup whose CTO is on the list of attendees. Lucid last month announced over $1 billion in funding from the Saudi sovereign wealth fund that's co-hosting next week's FII. Lucid has declined repeated requests for comment from Axios.
Go deeper: We've got a running list of withdrawals
Go deeper