After Khashoggi's death, Turkey sees a path to greater influence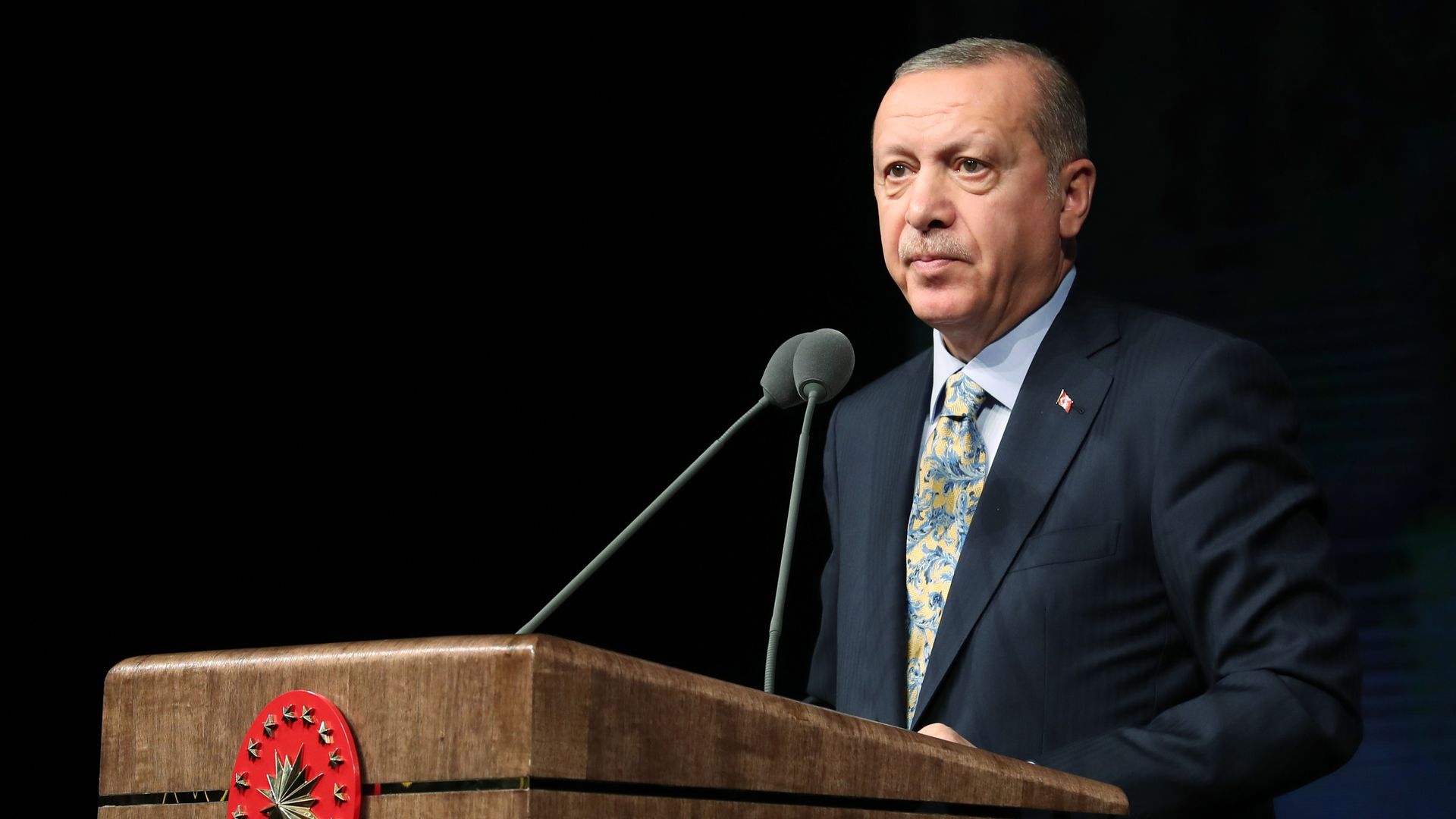 As Saudi Arabia went on the defensive last week about Jamal Khashoggi's alleged murder, Ankara seized the chance to repair relations with Washington by releasing U.S. pastor Andrew Brunson. "We feel much different about Turkey today than we did yesterday," President Trump told reporters on Saturday, expressing his hope of "having a very, very good relationship."
The big picture: Turkish President Recep Tayyip Erdogan has long wanted Turkey to supplant Saudi Arabia as the dominant power in the Middle East. The Khashoggi affair has presented a unique opportunity to undermine Saudi influence, potentially creating a regional power void for Turkey to fill.
Background: The emergence of Turkey as a rival Middle East power traces back to the Arab Spring, when the Turks supported Egypt's Muslim Brotherhood government and the Saudis bitterly opposed it. Erdogan is an Islamist; many like-minded political parties in the region look to him for leadership, and Saudi Crown Prince Mohammed bin Salman (MBS) has accused him of trying to "reinstate the Islamic Caliphate" of the Ottoman Empire.
MBS spent the past year — and millions of dollars — positioning himself as a golden boy in Washington, just as Erdogan and Trump came to blows over the jailed American pastor, resulting in crippling sanctions and a nadir in U.S.-Turkey relations.
For Erdogan, Khashoggi's death couldn't have happened at a better moment. The day after, Erdogan gave a speech in which his ambition for regional leadership was on full display. The gruesome details of Khashoggi's murder trickled out, punctuating the claims of Turkish officials and their allies that the Saudi-Emirati-U.S. alliance was morally bankrupt.
Between the lines: The Trump administration's approach to the region has also fueled Turkey's rise, transforming the war against ISIS into a confrontation with regional rival Iran and blessing the Saudi-Emirati siege of U.S. ally Qatar. In response, Turkey sent troops to protect Qatar and is coordinating with Iran in the Syrian conflict, solidifying a new axis of influence. With Saudi Arabia on the ropes over Khashoggi, Erdogan has more opportunities to ramp up his influence in Washington and the Arab world.
The bottom line: Ironically, it is Erdogan, a strongman who hates the media almost as much as Trump, who could find himself the biggest beneficiary of Western outrage over a journalist's murder.
Lawrence Pintak is a professor at Washington State University, a non-resident senior fellow at the Atlantic Council, and the author of "The New Arab Journalist."
Go deeper