Trump: Khashoggi case another instance of "guilty until proven innocent"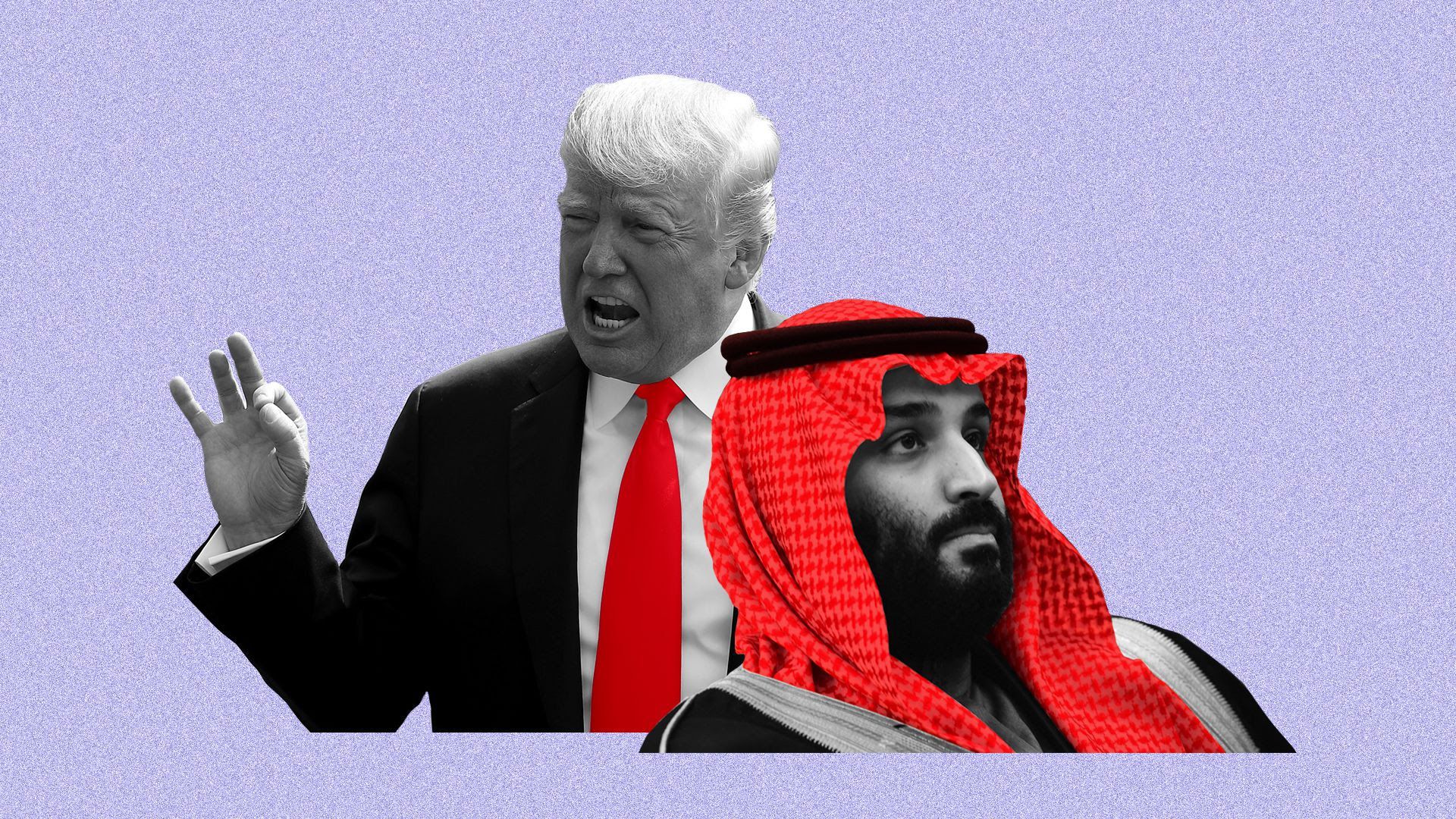 President Trump has told the Associated Press that Saudi Arabia being blamed for the disappearance and assumed killing of journalist Jamal Khashoggi is "another case of 'guilty until proven innocent.'"
The big picture: The Saudis and Trump administration each have incentives to stop this from becoming a lasting crisis. The U.S.-Saudi relationship survived 9/11 and is unlikely to end over the situation surrounding Khashoggi, but the evidence against Crown Prince Mohammed bin Salman (MBS) is increasingly hard to ignore.
Driving the news today:
Turkey turned over the passport information of 7 of the 15 Saudis suspected in Khashoggi's killing to the Washington Post, which blurred the photos and names before running them online.
U.N. human rights chief Michelle Bachelet has asked the Saudis to forgo usual diplomatic privilege in order to facilitate the investigation. (Neither the Saudis nor the U.S. are likely to have any interest in this request.)
Sen. Lindsey Graham said on Fox & Friends this morning that "toxic" MBS "can never be a leader on the world stage" and that sanctions are coming, no matter what Trump does.
Between the lines: Trump has now twice appeared to take Saudi denials about Khashoggi's disappearance at face value:
Trump today: "Just spoke with the Crown Prince of Saudi Arabia who totally denied any knowledge of what took place in their Turkish Consulate. He ... told me that he has already started, and will rapidly expand, a full and complete investigation into this matter."
Trump yesterday: "[T]he King firmly denied any knowledge of it. He didn't really know.  Maybe — I don't want to get into his mind — but it sounded to me like maybe these could have been rogue killers. ... All I can do is report what he told me. And he told me in a very firm way that they had no knowledge of it. He said it very strongly."
What's at stake:
"Officials said the dilemma comes at a fraught moment for the Trump administration, which is expected to reimpose harsh sanctions against Iran on Nov. 5, with the intent of cutting off all Iranian oil exports." [NYT]
MBS is aggressively courting U.S. and Western investments, hoping to diversify his country's finances beyond oil revenues.
The Saudis are major importers of U.S. weapons, and they will be wary of potential sanctions.
The bottom line: This story is hurtling to a public conclusion, regardless of whether the Saudis decide to be forthcoming.
Go deeper