The Democrats' 2020 crowd jumps the gun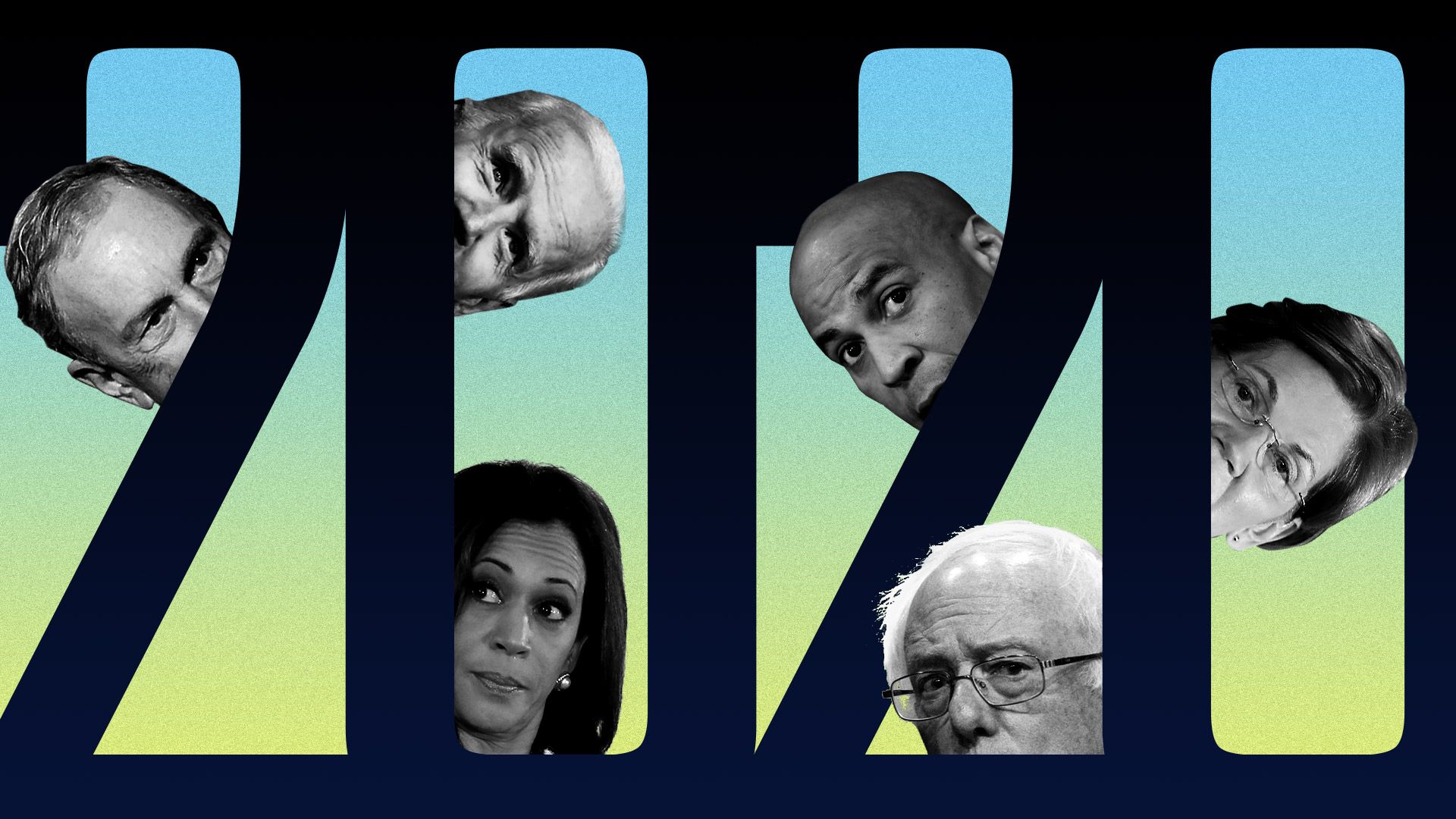 Democratic hopefuls for 2020, who had been expected to wait until after midterms to begin overt campaigning, are jumping the gun and flooding into Iowa, New Hampshire and other early-voting states to begin building support.
What they're saying: Jeff Link, a top Iowa operative who has worked in Hawkeye State politics since he joined Joe Biden in 1987, said it's like a poker game: "No one wanted to jump in, but once [New Jersey Sen. Cory] Booker broke the seal (and had a good trip), it's forcing everyone else's hand."
The same phenomenon is happening in the other early states:
So you had Mike Bloomberg, newly registered as a Democrat, in New Hampshire this weekend, with an upcoming trip to South Carolina.
Candidates are pouring into South Carolina, with its first-in-the-South primary. The Palmetto State has already hosted Joe Biden, and Booker, Sen. Bernie Sanders (Vermont) and Sen. Kamala Harris (California) all have visits scheduled before midterms.
And the WashPost reported today: "During the past six months, Sen. Elizabeth Warren (D-Mass.) has quietly built a shadow war room designed to elect Democrats across the country in the midterm elections, overtaking some of the traditional duties of Democratic Party campaign committees and further positioning herself for an all-but-certain 2020 presidential bid."
One reason that operatives in the early states had expected more reticence is that donors don't want Democrats eyeing 2020 to distract from Nov. 6.
But the presidential field is likely to be so crowded and brutal that no one wants to wait. 
Aides to 2020 hopefuls said everyone's trying to increase name I.D. to try to move into the first or second tier.
And at this point, travel is the biggest proxy in the Invisible Primary. No one is hiring yet because all the talent is tied up on midterms races.
Andy Brack, editor and publisher of StatehouseReport.com in South Carolina, said: "While the midterms are less than a month away, they're quite aware that the 2020 presidential primary in South Carolina is just over 15 months away."
Be smart: The test-the-waters crowd has some cover, because those states all have white-hot races. But veterans of past presidential campaigns say the 2020 groundwork is much more flagrant than is traditional or was expected.
Go deeper