Kavanaugh confirmed to Supreme Court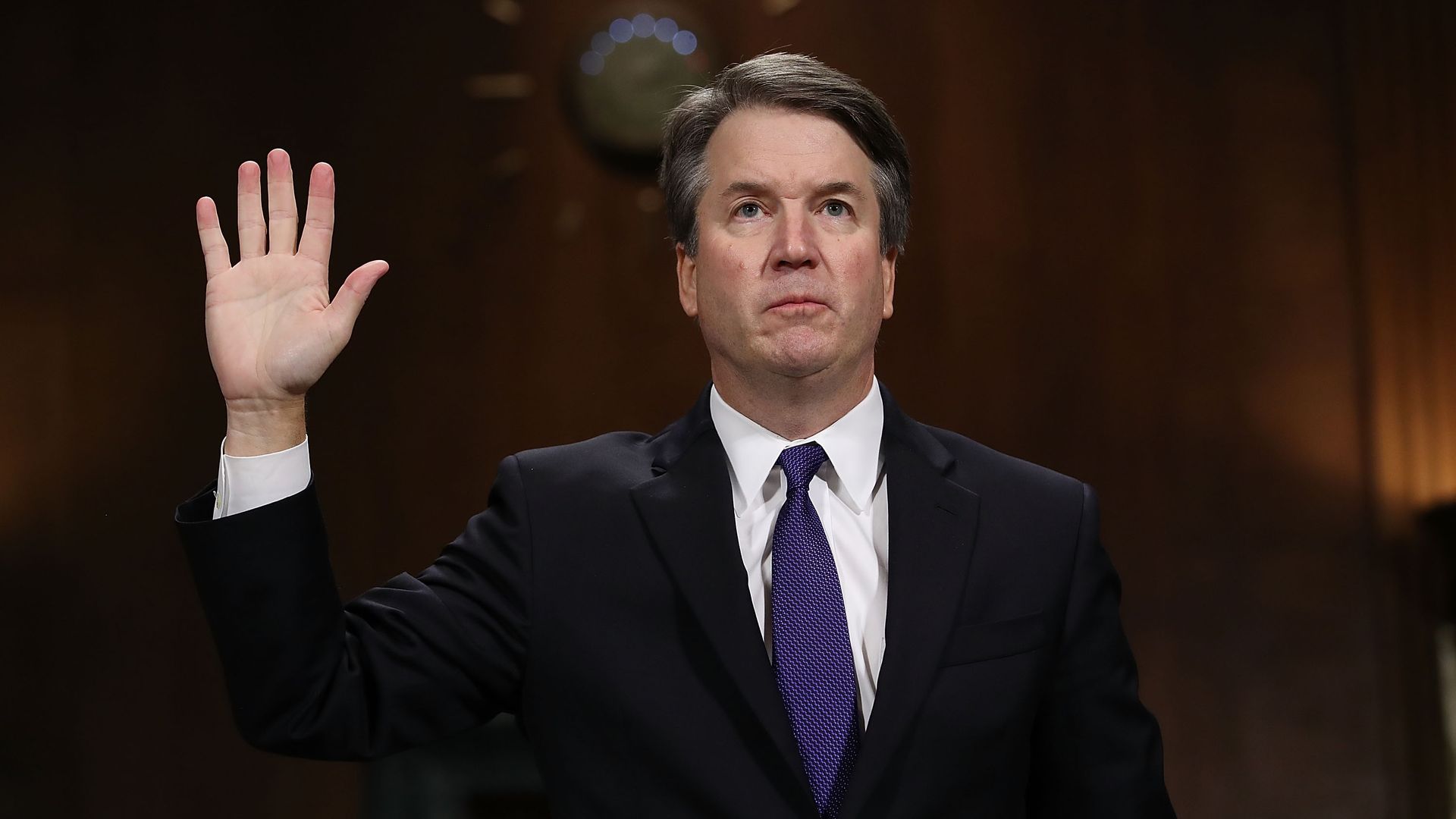 The Senate confirmed Brett Kavanaugh to the U.S. Supreme Court this afternoon by a 50-48 vote, ending one of the most bitter confirmation battles in decades. He was sworn in hours later as protesters denounced the vote.
The big picture: The atmosphere in the Capitol has been poisonous for the past few weeks. Everyone was angry, and everyone was stressed. Police even set up barricades around the Capitol building toward the end of the week, which is highly unusual. And protesters disrupted the final vote several times — another sign of the deep emotions unleashed by the brutal fight.
"This is an institution where the evidence and the facts matter. This is the chamber in which the politics of intimidation and personal destruction do not win the day."
— Senate Majority Leader Mitch McConnell
"His partisan screed will go down ignominiously in history and made it clear it would be virtually impossible for him to rule impartially on the Supreme Court."
— Senate Minority Leader Chuck Schumer
Here's what it was like at the Capitol before the vote:
There was extra Capitol police presence for much of the week. Protesters gathered around the building and in front of the Supreme Court, mostly to protest Kavanaugh and to advocate for believing women.
The tension was even greater than it was during last year's health care fight.
For political reporters, the game of the week was speculating what Sens. Susan Collins, Lisa Murkowski, Jeff Flake and Joe Manchin were going to do based on brief hallway interviews and political speculation.
On Friday morning, a shirtless, shoeless man holding an anti-abortion sign stood in front of the Senate side of the Capitol advocating against abortion and arguing with liberal, presumably pro-choice protesters about whether women's rights or the rights of the unborn are more important.
It was difficult for anyone to think about much else beyond the Supreme Court fight. President Trump's new trade deal and the New York Times investigation of his taxes barely made a ripple, and members most involved in the fight were completely swamped by reporters whenever they made the walk from their offices to the Capitol. 
The bottom line: The barricades will come down, but the genuine anger among Senate colleagues — and around the country — will last long after today's vote.
This post has been updated to note that Kavanaugh has been sworn in.
Go deeper