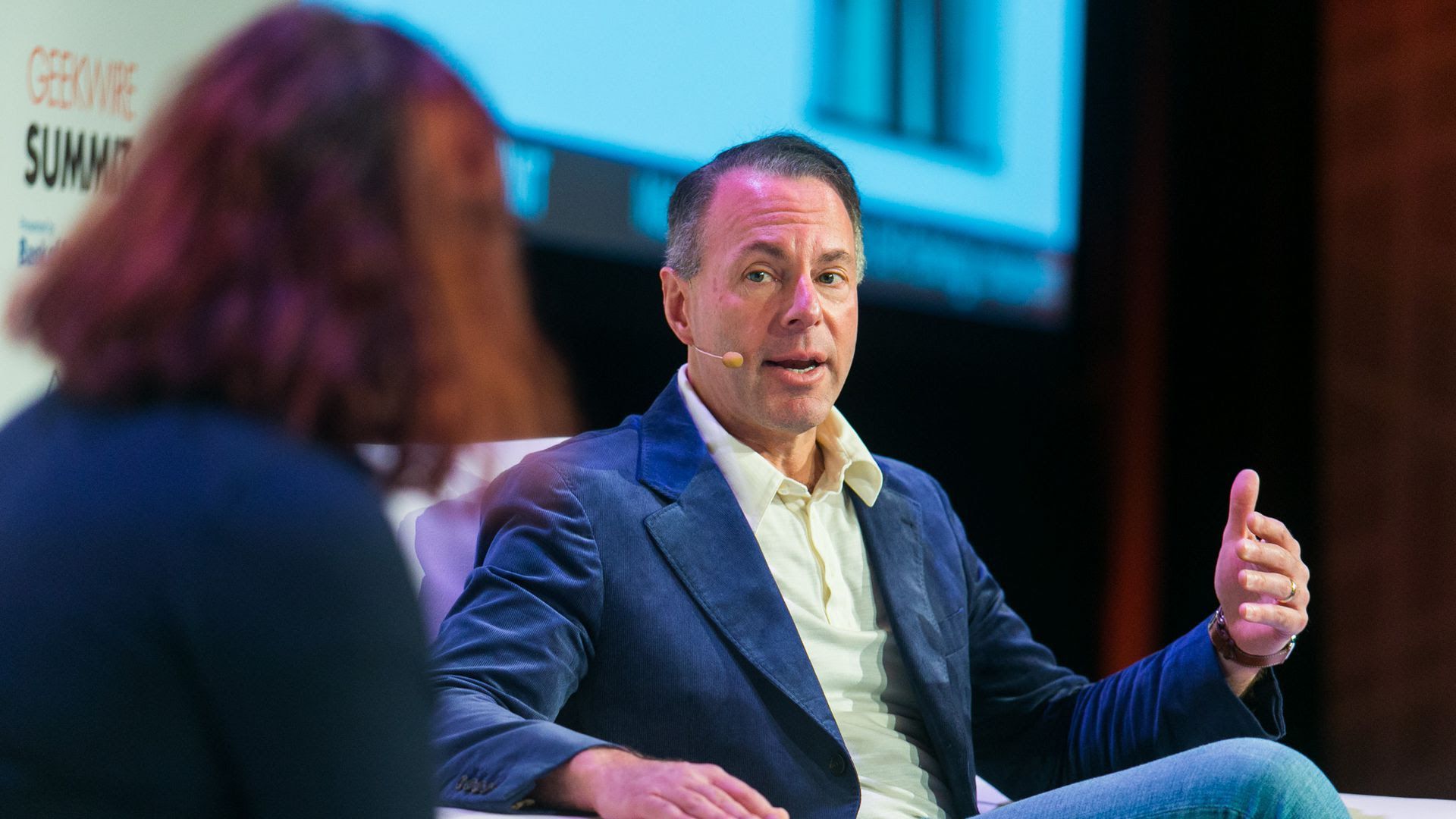 Although eBay just accused Amazon of unfair trade practices, it isn't looking for regulators for help. In an onstage interview at the GeekWire Summit yesterday, CEO Devin Wenig told me, "That's not the way we compete."
Driving the news: Wenig's comments came shortly after it was reported that eBay had sent Amazon a cease-and-desist letter accusing the company of violating California law and eBay's terms of service by trying to lure away eBay merchants.
Wenig declined to comment specifically on that action. "I think the story speaks for itself," he said.
Why it matters: Yelp complains to regulators all the time about Google, and many have wondered when Amazon might start to face antitrust scrutiny.
Wenig insisted there is room for more than just Amazon. He said:
'There isn't going to be one place in the world where everybody shops. The physical retail world didn't evolve that way. ... Nor will the digital world work out that way."
He praised Amazon for its move to hike the minimum wage for workers to $15 per hour, saying:
"I'm not a conspiracy theorist. Amazon is going to pay warehouse workers a living wage. Fantastic. I want tech to succeed and the way tech is going to succeed is not growth at all cost."
Yes, but: Wenig added that eBay needs to find ways to differentiate itself from Amazon.
"I want to get as far away from Amazon as I can. I want us to stand for something fundamentally different. I want it to be a place people think of first for the things they love, not just the things they need."
What's next, per Wenig:
More consolidation is coming to physical retail. The bull market may be masking that, but that's a "head fake."
Augmented reality and virtual reality haven't fully developed, "but we're getting there." He pointed to early applications such as using AR to help smaller sellers choose shipping box sizes. "We're not solving world peace, but it's a real use case." StubHub is also using VR to help people see the view they will get before they buy tickets.
eBay is adding other forms of payment including Apple Pay, as its exclusivity with PayPal ends. "I want buyers to pay however they want to pay," he said, while offering sellers as low fees as possible. "There's so much money at stake." However, he adds, there's no need for bitcoin in retail today, given the volatility of the currency.
Go deeper