How Barnes & Noble, the last big bookstore, fell to Amazon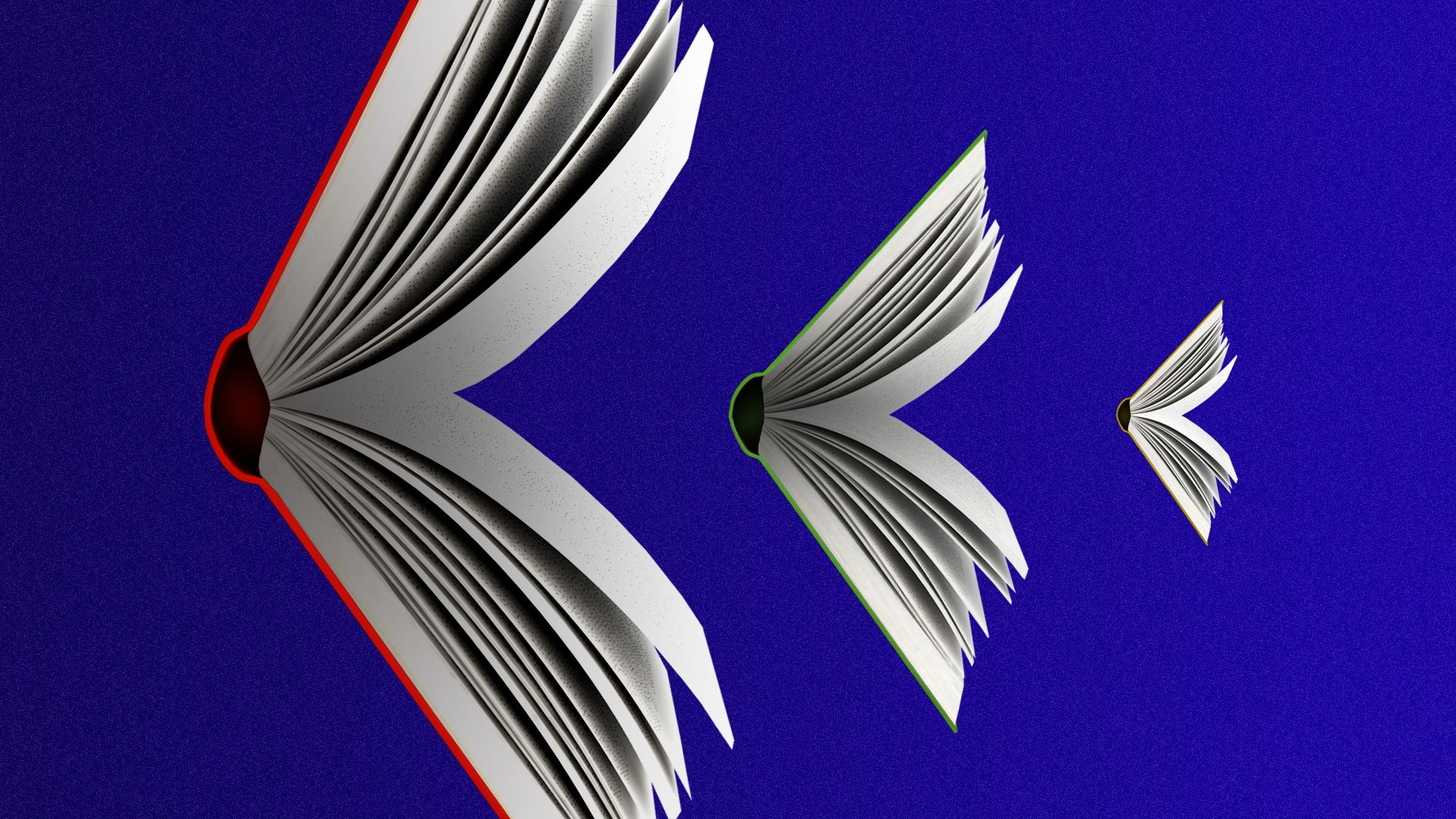 One by one, storied chains in books, toys, sporting goods and more have disappeared from American malls and main streets, then vanished from our collective memory. Now, Barnes & Noble, the last chain bookstore standing, is finally buckling, too.
The big picture: The arc of retail has been bending toward consolidation for decades. Superstores like B&N and Toys "R" Us took us from shopping small to shopping big. Next, we seem to be moving inexorably toward one, powerful, all-knowing, everything store.
Driving the news: B&N announced yesterday that, after hearing acquisition interest from several parties, it has initiated a strategic review toward possibly selling itself to stay afloat. One bidder is founder Len Riggio, who owns 19% of the company, but says he will follow the recommendation of an independent board appointed to handle the review. B&N's beleaguered shares soared as much as 21% on the news.
How we got here
In 1996, Jeff Bezos, the 31-year-old CEO of a scrappy startup that sold books online, was approached by Riggio, the multi-millionaire boss of iconic B&N, about a collaboration. For context, Amazon had $16 million in sales in 1996, and B&N $2 billion.
Riggio told Bezos that B&N would soon start its own website and crush Amazon, reports Bloomberg's Brad Stone in "The Everything Store," a history of the company. It would be better if they worked together. Bezos declined.
Flash forward: Today, Amazon has about half the market share for print books, and B&N only a fifth, according to Mike Shatzkin, an industry consultant.
Amazon's share jumps to 84% for e-books. B&N has just 2%.
The e-commerce behemoth is hovering around a $1 trillion market cap, while B&N is worth just about $475 million, 0.05% of that.
The long view: Books were the first category to reach an e-commerce tipping point — a 20% market share, the point of no return at which, as industry after industry has discovered, Amazon's encroachment wipes out almost everyone. That was in 2004, and the losers were Borders, Crown Books, Book World and others.
For 14 years, B&N managed to hang on. But after closing 90 of its 720 locations in the past seven years, often leaving areas of hundreds of thousands of people without a single major bookstore, it appears prepared to call it quits.
Meanwhile, Amazon's reach has continued to be deadly. It wiped out sporting goods giant Sports Authority and has delivered staggering blows to department stores like Macy's, J.C. Penney and Sears.
Amazon declined to comment. But there is something sentimental and very different in the elimination of bookstores versus department store chains. Families hang out in bookstores, and culture, history and community are imbibed there.
"We haven't mourned every casualty of the internet. We are upset about Barnes & Noble more than we are about Toys "R" Us. People didn't care about Toys "R" Us. They didn't hang out there on a date when they were 23."
— Mike Shatzkin
The Amazonian future
Reality check: If Americans are sentimental about B&N, which itself once taunted and put small independents out of business, they are not showing it very much. That may be because B&N's problem was not only Amazon — it had gotten big, flabby and, finally, obsolete.
To rub salt in the wound, now Amazon is trying to beat B&N at its own game.
In Bethesda, Maryland, the local B&N, a towering structure that once anchored the town center, closed last year. Then an Amazon Books — futuristic and powered by hyperlocal consumer data — opened down the street. When Axios visited, former B&N locals were super excited about the new store, positioned just across the street from Apple.
In Manhattan's Herald Square, the Amazon Books has become a busy gathering place. When I was there midday Tuesday, around 20 people were browsing the small selection of titles and another 20 or so were meeting for coffee in the adjoining cafe.
The bottom line: Amazon is vastly popular, but its schoolyard bully behavior is starting to give shoppers pause, Cooper Smith, an analyst with Gartner L2 says. "In the '90s and early 2000s, Amazon was the startup taking on these killers of small business. Now, the tables have turned."
Go deeper