With Syria strike, Iran continues ramping up ballistic missile use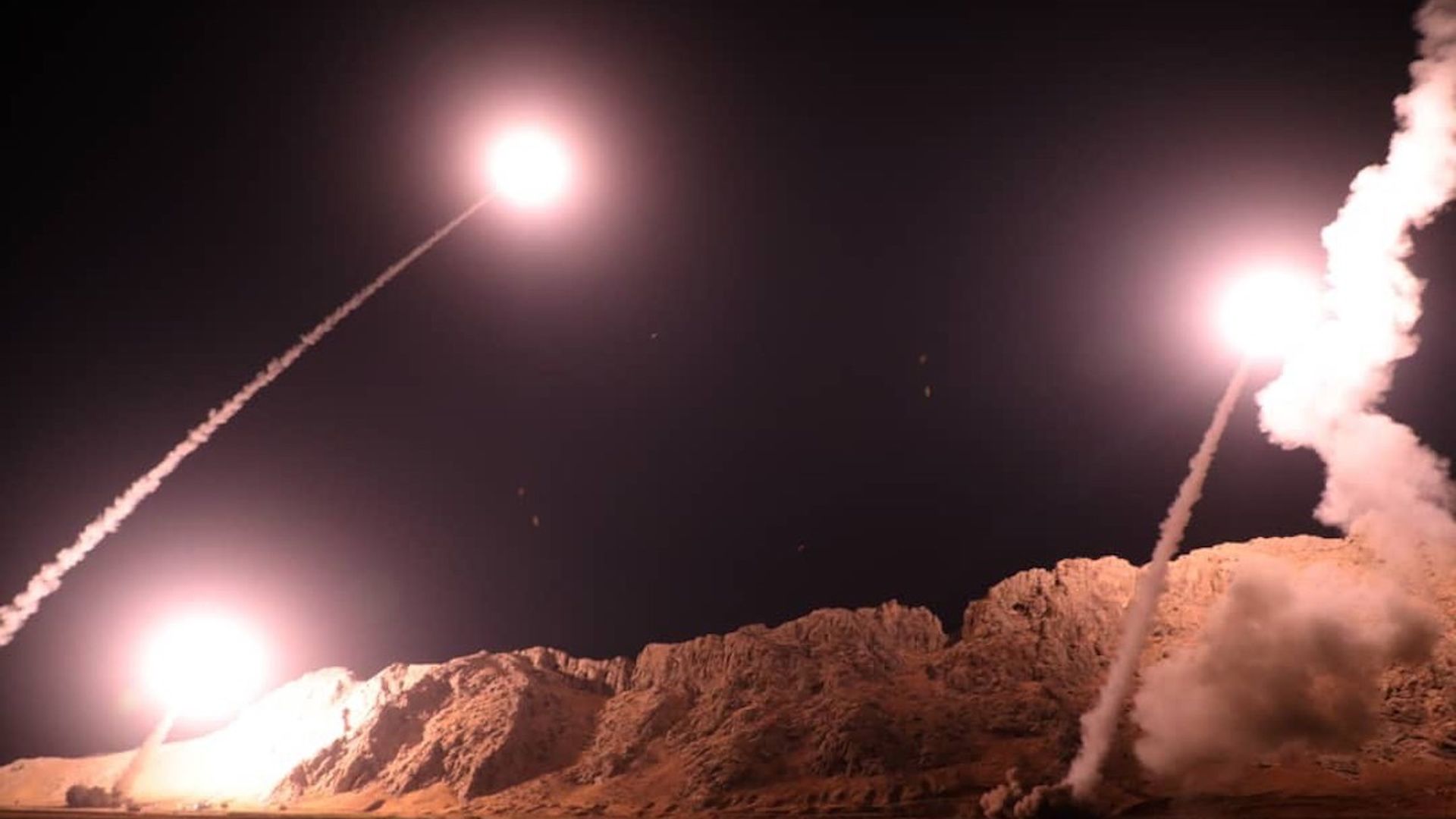 Iran's Islamic Revolutionary Guard Corps fired six ballistic missiles into eastern Syria on Monday. The strike — whose efficacy is debatable — was in response to a Sept. 22 terrorist attack on a military parade in the city of Ahvaz in southwestern Iran. Both the Islamic State, or ISIS, and a local Arab resistance group took responsibility for the attack.
Why it matters: The missile strike — allegedly coupled with bombardments from unmanned aerial vehicles — targeted the town of Hajin, near the Iraqi border. Likely because of the proximity of the strike to U.S. and coalition forces in the region fighting ISIS, a U.S. military official reportedly called the strikes, "reckless, unsafe and escalatory." According to the spokesperson for the U.S.-led coalition against ISIS, Iran also did not issue advance warning.
The background: This is the second time Iran has fired ballistic missiles at ISIS positions in Syria. In June 2017, Iran fired six short-range ballistic missiles — the same types, in fact — in response to terror attacks in Tehran. In the past year and a half, Iran has used ballistic missiles on at least three occasions to project force abroad, with Iranian Kurdish dissidents in Iraq serving as the target last month. Prior to this recent uptick, the last time Iran fired ballistic missiles outside of its territory was in 2001.
Counting all reported flight tests and military operations, Iran has launched as many as 39 ballistic missiles since agreeing to the nuclear deal in July 2015.
What's next: A high-ranking Iranian military official claimed the missile strikes were only the "first phase" of Tehran's broader response to the attacks. Despite pointing a finger at the U.S. and its regional partners, Iran has thus far chosen to target only ISIS.
The bottom line: In addition to displaying Iran's missile capabilities and confidence in its missile force, these strikes indicate that Iran's threshold for the use of ballistic missiles in military operations against foreign targets is decreasing. This means ballistic missiles will likely play a greater role in Iran's engagements in the Middle East, making it harder to contain and deter Tehran in the region.
Behnam Ben Taleblu is a research fellow at the Foundation for Defense of Democracies.
Go deeper