Bill Gates' new recommendation engine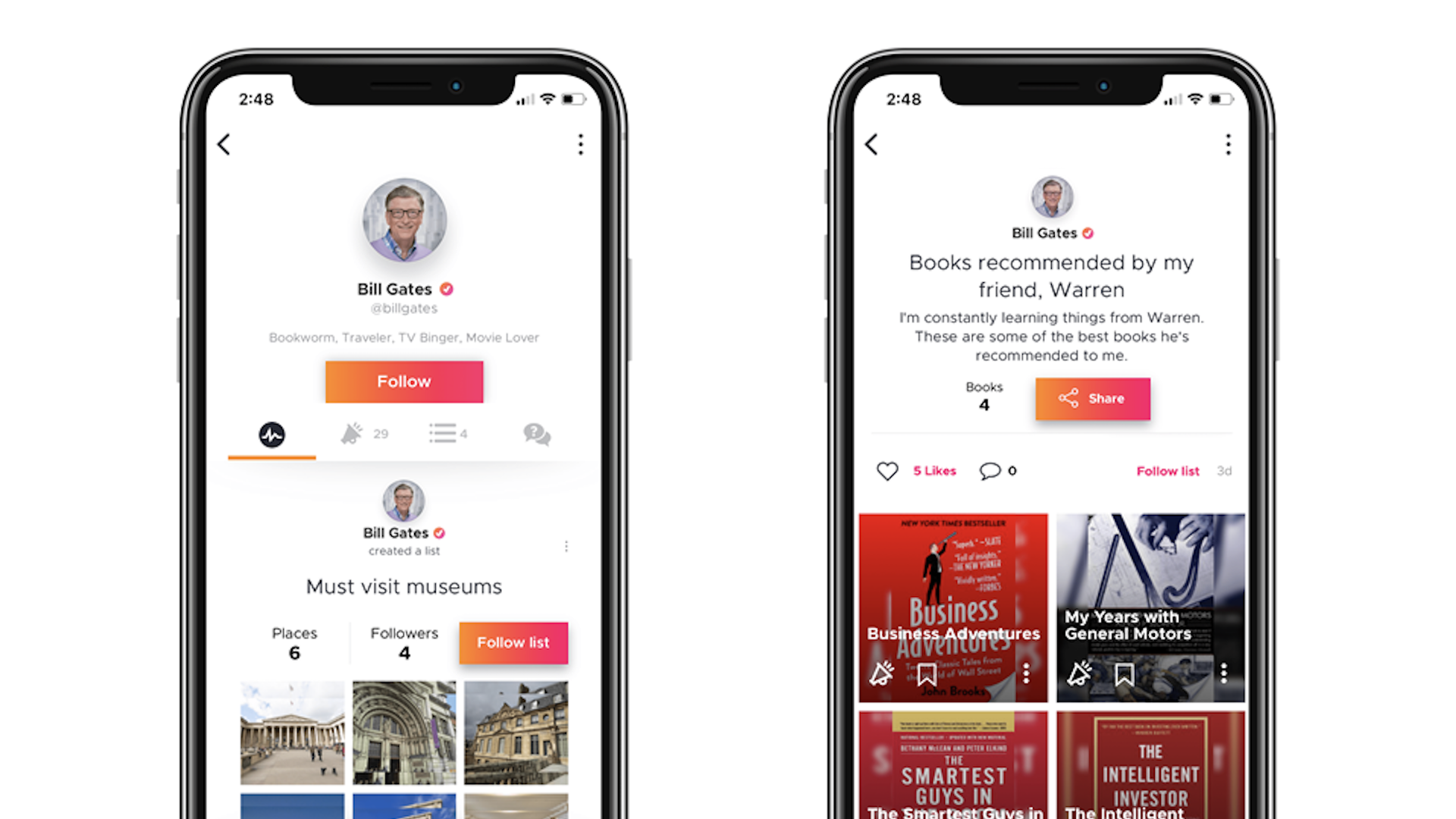 Microsoft co-founder Bill Gates is still set on saving the world, but he's also got some side gigs, like helping launch a new social recommendation engine, called Likewise. The iOS and Android app is designed to be a place to get trusted recommendations on everything from restaurants to books to TV shows.
How it all started: The free app, which launches today, began as the brainchild of Larry Cohen, a longtime Gates aide who serves as CEO of Gates Ventures.
Gates is funding the Bellevue, Wash.-based company, which has been working for nearly a year and has about 20 employees.
Cohen is chairman of Likewise with his onetime Microsoft colleague Ian Morris serving as CEO.
"It's not the next Office, but there's a real need here."
— Cohen tells Axios
The app will not include ratings. While there are plenty of sites that offer crowdsourced reviews with numeric ratings, Cohen and Morris say most people are looking for positive recommendations.
"You don't call your friend and say 'I'm going to Boston — what are some places I should avoid?'"
— Morris
The details:
As on Twitter, people's postings are public by default, though there's an option to keep things private.
The app will be available in the U.S. and Canadian app stores, with some data on 115 cities. The company, though, is focusing its marketing push on making the service robust in Seattle, hoping efforts there can serve as a blueprint for expansion.
There are some external data sources so that people don't have to start with a blank slate, including restaurant recommendations from Vox Media's Eater.
The key hurdle: Even with Gates' backing, Likewise faces an uphill battle to get critical mass.
"That is the biggest challenge any app faces, certainly one with a social component."
— Morris
What's next: The app hopes to generate some initial interest with recommendations from Gates, as well as other celebrities including Tom Friedman, Bono and Howard Schultz.
Over time, though, the main goal is to be a place where you can get suggestions from your own trusted circle of friends.
Likewise also hopes to expand to new categories, including perhaps podcasts, electronics and recipes.
While there's no current effort to monetize, Cohen says there are lots of options down the road given that the very nature of the app means its users are close to making purchasing decisions.
Go deeper