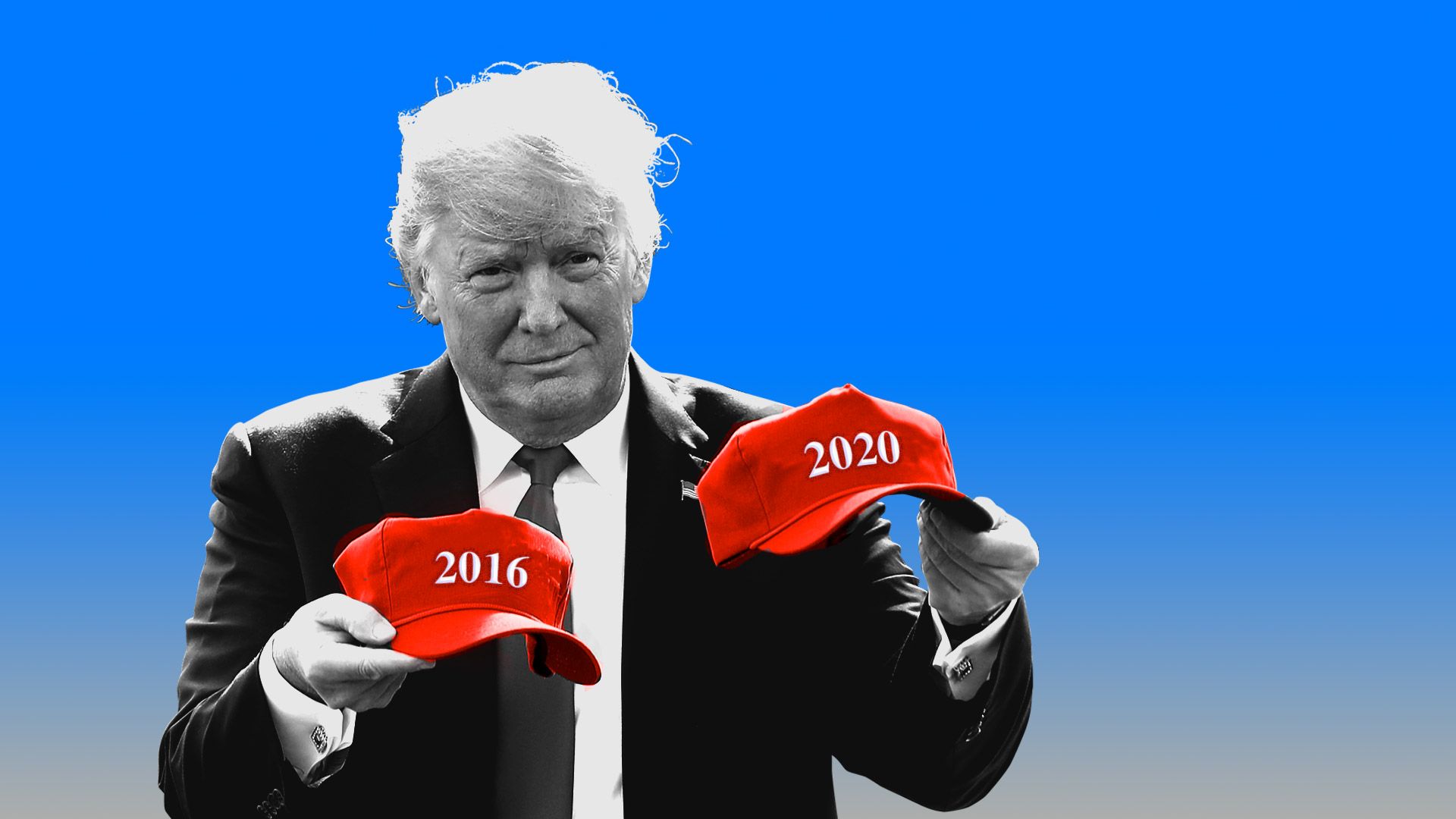 President Trump is increasingly fantasizing in public and private about his 2020 campaign, using midterm rallies to talk as excitedly about his own re-election in 2020 as he does about the 2018 races that are just 34 days away.
What he's saying: Last night in Mississippi, he even promised "we will do a landslide" in 2020, after a razor-thin electoral victory (and substantial popular vote loss) in 2016. "Who the hell's gonna beat us? Look! Who's going to beat us?" Trump asked, after amping up his frequent riff about former Vice President Joe Biden as a lightweight he'd love to crush.
A former aide told us: "The greatest moment in Donald Trump's life was when Hillary Clinton called and conceded the 2016 election. Nothing about actually being the president has ever lived up to that."
"It was the ultimate validation for someone who's been searching for it his whole life," the former aide continued. "That's why he relives it constantly in conversations and during rallies. So it's no surprise that he wants to reach that validation high again, which is why 2020 is never far from his mind."
Behind the scenes, Trump has been talking quite a bit about 2020 — not in terms of strategy or tactics, but in a disorganized, riffing way, based on whatever or whomever is in the news.
The potential candidate he talks about most: Sen. Elizabeth Warren of Massachusetts. "He seems to think she's going to be the nominee," one source said.
Advisers have told Trump he'd be in great shape if she is.
Trump has made fun of Sen. Cory Booker of New Jersey ("Spartacus") and Sen. Kamala Harris of California after watching the Kavanaugh hearings.
Trump thinks "Crazy Bernie" Sanders is talented — he respects that the senator from Vermont fires people up and built a movement. The president thinks Bernie tried to do what he did in 2016, but didn't quite get there.
Trump has mused in private about Mike Bloomberg. At the end of an August interview with Bloomberg News, Trump told the journalists: "Say hello to Michael."
Trump says Oprah will never run. "Everyone loves her and the minute you run for president, that changes," says Trump — who would know.
If Trump is worried about any candidate in particular, it's not apparent to sources close to him.
Biden seems to be the potential opponent Trump's staff worries about most.
Advisers worry he'll steal Trump voters from the Midwest, and cut into the president's dominance among white men and whites without college degrees.
But Trump genuinely doesn't appear to his aides to be worried about Biden. As onstage, Trump says Biden is a joke — and claims that once the spotlight is on him, "bad stuff" will come out.
Go deeper