A bipartisan obsession: The Trump Show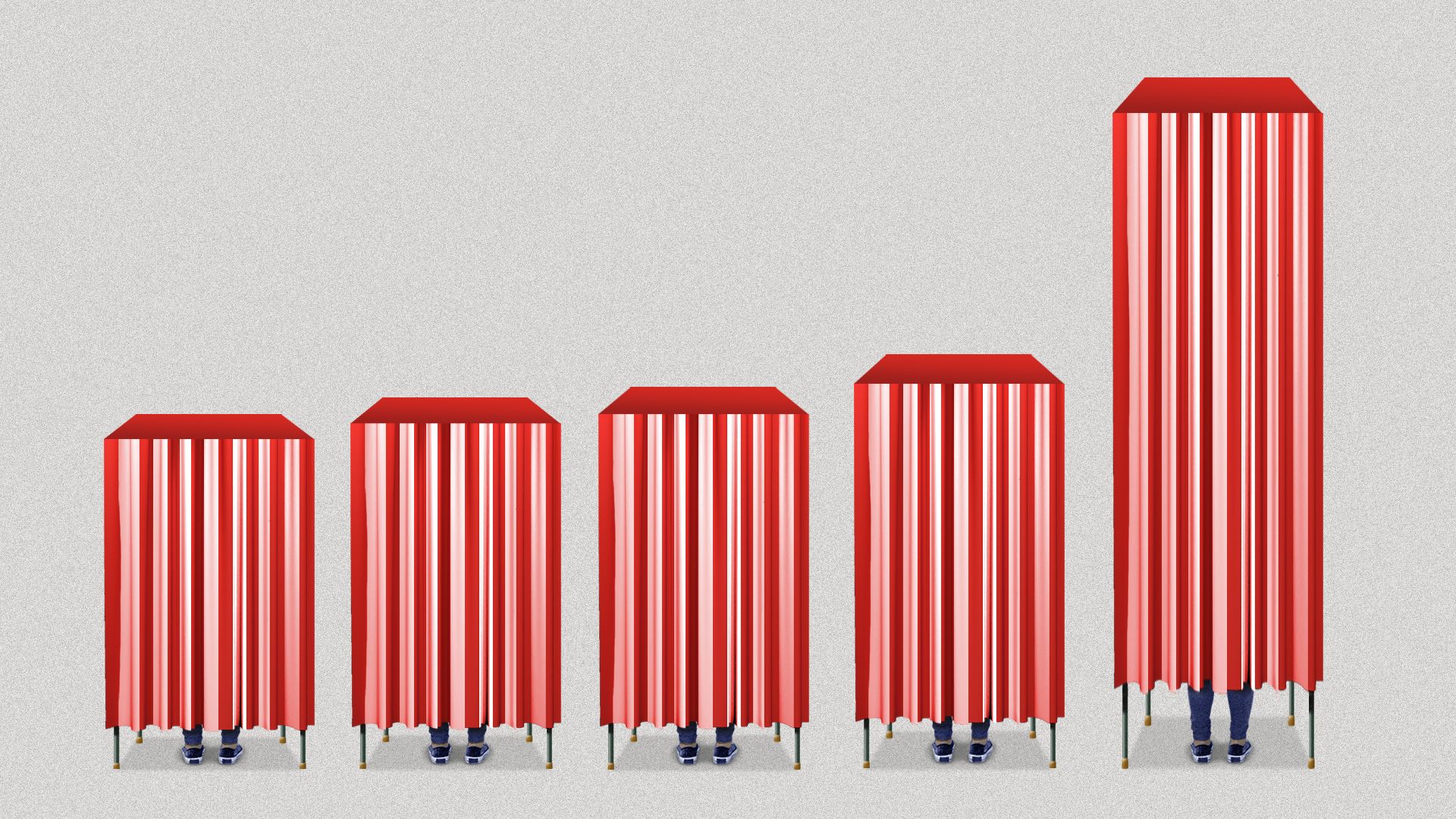 A divided nation that usually shrugs at politics — and always shrugs at midterm elections — is suddenly united, passionately and addictively, in binge-watching the Greatest Show in American Politics.
The big picture: Because of The Trump Show, we're more attuned to current events and know more about the news than ever. Happy hour conversations include the 25th Amendment and the Emoluments Clause. News plays in sports bars. Pundits talk casually about FBI 302 forms. And more women and minorities are getting involved in politics, setting up midterm elections that likely will change the complexion of Washington.
The Trump Show has us watching more, running more, voting more:
Pew Research Center reported this week that voter enthusiasm is at its highest level during any midterm in more than two decades, based on the percentage of registered voters who say they're more enthusiastic than usual.
Midterm primary turnout surged for both parties.
Women broke records for the number who filed — and for the number who won primaries — for Senate, for U.S. House and for governor. And a record number of women won primaries for state legislature.
More than 20 million people watched Thursday's Kavanaugh hearing on TV, with millions more watching digitally — "an audience size similar to that for a playoff football game or the Academy Awards," AP notes. (5.7 million of those watched on Fox News, the most of any cable station or broadcast network.)
Cable news constantly shatters records. 12 million people collectively watched Fox News' Sean Hannity, MSNBC's Rachel Maddow or CNN's Chris Cuomo at 9 p.m. ET after the Kavanaugh hearing, enough to "put a dent in viewership for the fall premieres of broadcast network prime-time shows."
The N.Y. Times' Amy Chozick writes in today's Sunday Review section ("Why Trump Will Win a Second Term") that "TV executives say the only way for the Trump show to get canceled is for ratings to fall off":
TV history shows that the most successful series — "American Idol," "Lost," "The West Wing" and, yes, "The Apprentice" — don't see sharp declines in viewership or talk of cancellation until around Season 6. 
By that logic, Mr. Trump would win re-election in 2020 unless, as many liberal viewers are probably hoping, impeachment and scandal end his presidency prematurely. (In what would no doubt be "The most dramatic finale of a presidency ever!")
Be smart: Whether it's resistance or defiance, American public life is the most animated it has been in our lifetimes.
Go deeper