Jeff Flake calls in the FBI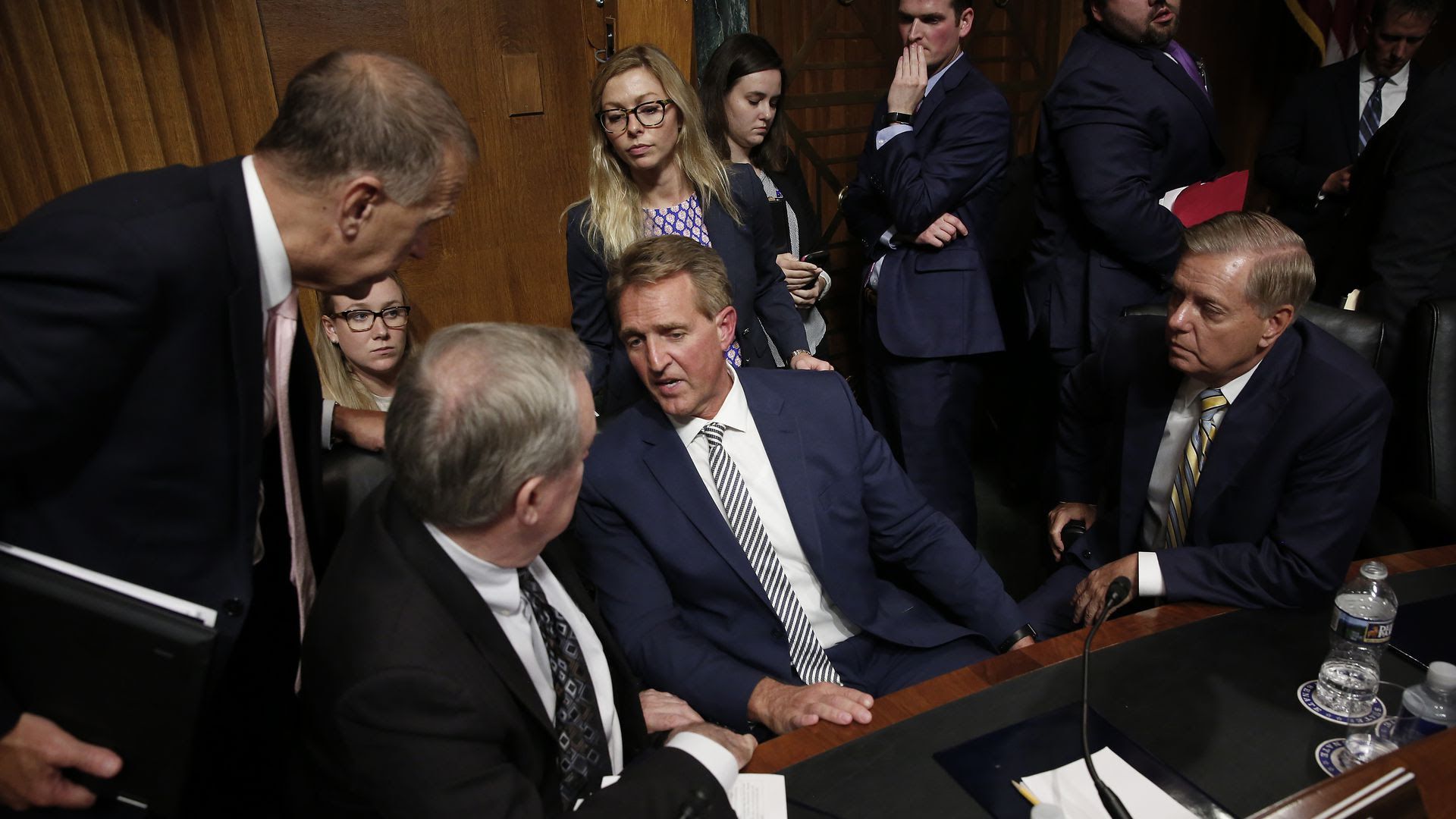 Democrats are getting their requested FBI investigation into Brett Kavanaugh, setting up a week of tension as investigators launch a time-limited probe into the allegations that surfaced in recent weeks.
Driving the news: Jeff Flake publicly changed his course on the Kavanaugh nomination after being personally challenged by a pair of sexual assault survivors.
The tale of the tape from this riveting day in D.C.:
9:26 a.m: Flake said he was a yes on Kavanaugh.
9:30 a.m.: On his way to the Judiciary Committee vote, Flake was confronted by two sexual assault survivors, who refused to allow his elevator door to close. Their quotes were captured on live video:
Ana Maria Archila to Flake: "What you are doing is allowing someone who actually violated a woman to sit on the Supreme Court."
Maria Gallagher to Flake: "Look at me and tell me that it doesn't matter what happened to me, that you will let people like that go into the highest court of the land and tell everyone what they can do to their bodies."
The senator then reached the Judiciary Committee hearing, where he didn't speak and looked shaken.
12:17 p.m.: Flake left the room, and eventually others joined him, including his Democratic friend Chris Coons of Delaware.
As the minutes passed, reporters began to realize that the result looked less certain.
Chairman Chuck Grassley and Ranking Member Dianne Feinstein also went to that room, returning and leaving several more times.
1:51 p.m.: Flake returned, and Grassley allowed him to speak:
Flake said he wanted a week delay on the final floor vote to allow for a limited FBI probe into the Kavanaugh allegations.
Grassley started the vote, which passed 11-10, with Flake voting yes.
3:35 p.m. Senate Majority Whip John Cornyn said there will be a supplemental FBI investigation lasting no more than a week.
The key questions: What if the week ends with the investigation ongoing, or if the probe uncovers new evidence outside the existing claims?
Between the lines: Such a delay presents both peril and promise for Kavanaugh. On the one hand, it means investigators will likely talk to Mark Judge. On the other hand, if a probe doesn't turn up new evidence, it gives senators on the fence an easier time voting yes.
The big picture: All eyes are now on Donald Trump and Mitch McConnell.
Go deeper