After deadly season, surgeon general pushes flu vaccinations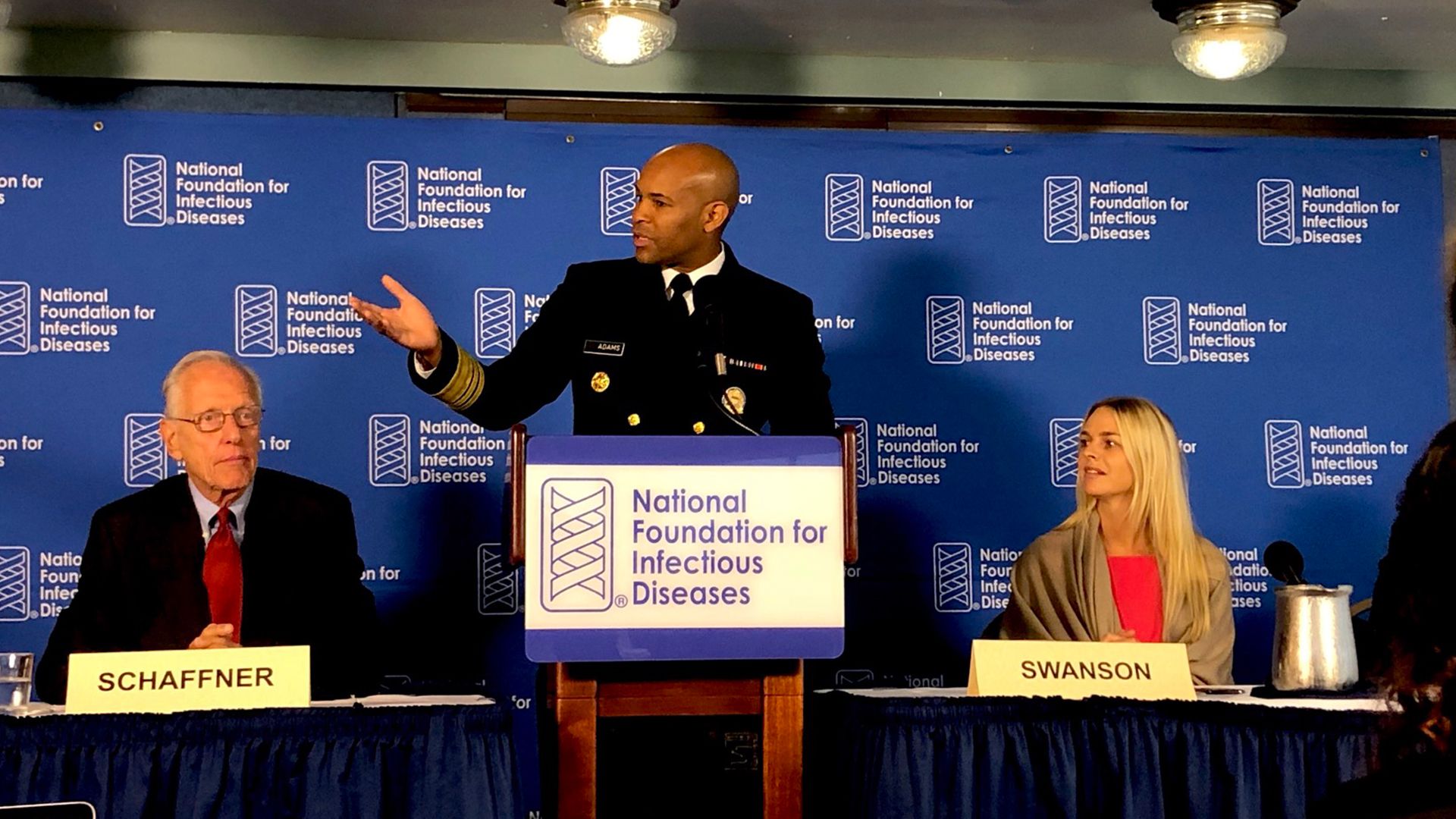 The last flu season was particularly severe — causing at least 80,000 American deaths including 180 children and 900,000 hospitalizations — because of the types of influenza strains and the fact that certain groups did not get inoculated, public health officials said Thursday. They made these announcements as they kicked off their #FightFlu vaccination campaign.
Why it matters: Many of those deaths were preventable, according to U.S. Surgeon General Jerome Adams. Even when the vaccine's effectiveness is not as high as hoped, as happened last season, the shots or FluMist can still boost the immune system enough to limit how hard the virus hits as well as minimizing its spread.
"80,000 people died last year ... Guess what? They all got the flu from someone."
— Jerome Adams
Worrisome trends seen last year, officials said at the conference presented by the National Foundation for Infectious Diseases, include lower vaccination rates for 3 vulnerable populations.
Children aged 6 months to 17 years old: Vaccinations among this group dropped to 57.9%. "The decline in coverage in this age group is very, very worrisome," Adams said. 80% of the 180 children who died from the flu last season in 2017-2018 weren't vaccinated.
Pregnant women: Vaccinations among this group fell to 49.1%. "Pregnant women who get the flu do very poorly. They do way worse than any non-pregnant individual," says Weill Cornell Medicine's Laura Riley, who's the representative of the American College of Obstetricians and Gynecologists. Plus the antibodies from the mother can help protect the newborn the first couple months after birth, she adds.
Health care workers: Vaccinations among this group slipped to 78.4%, particularly in long-term care workers, which is concerning since they are in contact with a vulnerable population, Adams says.
The big picture: The Centers for Disease Control and Prevention recommends anyone 6 months and older receive the flu shot or FluMist before the last week of October, since it takes 2 weeks for antibodies to generate, says Daniel Jernigan, head of the CDC's influenza division.
Jernigan says the number of estimated deaths from the 2017-2018 season was increased after the CDC searched thoroughly through hospital data. "Last year was just a horrible season," he says, and added that the flu mimicked what happened in Australia.
The vast majority of those who died were more than 65 years old, Jernigan says.
What's new: FluMist nasal vaccine has been determined effective and will be offered to those who meet its requirements. The full vaccine details are here.
Go deeper:
Go deeper