Two unforgettable hearings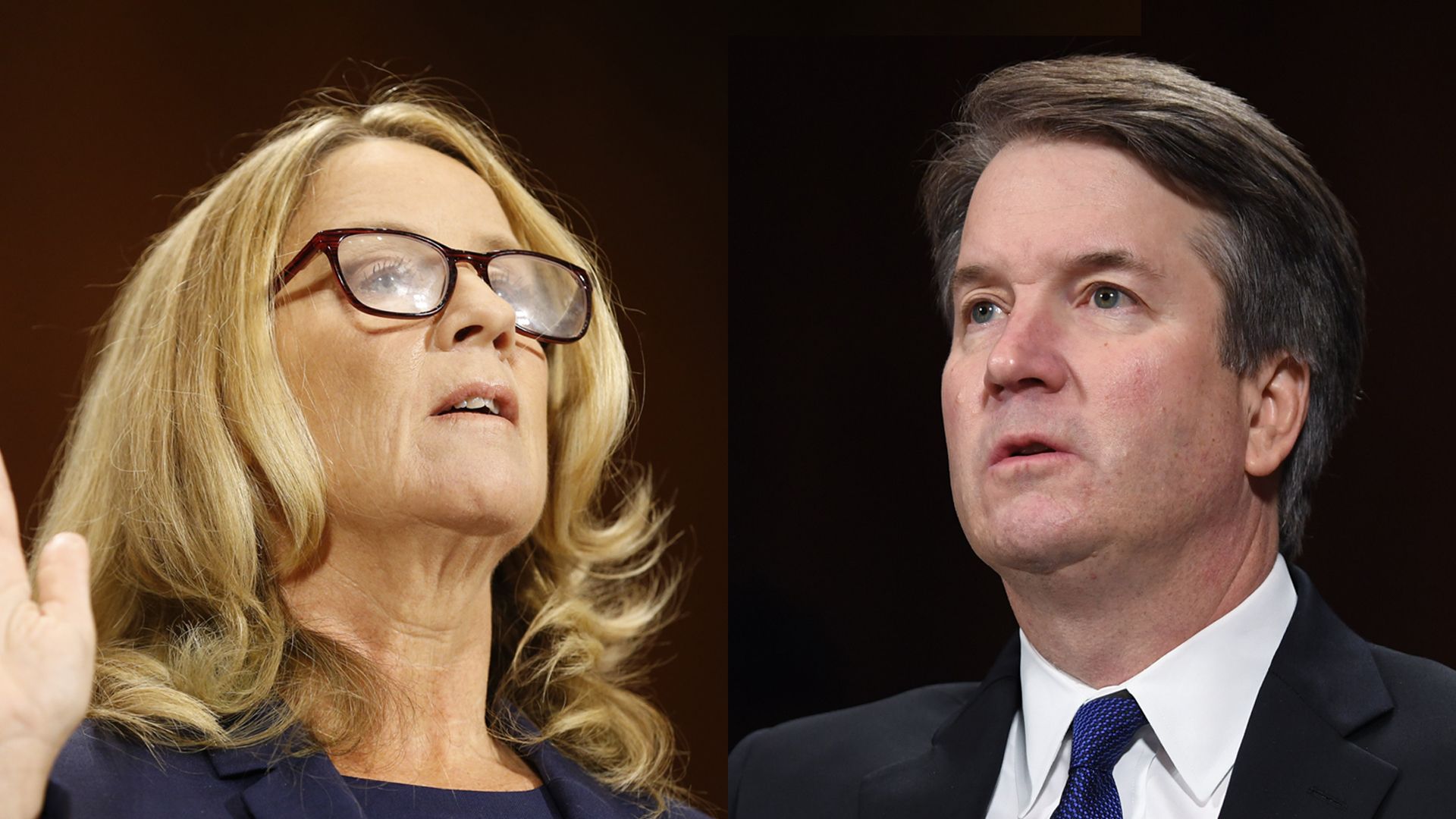 Ford and Kavanaugh both fought back tears as they told the committee about the toll the past few weeks have taken on their families. The similarities ended there.
Why it matters: It was a scene students will study long after we are gone. A cool, credible Christine Blasey Ford methodically outlined how the Republican nominee to the Supreme Court allegedly sought to rape her in high school. An angry and tearful Brett Kavanaugh accused the Democrats of a devious plot to destroy his life, his family, his nomination.
The scene: Ford was quiet, and sometimes hard to hear inside the committee room. She told the committee she wished she could "be more helpful," that she had never wanted to enter the political fray, but that she could never forget certain details of her alleged assault.
Kavanaugh strode across the committee room not just to deny those accusations, but to tear into Senate Democrats. He accused them of "laying in wait" to destroy him and making a "national disgrace" of the Supreme Court confirmation process.
Emotions ran high all day. The entire hearing room sat rapt as Ford tearfully recounted the episode she says occurred at a high-school party in 1982, and in stunned silence as Kavanaugh excoriated Democrats and broke down over his daughter saying a bedtime prayer for Ford.
A tale of two quotes:
Kavanaugh to Senate Democrats: "My family and my name have been totally and permanently destroyed... This confirmation process has become a national disgrace … you have replaced advice and consent with search and destroy."
Ford describing what she remembers from the alleged attack: "Indelible, in the hippocampus is the laughter. The uproarious laughter between the two [Kavanaugh and Judge] ... and they're having fun at my expense."
What's next: The Senate Judiciary, which Republicans control with 11 male members, is scheduled to vote tomorrow. It then goes to the full Senate.
The big question: Do senators believe Ford, or Kavanaugh? And if they believe Ford, should that disqualify Kavanaugh?
Republicans we're watching:
Ben Sasse (on Judiciary)
Jeff Flake (on Judiciary)
Shelley Moore Capito
Lisa Murkowski
Susan Collins
Go deeper:
Go deeper