Trump administration's hostile rhetoric undercuts its Iran strategy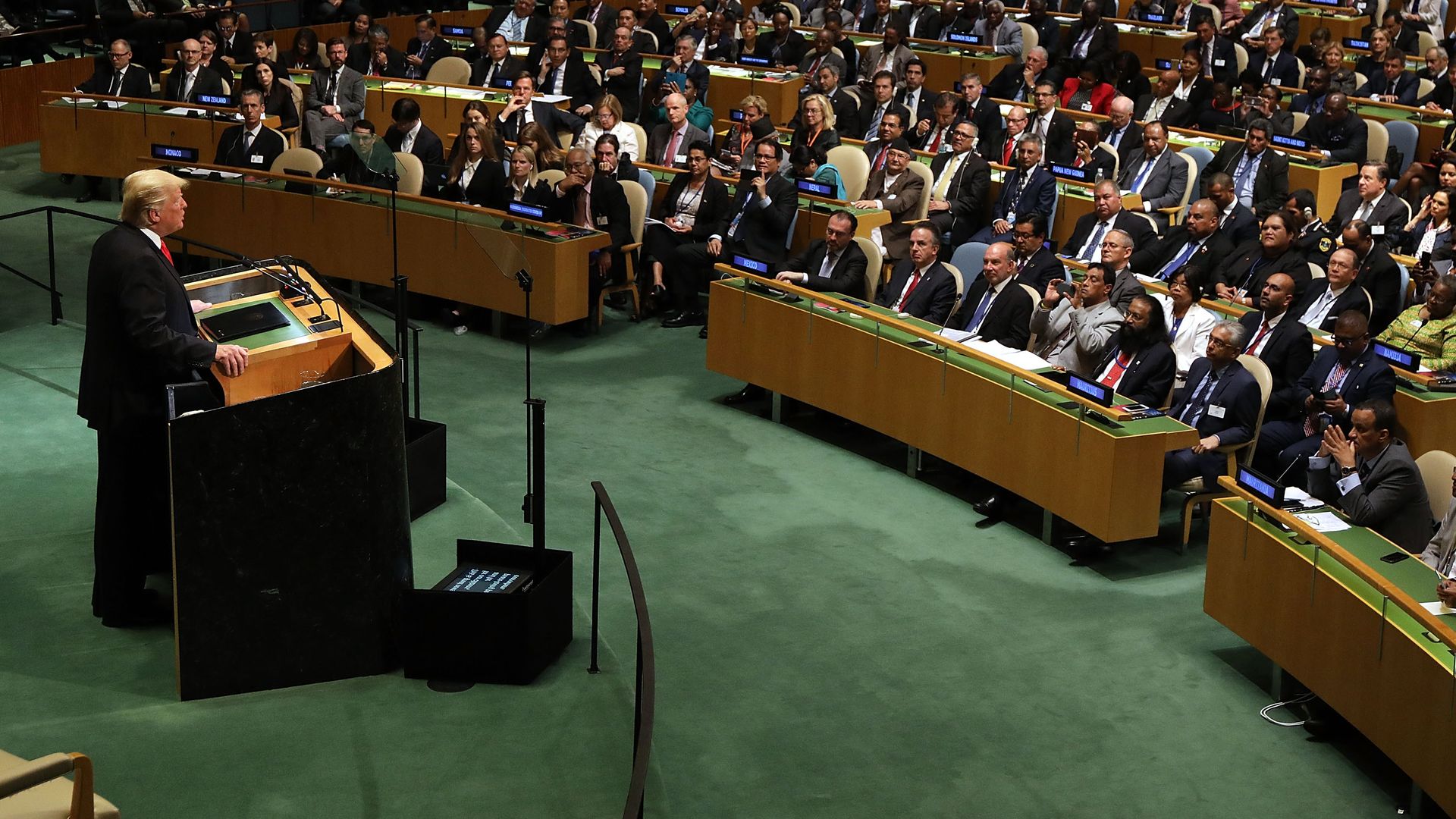 Among the many targets of the Trump administration's ire this week at the UN, Iran stood out. "We cannot allow the world's leading sponsor of terrorism to possess the planet's most dangerous weapons," Trump told the General Assembly on Tuesday. On Wednesday, he reiterated, "a regime of this track record must never be allowed to possess a nuclear weapon."
The big picture: The Trump administration is angry that most of the world — including key allies Britain, France and Germany — have rejected its withdrawal from the 2015 nuclear deal and are attempting to circumvent sanctions on Iran. But overemphasizing the challenge Iran poses only further undercuts U.S. credibility and makes it easier for other nations, such as China, to actively oppose U.S. policy.
The hawkish rhetoric within the administration — from the president to National Security Advisor John Bolton, from Secretary of State Mike Pompeo to Special Representative for Iran Brian Hook — bears a strong resemblance to President George W. Bush's before the 2003 Iraq invasion. In his 2002 "Axis of Evil" speech, Bush said that the U.S. "will not permit the world's most dangerous regimes to threaten us with the world's most destructive weapons."
Of course, Iraq turned out to have no such weapons, and devolved into a quagmire from which the U.S. has yet to extricate itself and from which a stable democracy has yet to emerge. Iran, meanwhile, has no nuclear weapons either, and still hews to a deal that curbs its ability to produce such weapons for at least a decade.
It is to justify a unilateral withdrawal from this accord that the Trump administration has escalated the information war against Iran and re-imposed punishing sanctions. On Tuesday, the State Department released a 48-page screed entitled "Outlaw Regime: A Chronicle of Iran's Destructive Activities." The first product of Hook's "Iran Action Group," the document sifts through 40 years of Iranian history to paint the bleakest portrait possible, at the expense of context and nuance.
The bottom line: Iran does indeed present challenges. But to accuse Iran, as Pompeo did, of responsibility for a "global torrent of destructive activity," or to threaten Tehran, as Bolton did, with "hell to pay if you cross us," is to invite a war that could eclipse Iraq in its destructive consequences for the region and beyond.
Barbara Slavin directs the Future of Iran Initiative at the Atlantic Council.
Go deeper