The 53% ride-hailing pay cut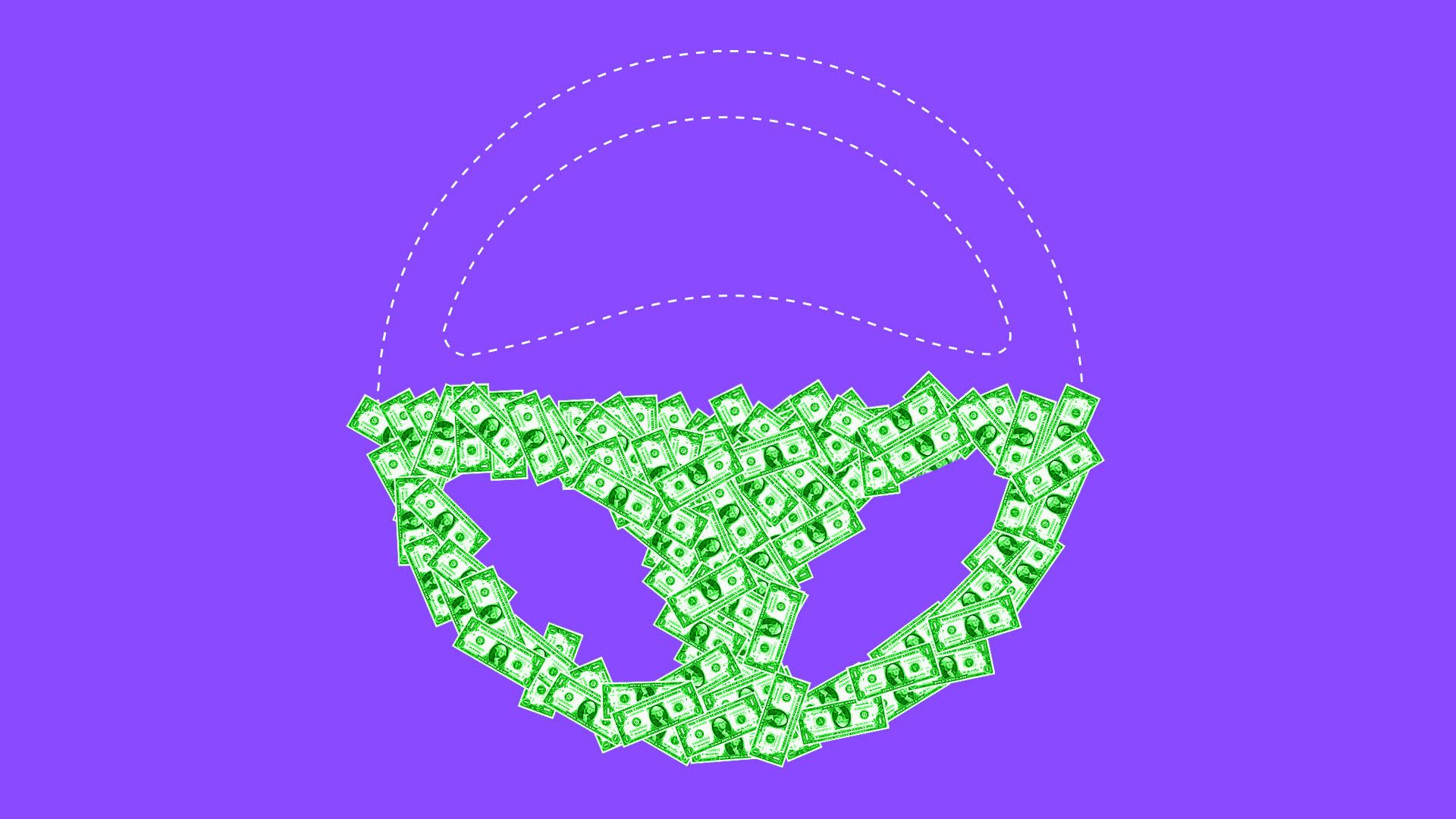 Ride-hailing drivers have seen their monthly paychecks cut in half in the last four years, a sign of declining fortunes for gig workers at a time the U.S. economy is moving away from full-time employment, according to a study released today.
What's going on: While U.S. wages are generally creeping up, ride-hailing drivers are earning an average of $783 a month, down from more than $1,500 in 2014, according to the report from the JPMorgan Chase Institute, the bank's think tank.
Why it matters: The picture of plunging driver income is a public-relations risk, in particular for Uber, at a time when Big Tech companies are under mounting scrutiny in the U.S. and Europe. On Wednesday, Amazon, Apple, Google and Twitter raree to appear before yet another Senate hearing. Like them, Uber dominates its sector, last month reporting a 51% increase in second-quarter net revenue from the same quarter a year ago.
But it also is another blow for the gig narrative, a widely pushed forecast in which, it is suggested, current and future Americans will contentedly embrace the unattached working life, taking jobs when they like and being their own boss.
The narrative has been under attack, mostly for the lack of benefits, such as health care, enjoyed by many full-time workers.
Now, the JPMorgan study suggests that many workers are wise to the lesser reality of gig work: As of March 2018, only 12.5% of ride-hailing workers were driving full time, with the majority flitting in and out, filling out their income doing other jobs as well.
"As we talk of the future of work, we don't see a whole lot of evidence that transportation platforms are a viable source of income for a full-time job," says Fiona Greig, a co-author of the study.
Uber says that is what the service is largely for — flexible part-time income. In an email exchange with Axios, the company challenged the premise of the study, appearing to suggest that dropping income could reflect drivers working fewer hours, and not necessarily that their pay had been cut.
"The study's findings reinforce what we and many others have said for some time: that the growth in on-demand work is driven, in large part, by people who use platforms like Uber on the side. Given the growing share of people who use platforms like Uber only occasionally, a more appropriate metric to focus on would be average hourly earnings, which have remained steady over time."
— An Uber spokesperson
In a July report, professors at The New School and Cal Berkeley found that hourly pay for full-time Uber drivers in New York City dropped by 30.4% between 2014 and 2017. Other researchers have found that Uber drivers earn an average of about $10 an hour after expenses and the company's 25% cut.
Yet, in numerous large cities, such as New York, a lot of people do treat ride hailing as full-time work. Last month, the city council capped the number of such vehicles at 80,000 and ordered a minimum wage for ride-hailing drivers, the first major U.S. city to regulate the industry.
Critics say that, short of such policy action, ride hailing will fundamentally fall short for drivers. "This is a sector that cries out for meaningful regulation — for the good of both drivers and passengers," says James Parrott, a professor at The New School and co-author of the July report on Uber drivers in New York. "The unrestricted app business model has been a cruel failure."
"The business model for companies like Uber lead them to expand the number of drivers as much as possible since they get a commission on every ride and bear no responsibility for the considerable vehicle capital and operating expenses made by the drivers. At some point, this dynamic will diminish the earnings per unit of time that drivers can expect." 
— Parrott tells Axios
In its study, JPMorgan looked at 128 platforms — internet sites that connect businesses and clients, and also mediate payment — dominated by ride-hailing and home-sharing companies.
From 2012 through this year, JPMorgan institute researchers tracked 38 million payments from those platforms to 2.3 million Chase checking accounts.
Over the period, the number of ride-hailing drivers surged, and payments went from effectively zero to about $150 million a month.
But aggregate earnings per driver fell by 53%. In the first quarter of 2014, half of the drivers earned $900 or more a month; four years later, just 25% did.
Go deeper