The GOP's growing identity crisis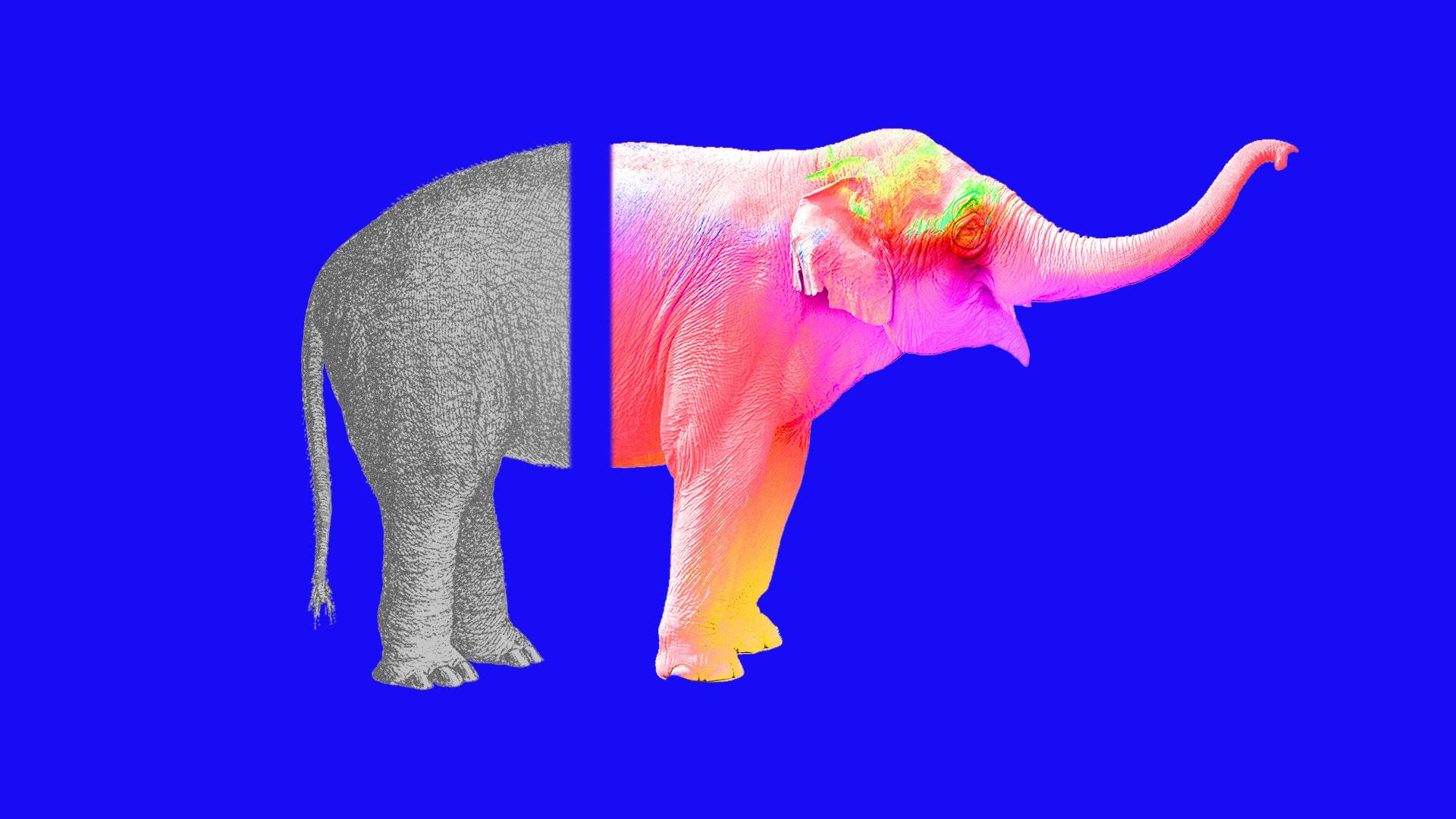 The Republican Party is suffering an identity crisis that poses acute short- and long-term risks: President Trump, with 38% approval in Gallup, is giving the party a constricted appeal, with the danger of continuing high-profile defections.
Why it matters: In a 50-50 nation, marginal defections can incapacitate a party.
The GOP, long synonymous with conservatism, is now effectively the Trump Party — in policy, branding and support.
That leaves some swaths of traditional conservatives without a major-party home, and endangers Republican electoral fortunes.
And two of the party's mega-donors renounced the GOP last week: hedge fund manager Seth Klarman, once Republicans' biggest donor in New England, and Les Wexner — the wealthiest GOP donor in Ohio, and founder, chairman and CEO of L Brands, which includes Victoria's Secret.
For now, this is a crisis of the intellectual and power elite: "Morning" Joe Scarborough; his frequent guest Steve Schmidt; N.Y. Times columnist Bret Stephens; WashPost columnists George Will, Michael Gerson, and Max Boot.
But it's slowly spreading,
The danger for Republicans is that they get clobbered in November, and a trickle becomes a steady stream.
Sen. Ben Sasse of Nebraska, 46, a rising star in the party, continues to flirt with leaving the party — a small sign of a talent crisis that could lie ahead for the GOP.
Sasse recently fired off a quartet of tweets praising a devastating critique of the right's current straits: "America Desperately Needs a Healthy Conservatism," by Andrew Sullivan of New York Magazine.
"In today's America, [traditional] conservatism is completely under siege," Sullivan writes. Trump "assaults the norms that conservatives revere, has contempt for existing institutions and sees the rule of law as a means to advance his own interests, rather than that of the society as a whole."
Gallup's most recent gauge of party identity has 28% of Americans considering themselves Republicans, 27% calling themselves Democrats and 43% identifying as independents.
It's that big middle group where you see the looming threat to the vitality of the GOP: Some Trump policies are so polarizing that independents are likely to be increasingly inaccessible to the Republican Party, giving Democrats a potentially overwhelming advantage in the pool of voters they can activate.
A former White House official told me: "Shifting demographics have been a problem for Republicans for a long time. Paradoxically, while Trump likely exacerbated that problem in the long term, he also postponed its consequences because he carved out a new path to 270, in large part thanks to his trade rhetoric."
"The problem post-Trump is that what he did is not replicable."
Be smart: High profile defections like the ones above won't change the electoral math of the heartland, where GOP presidencies are won. The danger is Trump's alienation of quiet conservatives: They won't make big announcements. They just won't show up.
And they could form the base for a new conservative party — run by someone like Sasse.
Go deeper