Kavanaugh now: Washington weighs hearing for his accuser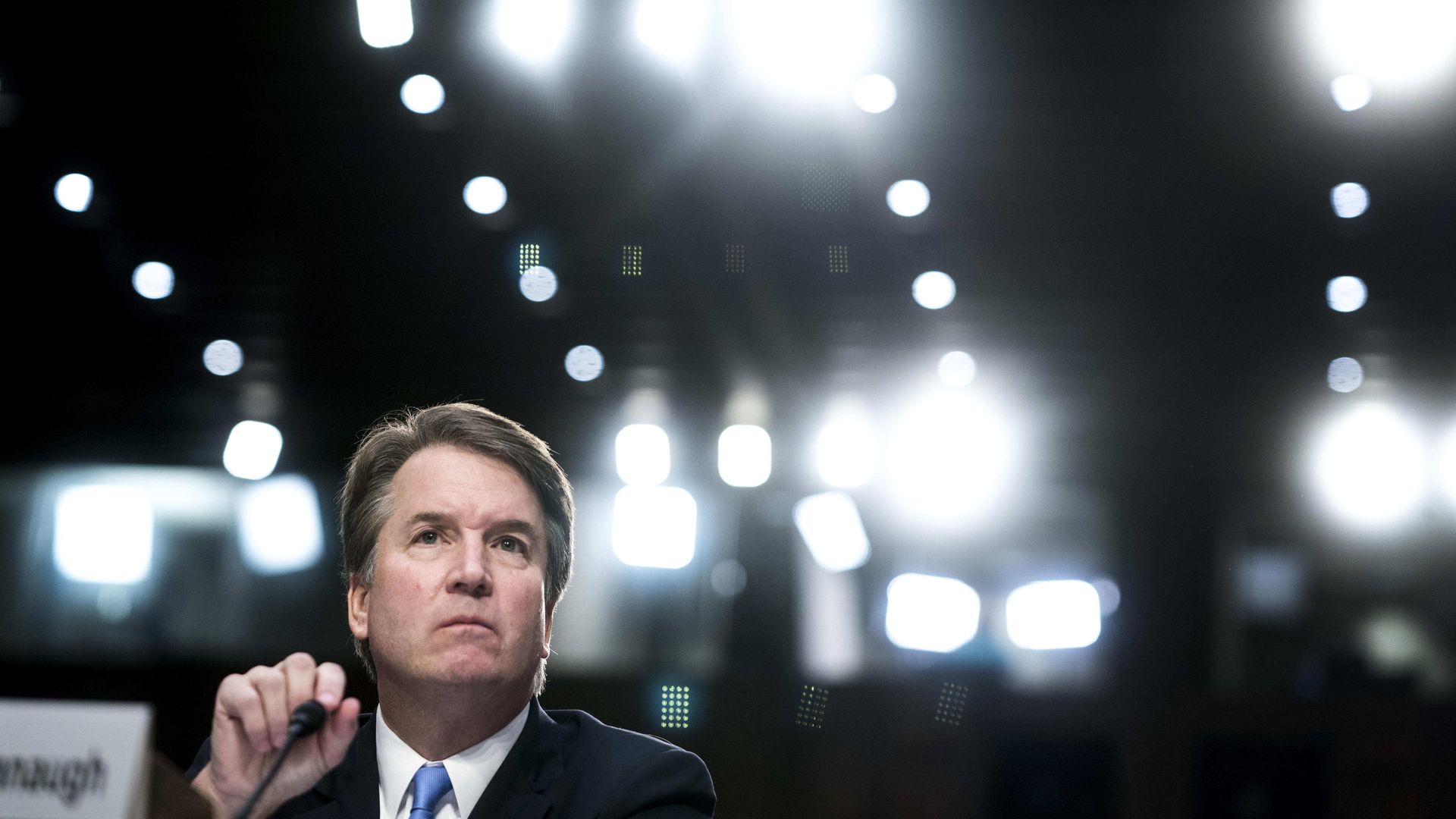 Sen. John Kennedy told reporters following a meeting among Senate Judiciary Committee Republicans there will be a public forum on Monday in which the professor accusing Trump Supreme Court nominee Brett Kavanaugh of sexual assault will get to speak to lawmakers, per NBC News and NYT.
President Trump said Monday afternoon he would be open to having Brett Kavanaugh's nomination delayed following allegations he committed a sexual assault in high school, and the White House said Kavanaugh is ready to testify as early as Tuesday.
The big picture: As Axios' Jonathan Swan and Mike Allen reported Monday morning, some Republicans were betting that Dr. Christine Blasey Ford, the accuser, would decline to undergo the scrutiny of public testimony. That was before Ford's lawyer said on NBC's "Today" that her client would indeed be willing to appear before the Senate Judiciary Committee.
What they're saying:
Senate Judiciary Chairman Chuck Grassley: "Anyone who comes forward as Dr. Ford has deserves to be heard, so I will continue working on a way to hear her out in an appropriate, precedented and respectful manner. ... The standard procedure for updates to any nominee's background investigation file is to conduct separate follow-up calls with relevant parties. In this case, that would entail phone calls with at least Judge Kavanaugh and Dr. Ford."
Sen. Susan Collins (R-Maine): "Professor Ford and Judge Kavanaugh should both testify under oath before the Judiciary Committee." As a Republican who supports abortion rights, Collins is widely considered one of the most plausible swing votes in Kavanaugh's confirmation process.
The White House: "On Friday, Judge Kavanaugh 'categorically and unequivocally' denied this allegation. This has not changed. Judge Kavanaugh and the White House both stand by that statement."
Majority Leader Mitch McConnell claims Democrats are not maintaining a "standard bi-partisan process" and "regular order."
Vice Chairman of Senate Republican Conference Roy Blunt (R-Mo.): "These are serious allegations that need to be looked at closely by the committee before any other action is taken."
Sen. Dick Durbin (D-Ill.): "I don't know if there will be a hearing with testimony. We haven't quite decided the parameters. The bottom line is this: Chuck Grassley, the Senate Republicans and others have to make sure the American people believe that everyone is being treated fairly. Rushing this through is not treating someone fairly."
Sen. Jeff Flake (R-Ariz.): "If they push forward without any attempt with hearing what she's had to say, I'm not comfortable voting yes. We need to hear from her. And I don't think I'm alone in this."
Go deeper