Florence's floodwaters rise even as rainfall exits Carolinas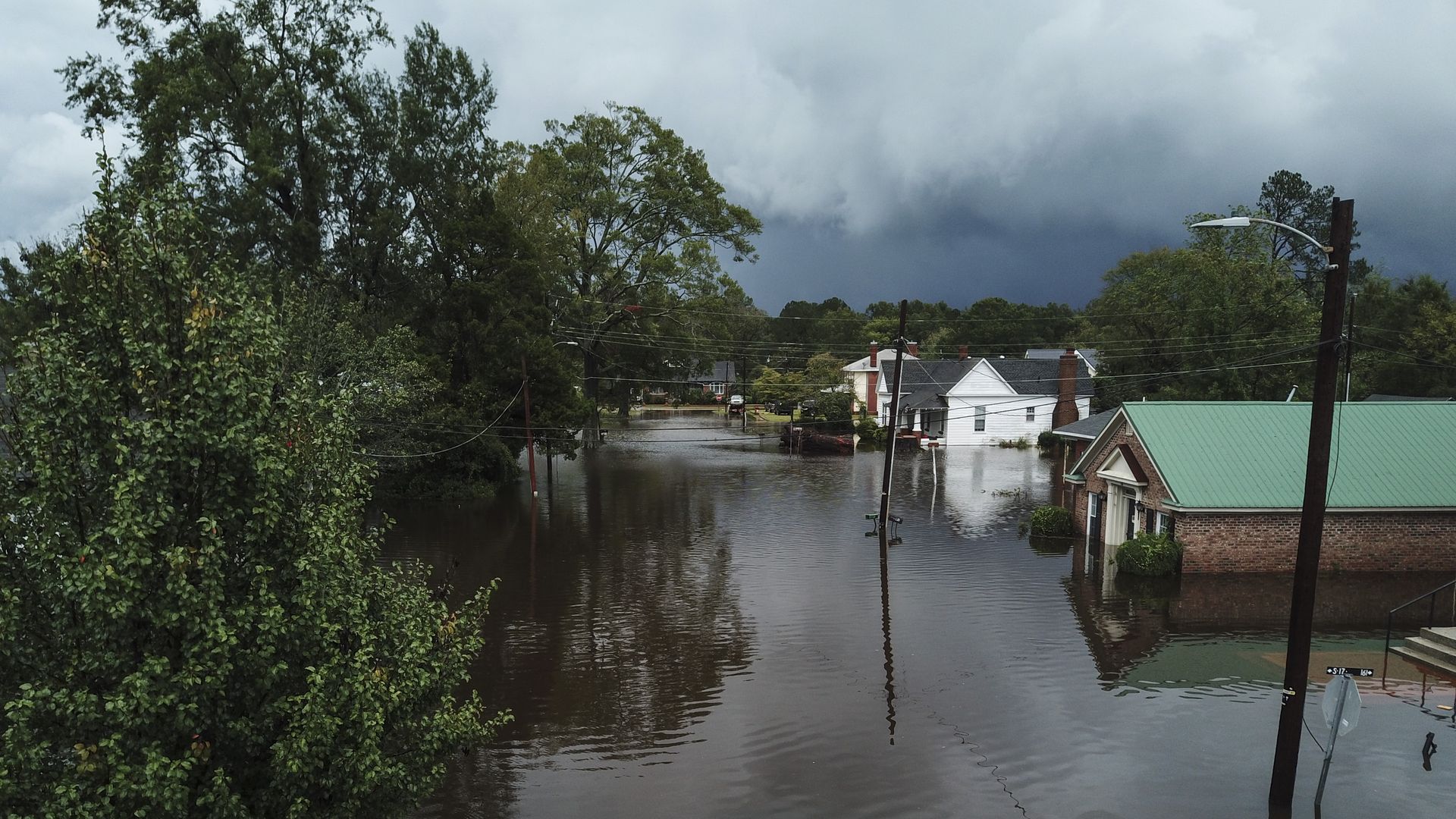 After record-shattering rainfall from Hurricane Florence, rivers in North Carolina are continuing to rise to never-before-seen levels, inundating entire communities and prompting thousands to hastily evacuate. At least 23 people have perished in the storm and its aftermath so far, and this number is likely to rise.
The big picture: Florence, along with Hurricane Harvey that struck Texas last year, has finally confirmed that measuring a hurricane's intensity based solely on its winds is misleading at best. Florence, for example, set all-time rainfall records for any tropical storm or hurricane in North and South Carolina, and it has sent many rivers rising to record levels.
By the numbers:
4: Number of states that have broken all-time rainfall records for tropical storms or hurricanes over the past year.
35.93 inches: Rainfall total in Elizabethtown, North Carolina, now the record for the state from any tropical weather system, as well as a record 2-day and 3-day total statewide.
34 inches: Rainfall total in Swansboro, North Carolina.
61.8 feet: The height at which the Cape Fear River is forecast to crest in Fayetteville, North Carolina, this week. This is just one of the many waterways that is prompting evacuations, as the river is rising by about 50 feet from its pre-storm level. The heightened river level is high enough to send water careening into neighborhoods around it and possibly into parts of the city.
24.2 feet: The forecast crest for the Cape Fear River near Burgaw, North Carolina. This would also set a record, beating the roughly 2-foot-benchmark set in 1999.
23.02 inches: Rainfall total in Wilmington, North Carolina, making this the wettest single weather event ever observed there.
23.81 inches: Rainfall total in Loris, South Carolina, which set a record for the heaviest amount of rainfall from any tropical weather system in state history.
86.22 inches: Amount of rain that has fallen in Wilmington, North Carolina, so far this year, making it the city's wettest year, with three months still remaining in 2018. "It is possible the annual rainfall total will end up over 100 inches in Wilmington," the NWS noted in a statement on Monday morning.
0.1%: Chance of such heavy rainfall amounts occurring in any given year, per the National Weather Service, making this yet another 1-in-1,000-year event.
What we're watching: the city of Wilmington, which has been battered for hours by tropical storm force and hurricane force winds. It was cut off from the rest of the world on Sunday night and Monday, with flooding to the west, north and south. Access to roads and ports may be restored by Monday afternoon.
In Lumberton, North Carolina, officials are rushing to bolster a levee that is in danger of failing. Extensive flooding also occurred there during Hurricane Matthew in 2016.
The bottom line: Unlike a hurricane's dramatic winds, heavy inland rains and freshwater flooding is a slow-moving, creeping disaster that unfolds over days.
Go deeper: The ties between Hurricane Florence and climate change; Florence's catastrophic, deadly flooding worsens in Carolinas
Go deeper