Republicans' new get-out-of-jail-free card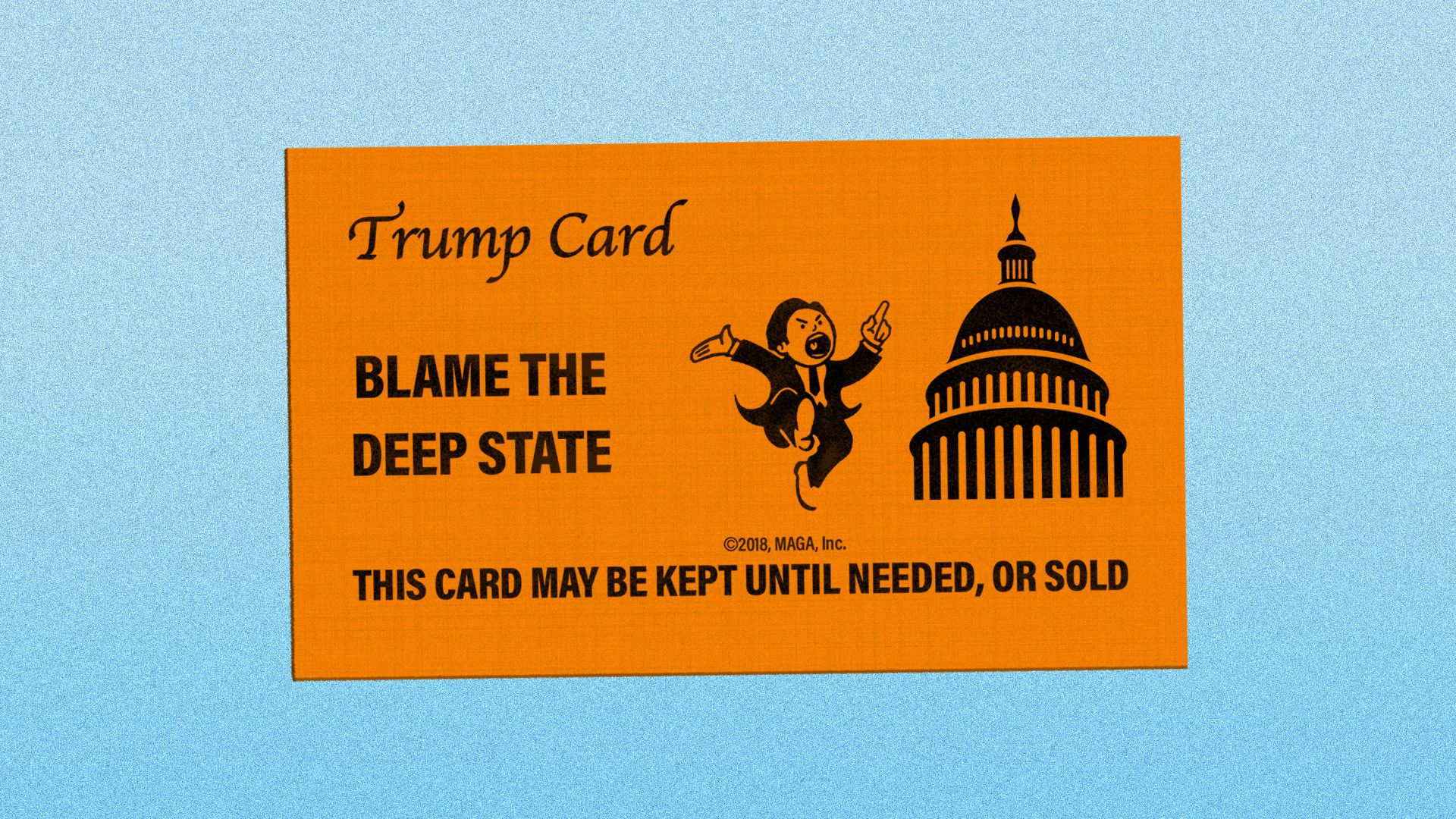 Politicians and government officials across Trumpworld are adopting the "never admit defeat" tactics of their boss and crying "WITCH HUNT!" after finding themselves in legal hot water.
Why it matters: By appealing to the president's distrust of the nefarious "Deep State," these Trump acolytes attempt to convince him — and his base — that they're being targeted by shadowy forces inside the government.
The "blame the Deep State" cardholders:
Rep. Duncan Hunter (R-Calif.) — one of Trump's earliest supporters — has been adamant that the brutal 47-page indictment alleging he and his wife routinely and illegally used campaign funds to pay for their lavish lifestyle is a ploy by the DOJ to take him, and anyone else with whom they differ, down.
"This is political — period. This is the U.S government — what I would call the deep state ... they want to rig the election their own way, because they can't beat me in a real election."
— Rep. Duncan Hunter to
the San Diego Union Tribune
White House National Security analyst Adam Lovinger had his high-level security clearance yanked by Pentagon officials following allegations of misconduct, such as when he reportedly took a classified report onboard an airplane. Lovinger's attorney, Sean Bigley, told Axios that Lovinger's case is a prime example of the "Deep State" "weaponizing" clearances in an effort to thwart the president's agenda and carry out political vendettas.
Former Illinois Gov. Rod Blagojevich was convicted on sweeping corruption charges in 2011 and sentenced to 14 years in federal prison. In May, Trump said he was considering commuting the rest of his sentence. Soon after Blagojevich's wife Patti made the rounds on Fox News and and wrote blistering op-eds to appeal to Trump, claiming that "the same people" who took down her husband are now going after the president.
Rep. Jim Jordan (R-Ohio), who has denied accusations that he ignored sexual abuse claims while a wrestling coach at Ohio State University, has publicly pointed to the fact that the law firm hired by OSU to investigate the allegations is connected to the Clintons and is linked to the Steele dossier. And while Jordan hasn't gone so far as to call this "a conspiracy," other notable Republicans, like Rep. Matt Gaetz (R-Fla.), maintain the "Deep State" is out to get him.
The bottom line: These men have taken a page straight out of Trump's playbook — deny, deny, deny, and accuse the accuser — whether with an eye on a potential pardon or help reviving their battered reputations. And, like the president's campaign to discredit the FBI and those he deems political enemies, these men have succeeded in sowing seeds of doubt among those on the right.
Go deeper