Record rainfall from Tropical Storm Florence plagues Carolinas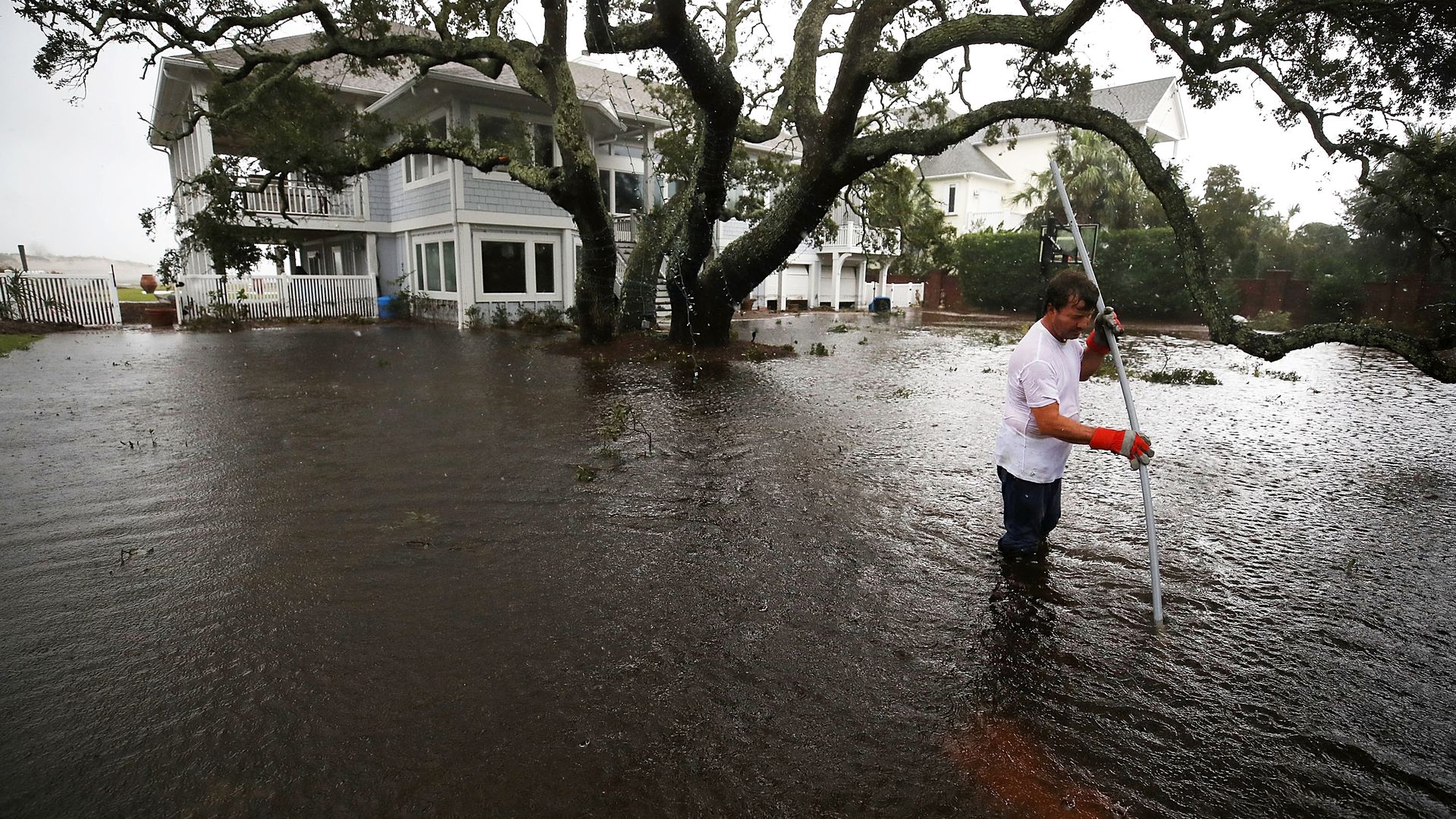 Portions of the Carolinas have been inundated by the heaviest amount of rain on record for this region, and torrential rain is still falling. Parts of southern North Carolina and northeastern South Carolina could see another foot or more of rain through the weekend, according to the National Weather Service.
The big picture: Flood levels could hit record highs at multiple locations during the next week. For example, the Cape Fear River near Fayetteville is projected to rise nearly 45 feet, to near 62.4 feet by Tuesday. Homes within 1 mile of the river were evacuated on Saturday.
By the numbers:
30.58 inches: In Swansboro, North Carolina, 30.58 inches of rain has accumulated, setting all-time state records for the most rainfall from any tropical storm or hurricane, as well as the highest 2-day and 3-day rainfall totals on record. North Carolina is now the third state in the country to set all-time state rainfall records in the past year, with Hawaii (Hurricane Lane) and Texas (Hurricane Harvey, 2017) being the others.
25.77 inches: The ammount of rain that has fallen so far in Hoffman Raws, North Carolina.
18 trillion gallons: Projected total rainfall that meteorologist Ryan Maue calculated, enough to put all of Texas under 4 inches of water.
10 to 20 inches: Amount of rain still to come in parts of the Carolinas as Florence ambles west-northwestward. Heavy rain falling in higher terrain will raise the prospect of landslides.
2 mph: The storm's forward speed, as of 5 p.m. ET on Saturday.
Between the lines: The storm's slow forward speed and proximity to the warm waters of the Gulf Stream sitting just off the coast has allowed tropical feeder bands of moisture, punctuated by lightning and occasional tornadoes, to rotate onshore, pummeling the same areas for hours with rainfall rates above 4 inches per hour. While the rain may stop in many areas by early next week, it will take days, or longer, for rivers to crest at record high levels, and weeks for that water to subside.
Nine people have been confirmed dead from incidents related to Hurricane Florence between North and South Carolina, CBS reports. The storm knocked out power to nearly 800,000 homes and businesses in the area.
Governor Roy Cooper has warned residents and travelers not to drive throughout the state, as most roads are at risk of major flooding as the rain continues to pour.
With more rain left to fall, flooding throughout the state will continue — specifically near rivers, where residents have been told to evacuate, CNN reports.
Rescues in New Bern, a town with 30,000 people, are complete. The town saw more than 10 feet of storm surge and more than 10 inches of rainfall.
What's next: The storm is not over yet. It will continue to dump heavy rains on the Appalachians, Mid-Atlantic and eventually, the Northeast during the upcoming week, with potentially deadly flash flooding and mudslides as a result.
Go deeper