Jeff Bezos' secrets for life and business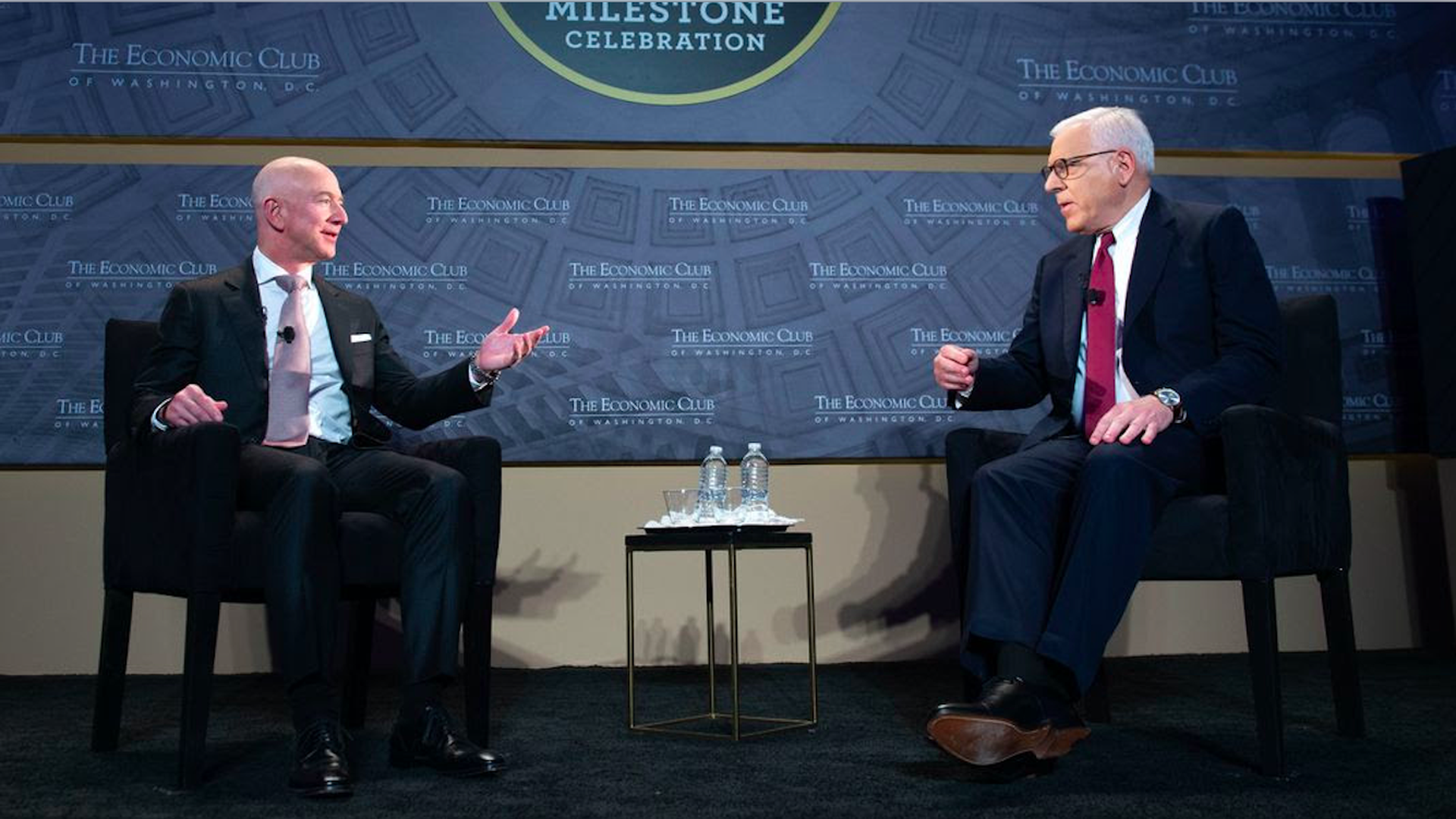 Jeff Bezos gave a master class on life and business onstage in Washington last night, with this keeper advice: "All of my best decisions in business and in life have been made with heart, intuition, guts, ... not analysis."
"If you can make a decision with analysis, you should do so. But it turns out in life that your most important decisions are always made with instinct and intuition."
— Amazon CEO Jeff Bezos
"Everything I have ever done has started small," Bezos added, drawing laughter at the 32nd anniversary dinner of the Economic Club of Washington, D.C.:
"Amazon [now with 500,000 employees] ... started with five people."
"It's hard to remember for you guys, but for me it's like yesterday I was driving the packages to the post office myself, and hoping one day we could afford a forklift."
Amazon's president, CEO and chairman was interviewed at the Washington Hilton for 70 minutes by David Rubenstein, co-founder and co-executive chairman of The Carlyle Group (one of the world's largest private equity firms), and president of the Economic Club.
After a long answer, Rubenstein joked: "I'm not used to cutting off the richest man in the world."
Bezos, 54, owns The Washington Post, where today he'll cut the ribbon on a newsroom expansion to accommodate 850 journalists and 350 engineers. He drew applause with his defense of the press:
"What the president should say is, 'This is right. This is good. I'm glad I'm being scrutinized.' And that would be so secure and confident."
"But it's really dangerous to demonize the media. ... It's dangerous to say that they're the enemy of the people."
Turning to business best practices, Bezos said he sets his first meeting at 10 a.m.:
"I go to bed early and I get up early. I like to putter in the morning. So I like to read the newspaper. I like to have coffee. I like have breakfast with my kids before they go to school."
"I do my high-IQ meetings before lunch. Like anything that's going to be really mentally challenging, that's a 10 o'clock meeting. And by 5 p.m., I'm like, 'I can't think about that today. Let's try this again tomorrow at 10 a.m.'"
Bezos said he gets eight hours of sleep:
"I prioritize it. ... I think better. I have more energy. My mood is better."
"As a senior executive, you get paid to make a small number of high-quality decisions. Your job is not to make thousands of decisions every day."
"Is that really worth it if the quality of those decisions might be lower because you're tired or grouchy?"
"All of our senior executives operate the same way I do. They work in the future, they live in the future."
"Right now, I'm working on a quarter that's going to reveal itself in 2021 sometime."
"If I make, like, three good decisions a day, that's enough."
"Warren Buffett says he's good if he makes three good decisions a year." [Laughter].
Go deeper