Hurricane Florence crawls toward Carolinas — and a devastating hit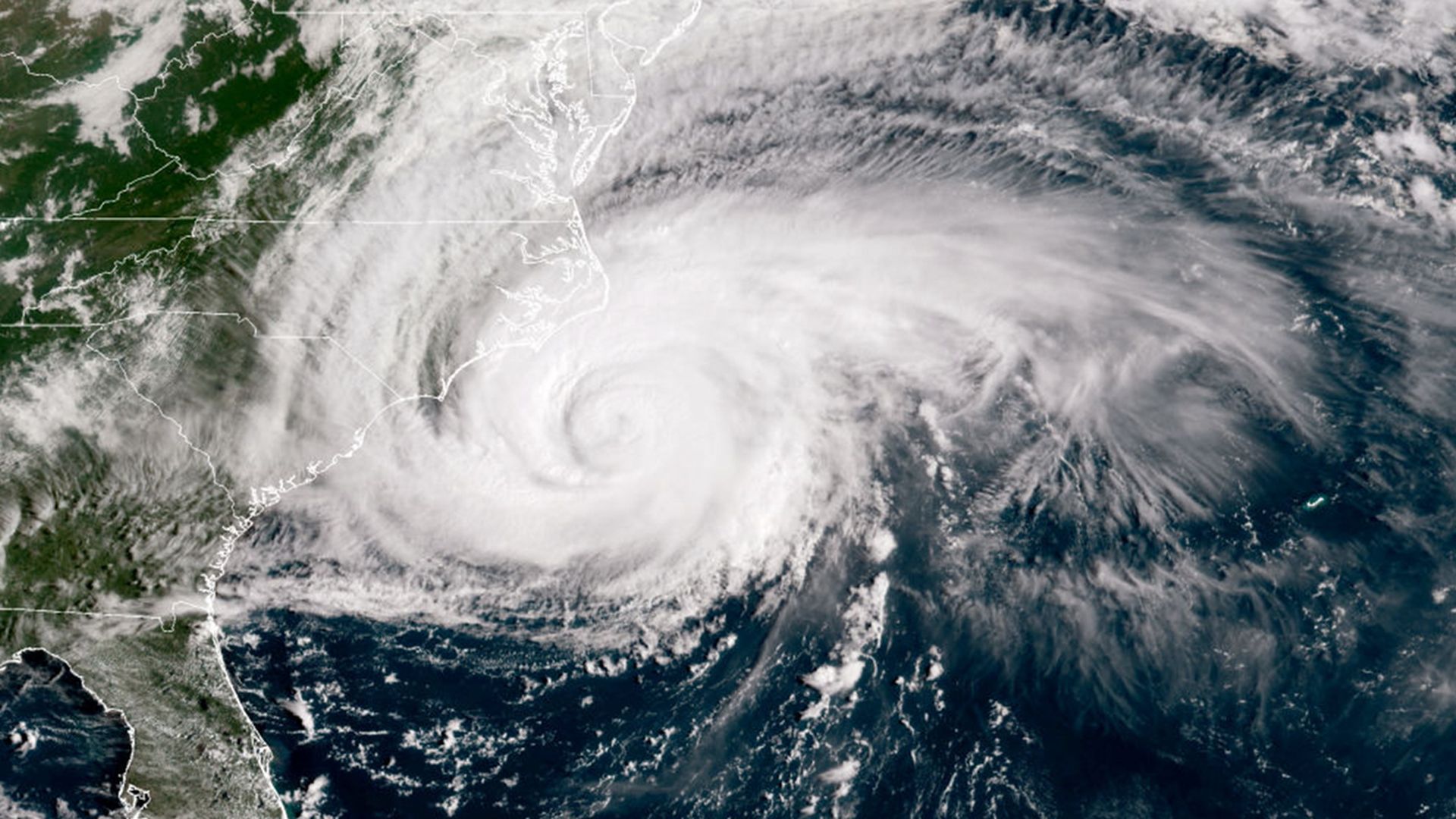 Hurricane Florence is slowing down on its way toward the North Carolina coastline, and its peak sustained winds have diminished to 105 miles per hour — but it will bring the storm surge equivalent to a Category 4 and an inland flooding threat of historic proportions. The storm's slow movement means that heavy rain bands will keep forming over the Atlantic and moving over land, causing flooding well inland of the coast.
The big picture: This storm illustrates the limits of the official rankings of hurricanes. The model, called the Saffir Simpson Hurricane Wind Scale, only measures a storm's wind speeds. But hurricanes primarily kill with water, and even though Florence is officially a Category 2 right now, it's setting in motion massive amount of water that will result in a near record surge along the North Carolina coast.
In inland areas, more than 3 feet of rain may fall as the storm lumbers southwest into South Carolina through Saturday. In fact, the latest rainfall projections released Thursday at 5 p.m. ET call for a much larger area to receive at least 20 inches of rain when compared to earlier outlooks.
By early next week, heavy rains could spread up the spine of the Appalachians, and reach the Mid-Atlantic states to New England.
The details
Florence weakened on Wednesday into Thursday morning as some dry air and wind shear at upper levels of the atmosphere impinged on the huge storm's southwest side. This had the effect of disrupting the core of the hurricane.
But here's why that doesn't reduce the threat:
The drop in wind speeds is deceiving.
Because Florence has such a large wind field, it will bring with it a storm surge consistent with a much stronger hurricane.
The best analog for this aspect of the storm is Hurricane Ike in 2008, which hit Texas as a Category 2, but brought a devastating storm surge to the Galveston area that was more consistent with a Category 4 storm.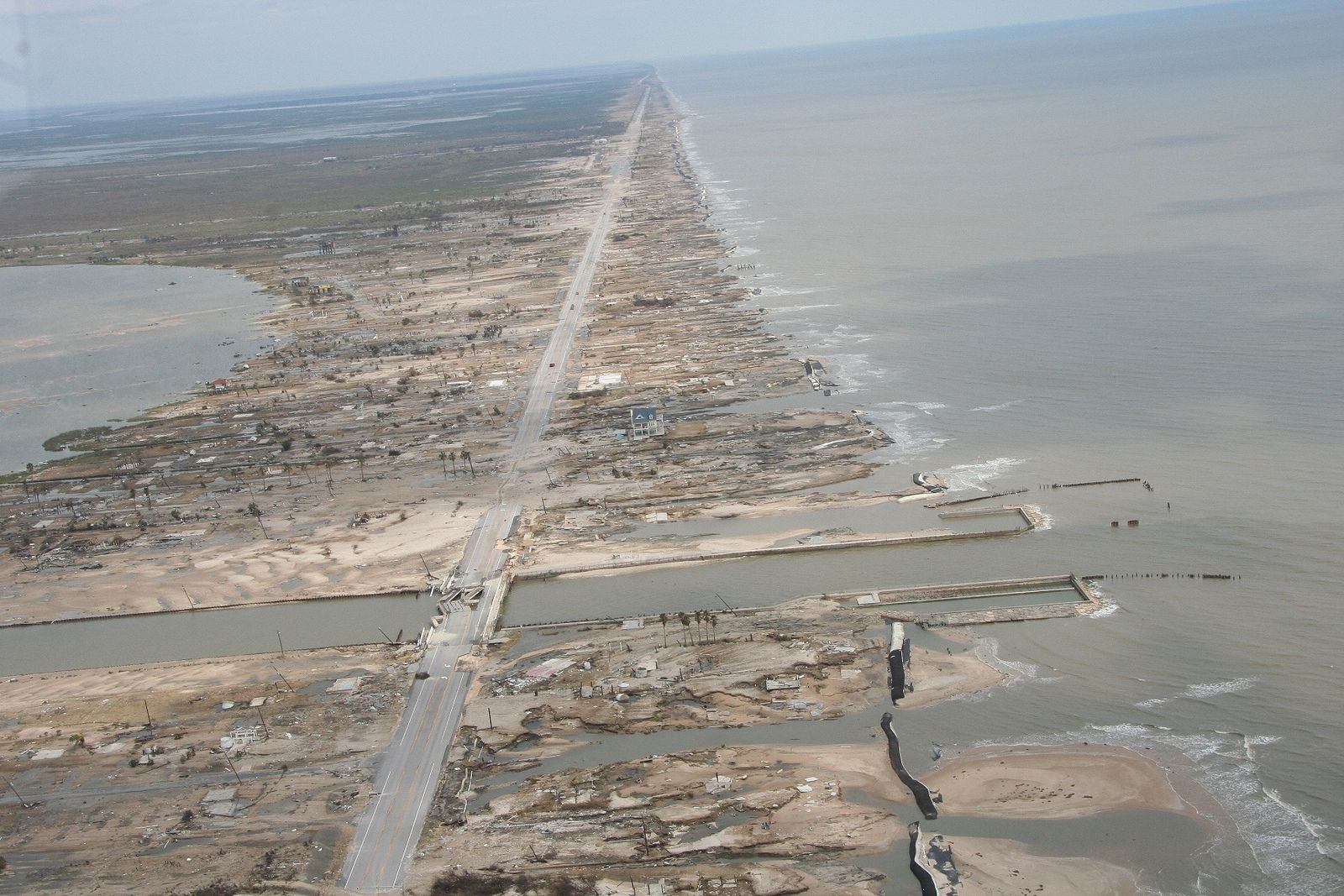 What to expect:
Surge: Storm surge flooding is already occurring along the North Carolina coast, and this is going to be an extremely long duration event. The National Hurricane Center is forecasting the worst of the surge to occur between Cape Fear and Cape Hatteras, including the Neuse and Pamlico Rivers and western Pamlico Sound.
Specific forecast surge amounts as of 5 pm include:
7 to 11 feet between Cape Fear and Cape Lookout, North Carolina, "with locally higher amounts in the Neuse, Pamlico, Pungo, and Bay Rivers."
6 to 9 feet between North Myrtle Beach, South Carolina and Cape Fear.
4 to 6 feet between the South Santee River, South Carolina to to Cape Fear.
4 to 6 feet between Ocracoke Inlet, North Carolina to Salvo, North Carolina.
These surge amounts are expressed in feet of water above normally dry ground.
Inland flooding: The Hurricane Center is forecasting up to 40 inches of rain to accumulate in North Carolina, which would beat that state's all-time record for the most rainfall ever from a tropical storm or hurricane. According to researcher Robert Rohde, the forecast rainfall amounts would shatter the 7-day rainfall record for Wilmington, N.C., where data stretches back 140 years.
The National Weather Service is describing the flooding that could result as "catastrophic."
Wind: Florence will come ashore as a Category 2 storm, with winds that are capable of causing structural damage — but not as much as if the hurricane had maintained its Category 4 intensity. As of 7:45 pm ET, a wind gust to 97 mph had been recorded at Cape Lookout, North Carolina, as that location entered the northern eyewall of the storm, where some of the fiercest winds and heaviest rains could be found.
The bottom line: Tropical storm force winds and coastal flooding are already moving onshore in North Carolina, and will spread into South Carolina on Thursday night as well. Even with the reduction in peak winds, this storm will bring extreme devastation and destruction.
Go deeper:
Editor's note: This story will be updated throughout the day as the storm approaches the coast.
Go deeper