Hurricane Florence to cause "unbelievable destruction" in Carolinas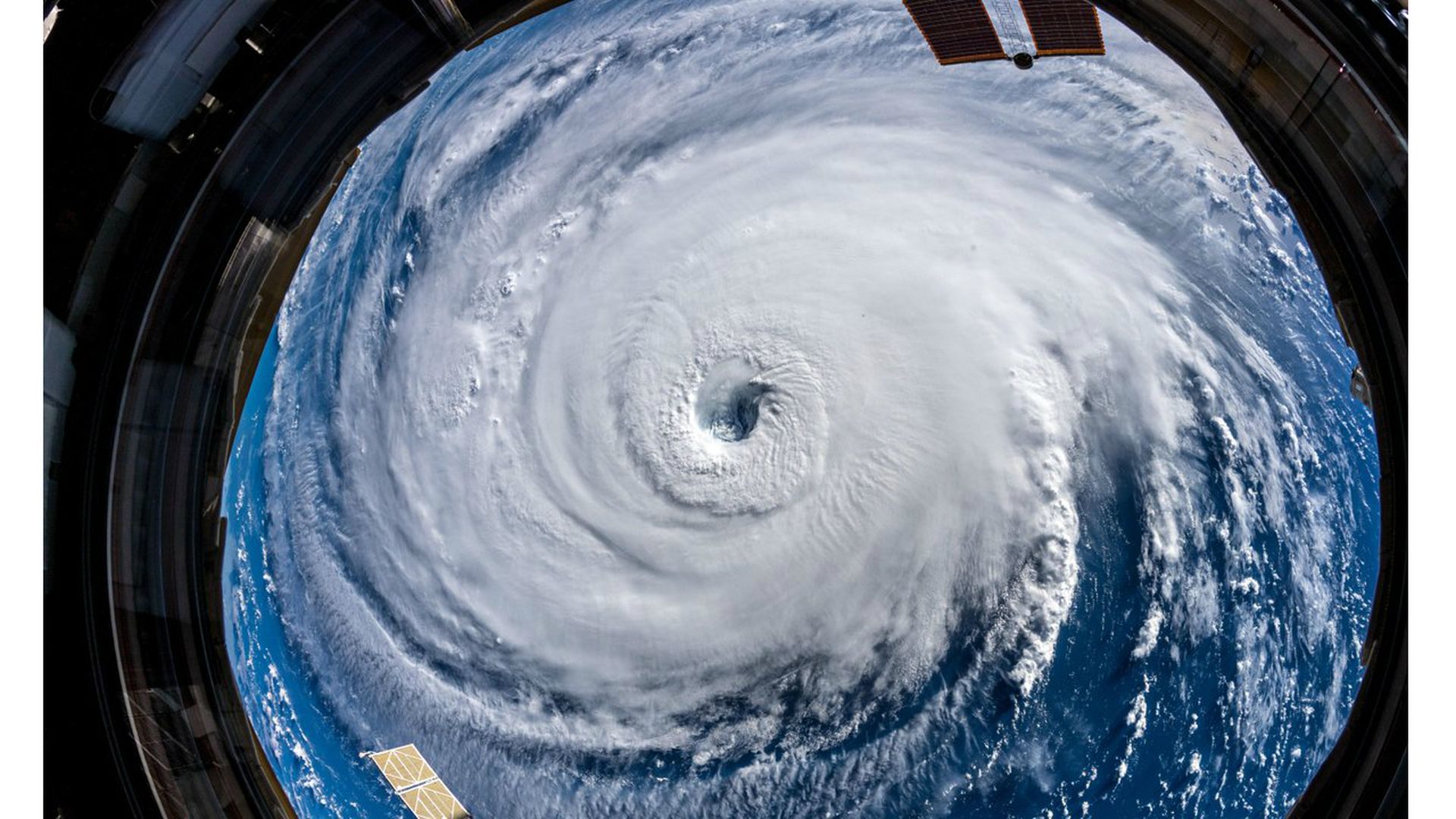 Hurricane Florence is taking aim squarely at the Carolinas — with North Carolina in the crosshairs first on Thursday through early Saturday, followed by South Carolina and possibly Georgia. The maximum sustained winds have weakened, and Florence is now expected to approach the coast as a Category 2 storm.
The bottom line: An unusual mix of weather systems across the U.S. will force Florence to hit the brakes as it nears the coast, somewhere close to the border of the Carolinas. It is likely to be the strongest hurricane to hit the coast in at least 25 years.
The big picture: There are no historical analogs for Florence. Its forecast track is unprecedented, and its array and magnitude of threats are as well.
Here's how events are likely to play out:
The massive hurricane is likely to slow down as it approaches the North Carolina coast on Thursday and Friday, coming ashore near Wilmington.
This is a dire scenario for the North Carolina coast, because it would expose them to a prolonged battering from damaging winds, torrential rain and one of the worst storm surge flood events on record there.
Then on Friday and Saturday, Florence may be drawn to the southwest, moving in the opposite direction compared to most tropical storms and hurricanes in this region. This could cause a nearly unheard of southward propagating storm surge, dissected here by surge expert Hal Needham.
Much of the South Carolina coast may see a damaging storm surge, high winds and heavy rains from Florence through the weekend. Parts of the Carolinas could see two days straight of tropical storm force winds.
Fluctuations in intensity are still possible, including some strengthening early Thursday, but the NHC now expects Florence to come ashore just below major hurricane intensity. This makes little to no difference in terms of the impacts it will have.
Storm surge: With hurricane-force winds extending an unusually far 80 miles outside of the storm's center, and tropical storm force winds reaching far beyond that, Florence is driving an extraordinary amount of water toward the shore. Rather than focus on the Saffir-Simpson Hurricane Wind Scale alone, which only measures a storm's wind impacts, it's useful to look at other metrics, too.
For example, the large expanse of Florence's wind field means it is a particularly dangerous surge threat, even if peak winds have dropped below Category 3 intensity. Here's what the Hurricane Center said about this at 11 pm ET.
"While Florence has weakened below major hurricane intensity, the wind field of the hurricane continues to grow in size. This evolution will produce storm surges similar to that of a more intense, but smaller, hurricane, and thus the storm surge values seen in the previous advisory are still valid. The threat of rainfall has also not diminished, and these impacts will cover a large area regardless of exactly where the center of Florence moves."
The cause of the weakening is some dry air and wind shear at high altitudes that is preventing the storm from wrapping intense thunderstorms around its entire center. Instead, the eyewall has had significant openings in it on Wednesday evening, based on observations from an Air Force hurricane hunter aircraft.
Even so, it will make little difference in the impacts the storm brings, particularly when it comes to its deadliest threat: water.
Weather Service forecast offices in North and South Carolina are warning residents to expect "dangerous to catastrophic" storm surge impacts, which will render coastal areas "uninhabitable" for extended periods of time.
The North Carolina coast in particular is extremely vulnerable to towering storm surges, as the continental shelf extends 50 miles off the coast there.
This creates a long expanse of shallow waters that allows an incoming storm to pile up a huge volume of water, pushing it toward the coast as it arrives.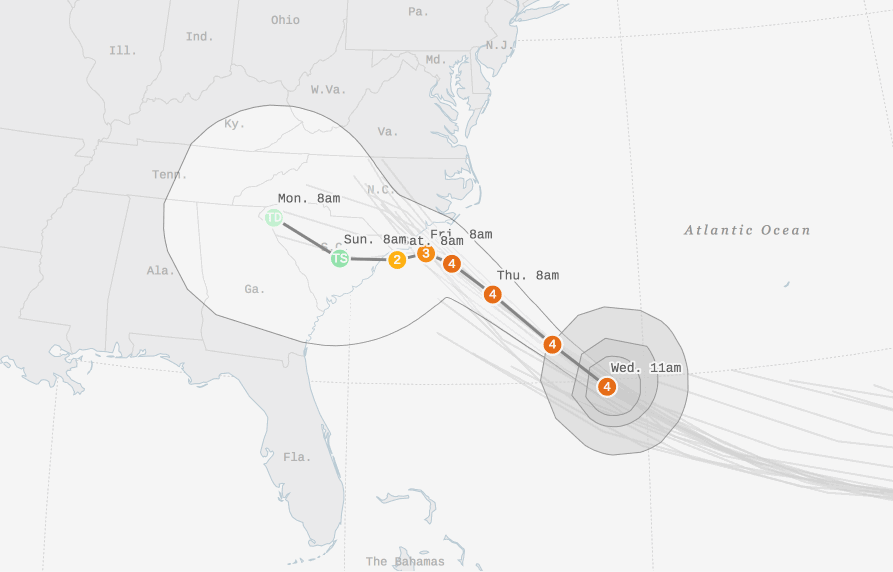 Wind: A relatively small area of the coastline will experience the worst of the storm's winds, but due to its slow forward speed near landfall, a large area will experience them for a long duration.
Inland flooding: The greatest risk from Hurricane Florence is its rainfall potential far from the coast. This is due to the storm's slow forward speed and its size, as well as the warm water temperatures of the Atlantic from which it will draw moisture. Rainfall totals could exceed 3 feet in some places, and flooding may extend far inland as the storm's remnants move over the Appalachians early next week.
Electricity: "People could be without power for a very long time. Not days. But weeks," David Fountain, president of Duke Energy North Carolina, told reporters Wednesday.
Go deeper:
Editor's note: This is a developing story and will continue to be updated. Amy Harder and Lauren Meier contributed reporting.
Go deeper