The ties between Hurricane Florence and climate change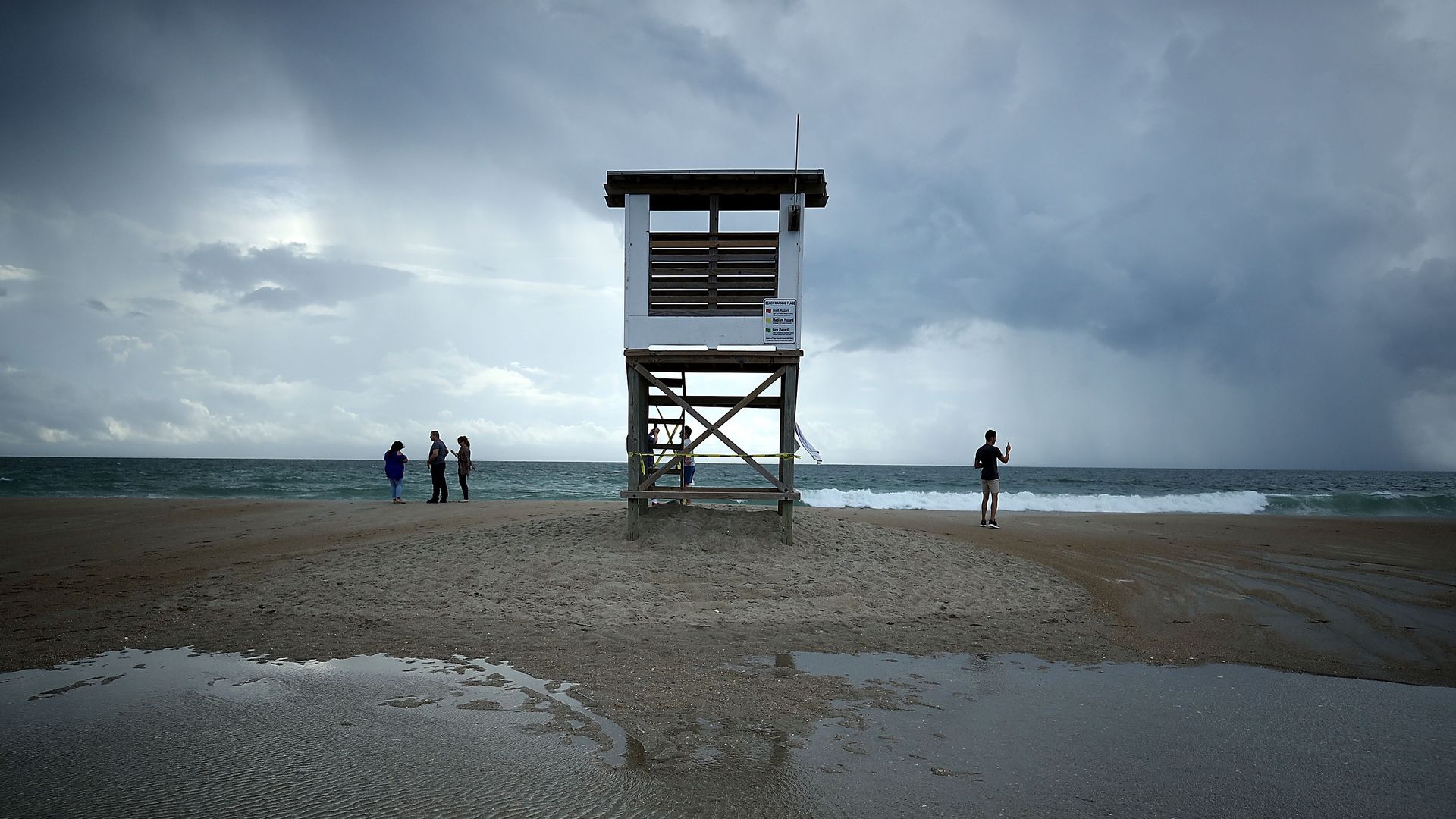 Hurricane Florence is a unique Atlantic hurricane, projected to stall out after hitting land and forecast to dump upwards of 2 feet of rain on several states, much like Hurricane Harvey did in Texas last year.
The big picture: There are several characteristics of the changing climate that are helping to increase the risks of damage from Hurricane Florence, even though global warming is not directly causing such a storm to spin up.
Between the lines: Hurricane Florence could become the strongest hurricane on record to strike so far north if it makes landfall north of the border between South Carolina and North Carolina as a Category 4 or 5 storm.
It brings multiple threats, including a massive storm surge at the coast, as well as a potentially catastrophic inland flood situation.
Recent studies show that there may be ties between long-term climate change and some of this storm's characteristics:
There has been a poleward migration in where storms are reaching their peak intensity, which is related to the expansion of the tropics in a warming world. Hurricane Florence fits this pattern, as it's unusually far north for such an intense storm.
There is evidence that tropical storms and hurricanes are moving more slowly on average, possibly explaining some of the behavior of Hurricane Harvey in 2017, which stalled over coastal Texas for days.
There is also data showing more storms are intensifying rapidly in parts of the Atlantic, as Florence has, than in the past. This trend is expected to increase as the world warms.
Hurricanes that do form are tending to be more intense overall, and bring more rainfall, due to warming air and sea surface temperatures. The waters ahead of Hurricane Florence are about 3 to 4 degrees Fahrenheit above average.
Sea level rise from climate change increases the damage potential of any landfalling tropical storm or hurricane.
One quick turnaround computer modeling study on Florence, released Wednesday found significant human influences on the storm. The study simulated Florence's path, intensity and impacts with and without the influence of global warming.
The analysis, from Stony Brook University's Climate Extremes Modeling Group, found:
Hurricane Florence is likely to dump 50% more rainfall in the heaviest precipitation bands than it would have without the human-caused increase in greenhouse gases.
Florence is about 50 miles larger in diameter than it otherwise would have been.
This study is the first to be undertaken during an extreme weather event, rather than post-facto, co-author Michael Wehner of Lawrence Berkeley National Laboratory told Axios via email. It needs further analysis and has not yet been submitted for peer review,
In addition, a slew of studies has been published tying an increase in blocking weather patterns, like the one forecast to steer Florence into the Carolinas, to the loss of Arctic sea ice, but this is still a contested research area.
Here's how Katharine Hayhoe, a climate researcher at Texas Tech, put the relationship between climate change and storms such as Florence in an email to Axios:
"Hurricanes are absolutely being affected by our changing climate, in many ways. As the world warms, the rainfall associated with hurricanes is becoming more intense; they are getting stronger, on average; they are intensifying faster; they are moving more slowly; and, as sea level rises, the storm surge from these events can be more damaging."
Yes, but: This storm has yet to make landfall, and, as with Harvey, it's likely that firm conclusions about the extent to which human-induced climate change may have amplified it will not be available until months after the event. We'll have to wait and see what research comes out afterward before making more definitive statements.
Go deeper:
Editor's note: The text has been clarified to state that post-storm studies may produce more definitive conclusions about how climate change influenced Hurricane Florence. This story has also been updated to take into account new research released on Sept. 12, 2018.
Go deeper