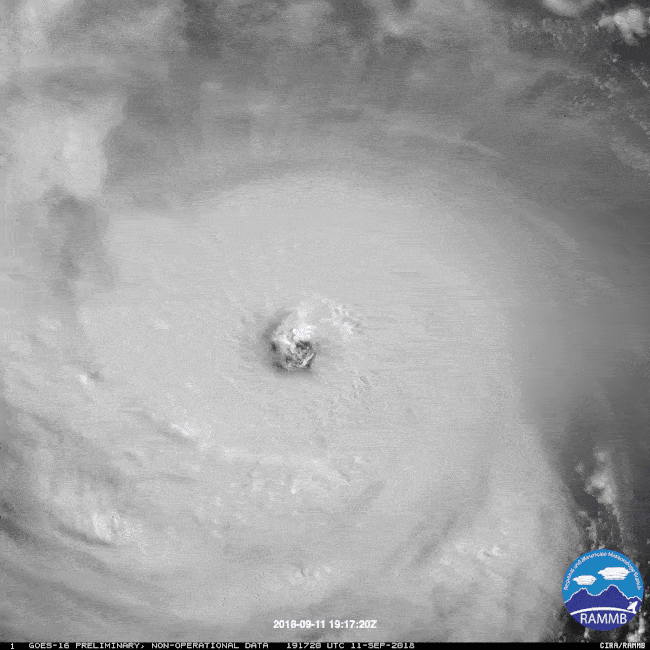 The latest projections predict Hurricane Florence could stall just off the North Carolina coast, dumping feet of rain inland while sustained hurricane force winds complicate rescue and recovery efforts.
The big picture: "North Carolina has been hit by only one other Category 4 storm since reliable record keeping began in the 1850s. That was Hurricane Hazel in 1954," the AP's Emery Dalesio reports.
Trump on the storm: "If you are asked to leave, get out... [Florence will be] tremendously big and tremendously wet — tremendous amount of water."
Trump added that the East Coast won't suffer like Puerto Rico because they are better prepared. "Unlike Puerto Rico they have very strong power companies."
But the president called the federal response to Maria a "tremendous success."
Between the lines: "Just months ago, disaster planners simulated a Category 4 hurricane strike" on the East Coast, the AP's Jeff Martin reports.
"A fictional 'Hurricane Cora' barreled into southeast Virginia and up the Chesapeake Bay to strike Washington, D.C." (Hurricane Florence is currently expected to make landfall to the south, in North Carolina.)
"The result was catastrophic damage, which has some experts concerned that Hurricane Florence could produce a disaster comparable to 2005′s Hurricane Katrina..."
"Evacuation is known to be challenging in Hampton Roads, a coastal region inhabited by 1.7 million people in cities such as Norfolk, Virginia, and Virginia Beach."
"In Charleston, South Carolina, where the average elevation is only around 11 feet (3.4 meters) above sea level, storm surge and flooding from a hurricane's drenching rain has the same effect — cutting off access, said Norman Levine, an associate professor at the College of Charleston."
What to expect from Hurricane Florence:
Storm surge: Depending on the landfall location, Hurricane Florence is likely to bring a devastating storm surge to the Carolinas, possibly exceeding 15 to 20 feet, Axios' Andrew Freedman reports.
Damaging winds: A relatively small area of the coastline will experience the worst of the storm's winds, but a large area will still see a long duration of damaging winds from Florence. "Locations may be uninhabitable for weeks or months," according to the NWS' Wilmington office.
Inland flooding: The greatest risk from Hurricane Florence is its rainfall potential, both near the coast and inland. This is due to the storm's slow forward speed.
Go deeper: More Hurricane Florence coverage, updated as we learn more
Go deeper